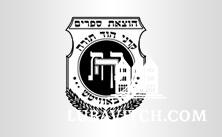 Kehot Publication Society
Kehot Publication Society and Merkos Publications, the publishing divisions of the Lubavitch movement were established in 1942 by the sixth Lubavitcher Rebbe, Rabbi Yosef Yitzchak Schneersohn. Under the leadership of his successor, Rabbi Menachem M. Schneerson, the Lubavitch publishing houses have brought Torah education to nearly every Jewish community in the world, and is the world's largest publisher of Jewish literature. More than 100,000,000 volumes have been disseminated to date in Hebrew, Yiddish, English, Russian, Spanish, French, Italian, Portuguese, Dutch, German, Farsi and Arabic.
The publications listed in this online catalog include discourses on Chasidic philosophy and mysticism, Halachic texts and other scholarly works, histories, biographies, novelettes and story books for young children. An ever expanding list is designed to stimulate and satisfy the appetite of Jews on every level of religious understanding for a better knowledge of Judaism.
For the newcomer to the teachings of Judaism as well as for those well versed in Torah knowledge, Kehot Publication Society and Merkos Publications provide material of unparalleled quality and authenticity. With G-D's help, the Lubavitch movement will continue to satisfy the thirst for knowledge for which our people, the "People of the Book" have always been identified.
Shop Now at store.kehotonline.com
Get Inspiration to your inbox!
Join our weekly newsletter for inspiration and updates