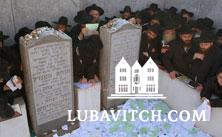 The Ohel
"The Ohel" is where the Lubavitcher Rebbe, Rabbi Menachem M. Schneerson, of righteous memory, was laid to rest on the 3rd of Tammuz 5754 (June 12, 1994), next to his father-in-law, the sixth Lubavitcher Rebbe, Rabbi Yosef Y. Schneersohn, of righteous memory.
The term Ohel (lit. "tent") refers to the structure built over the resting place of a Tzaddik, a righteous person. It is also known as "The Tziyun," or "marker."
During our long, painful journey through history, the holy resting places of our righteous forebears have served as spiritual oases. These gravesites, such as Mother Rachel's and King David's, referred to in the Bible and Talmud, have provided solace to millions.
During the Rebbe's lifetime, he would frequent the gravesite of his father-in-law, the sixth Rebbe (Rabbi Joseph Isaac Schneersohn) two, three, four, sometimes even six times a week, bringing peoples troubles and prayer-requests to the holy resting place. The Rebbe responded to hundreds of thousands of people by writing (in Hebrew), "I will mention [your request] at the tziyun." He would painstakingly read every single of the thousands of notes, then tear and leave them at the grave, perhaps as a physical memento of the supplicant.
Now chassidim, Jews and non-Jews from all walks of life come from around the world to the Rebbe's gravesite for blessing, spiritual guidance and inspiration.
There are numerous observances related to visiting the Rebbe's resting place, such as refraining from food (though not drink) before the visit, removing leather shoes before entering the mausoleum (as did Moses before nearing the burning bush), and more.
But most important is the preparation of charity, learning and spiritual stock-taking.
The visitation center near the Ohel is open 24 hours a day. Click here for travel directions.
If one is unable to come in person one may join the hundreds of thousands who send letters (via postal mail, fax or e-mail) to be placed at the Ohel.
Get Inspiration to your inbox!
Join our weekly newsletter for inspiration and updates