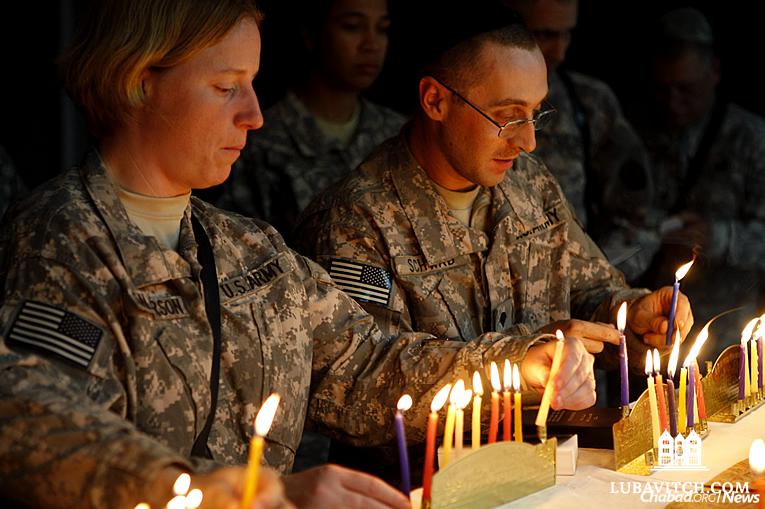 Military
DID YOU KNOW that at this very moment there are more than 5,000 Jewish military personnel serving in the United States armed forces, and that the assimilation for Jewish men and women in the military may be as high as 80%?
Chabad-Lubavitch provides comfort to Jewish officers, soldiers and their families stationed throughout the world and a means to maintain a spiritual connection to Judaism. In addition to distributing thousands of pocket sized Hebrew/English Psalm and prayer books for soldiers to find comfort during times of need, Chabad provides:
Grief counseling during times of mourning
Holiday essentials including religious objects and traditional kosher foods
Educational and religious materials including prayer books and videos
On-site rabbinical leadership under special circumstances
Fundamental items for observance of Shabbat
Bar/Bat Mitzvah studies for children of those serving in foreign countries
In addition to meeting the Jewish needs of American servicemen and women, since September 11, 2001 Chabad-Lubavitch has been a channel for civilians wishing to express their appreciation of fellow Jews putting their lives on the line for the American way of life and liberty. Since the program's inception, thousands of material as well as spiritual resources have reached American Jews stationed throughout the world.
WON'T YOU PLEASE CONSIDER A CONTRIBUTION DESIGNATED FOR OF OUR JEWISH BRETHREN SERVING IN HARM'S WAY?
By donating now, you will partner with Chabad to ensure that courageous Jews serving the American people have the means to maintain a connection to their heritage--from the USS Port Royal in the Arabian Sea and the Aviano Air Force Base in Italy; to Osan Air Base in the Republic of Korea and active battalions in Kandahar, Afghanistan.
Get Inspiration to your inbox!
Join our weekly newsletter for inspiration and updates