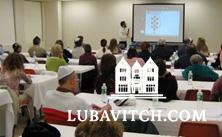 Internet
DID YOU KNOW that there is one place where top business executives and busy parents, athletes and the infirm, teenagers and the elderly, Jews and gentiles all congregate together on a daily basis in the pursuit of knowledge?
Chabad uses the internet to unite Jews throughout the world, to empower them with the knowledge of a 3,300 year old tradition, and foster a deeper connection to their faith. Chabad's interactive websites transcends all boundaries, serving the religious and the non-observant, affiliated and non-affiliated, and even gentiles seeking exposure to Jewish thought.
Over 1 million visitors each year review holiday sites, receive daily and weekly emails and participate in daily learning programs. Professionally trained educators and scholars respond to hundreds of thousand of email inquiries. Chabad's flagship educational website Chabad.org currently offers 9,000 pages of information, 2,400 audio classes and 120 video clips.
A virtual classroom for Hebrew school children and university scholars alike, it is a central address for all things Jewish. The online program is also useful as a guide for parents seeking assistance for their children's bar or bat mitzvah, for the college student who wants to learn the prayer to light Chanukah candles, or for the high school student doing research on the Holocaust.
Chabad website also provides:
Spiritual guidance and inspirational thought
Quality holiday information for Jewish families
A highlight of Chabad's internet resources is AskMoses.com, the only Jewish website offering confidential, free and live chat for spiritual guidance 24 hours a day, 6 days a week.  AskMoses.com provides instant advice from qualified scholars and Rabbis for Jews and gentiles seeking information on any subject in English, Hebrew, Russian, Spanish and French. AskMoses.com is also the only website offering personalized SMS service for Shabbat and Holiday reminders.
Chabad's online resources have received critical acclaim from numerous media outlets, including: CNN, ABC, CBS, Fox Network, PBS, New York Times, Time Magazine, UPI, US News and World Report, USA Today, Village Voice, Washington Post, Wired among others. CLICK HERE to see what everyone is talking about.
WON'T YOU PLEASE CONSIDER A CONTRIBUTION DESIGNATED TO KEEP OUR COMMUNITY VIRTUALLY CONNECTED?
By donating now, you will partner with Chabad in providing instant support for spiritual, religious personal and academic inquiries around throughout the world.
Get Inspiration to your inbox!
Join our weekly newsletter for inspiration and updates