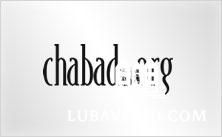 Chabad.org
Well before the first dot-com bubble began to inflate, Chabad-Lubavitch invested considerable resources in shaping Internet technology into a vessel for Jewish information. Using the bulletin board technology of Fidonet, Rabbi Yosef Y. Kazen transmitted Jewish knowledge to computer savvy Jews and scanned in the first digitized Jewish library.
Rabbi Kazen's messages grew into Chabad.org, Chabad's mammoth mother site. Early insight into the web's potential as an education engine drove Chabad.org's creation. The site has since grown into a mega-teaching tool that attracts 1,000,000 users per year. They access Chabad.org's 9,000 pages, 2,400 audio clips, and 120 video clips. Unlike most Chabad programs that reach only six continents, Chabad.org receives hits from all seven: scientists in Antarctica emailed Chabad.org for step-by-step Passover Seder instructions. Site masters answer 108,000 email queries each year and oversee the delivery of classes via email to 170,000 email subscribers.
Magazine
For a movement that adheres to the tenets of traditional Judaism, Chabad's website is anything but old fashioned. Essays in Chabad.org's magazine section specialize in revealing Jewish wisdom within everyday life. Where else would you find the Jewish parenting message behind the Humpty Dumpty nursery rhyme? Where but Chabad.org does a Torah reading about manna become a springboard for salaryman spirituality? The articles are written by professors, psychologists, rabbis, teachers, physicists, and pop personalities who meld their life experiences to Torah teachings to yield distinctly fresh writings on topics far more adventurous than the usual Jewish magazine fodder. Top billing in Chabad.org's magazine goes to Jewish takes on hot topics. When the New York Times covered Chabad.org, they wrote that the site proves "Everything in this world was created for a divine purpose."
Library
One of the most astounding contributions to Jewish education on the web is Chabad.org's digitized library. Webmasters scanned in the text of hundreds of books from Chabad's vast publications catalogue. The online collection is broad and deep. The 32nd chapter of the central chassidic work Tanya may be studied in the original, with translation or in the context of a full length book written specifically about the chapter. A search for the Jewish grace after meals turns up its Hebrew, English and transliterated texts as well as the full text of several books on Jewish dietary standards. At Chabad.org, the library is always open.
Multimedia
While the Internet is still largely a text based venue, Chabad,org uses the wealth of multimedia options to its advantage. Comedy and puppetry take to the air in the Itche Kadoozy Show, and burning questions about gefilte fish and yarmulke wearing get answered on the lighter side but with a lick of deeper meaning. Top Torah teachers digitally recorded their classes on the weekly Torah portion, Jewish life cycle and holidays for downloading and online edification. How-to demonstrations for making Jewish foods and observing Jewish rituals tucked within holiday and living sections make it easier to perform the tasks and traditions of Jewish life in a way that no written text can equal. Video clips from Chabad archives offer viewers a glimpse of Lubavitch life, Chabad activities and the movement's history in the making. In the audio corner, the sounds of Judaism can be heard by accessing files that contain Jewish liturgical tunes and the wordless soul songs – niggunim – of Chabad.
Connecting People
Because no form of advanced technology can take the place of human contact, Chabad.org is a portal for information that brings the world of Chabad centers to student, seeker and traveler. Chabad centers around the world may be located by clicking on a map or on the drop down of country and state names. U.S. Chabad centers can be searched for by zip code. Nowadays many Chabad centers have websites of their own, and users can connect to them through Chabad.org.
Through Chabad.org, Chabad continually updates, refreshes, and expands the limits of Jewish teachings until they not only encompass the world wide web but the whole wide world.
Get Inspiration to your inbox!
Join our weekly newsletter for inspiration and updates