Robby Rajber is president of the Maccabi Games in Munich and the owner of a film production company. He is also the son of Holocaust survivors who "got stuck" in Germany after the war. Twenty five years ago, he says speaking perfect English, the attitude was that "Jewish life should be kept in the backyard," and he didn't see a need for Chabad in Germany.
It was an attitude that Rabbi Yisroel and Chana Diskin worked diligently to change when they opened Chabad here in 1989, and like so many other German Jews, Raijber has since come a long way. "They [Chabad representatives] taught us that if I have a head covering on my head, I do not need to take it off when I am outside and cross the street. We have become openly proud Jews because of them."
Looking back over the last quarter century, he describes a community that has "fallen in love" with their Chabad representatives who took responsibility for reviving Jewish life where it had been Judenrein, imbuing a sense of Jewish pride where it had been shattered to pieces. "Of course we are worried about the anti-Semitism in the country and the future of the Jews here." But, he insists, it is not slowing the growth of Jewish life in Germany.
These days, says Dr. Peter Wittig, Germany's Ambassador to the United States, Jewish life is once again "an important element of German society." Anti-Semitism is pervasive in Europe, but, he points out, it is a different strain, coming mostly from recent immigrants "who don't identify with Germany's history and the special responsibility most Germans feel towards Israel."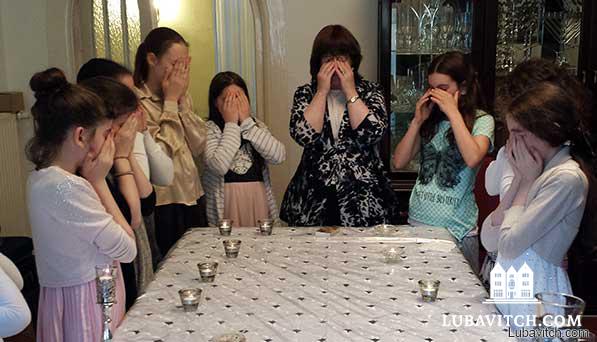 In 1990, there were some 35,000 Jews in the country. With the fall of the Berlin Wall, the number ballooned—thanks largely to Jewish immigration from Russia. Serving Germany's present-day Jewish population of 150,000 are some 40 Chabad representatives that the Diskins recruited over the years.
Their first efforts sought to draw the children out: holiday parties, fun learning programs coordinated with the existing Jewish school, and a popular summer day camp introduced a young Jewish generation to a lively Jewish experience. Working with great respect for the sensitivities of Germany's Jews, the Chabad couple, says Rajber, built a "warm relationship with us," helping Jews come out of hiding.
Pride In The Streets
Today Chanukah is celebrated with pomp and circumstance in the center of the city. But in 1989, the community resisted Chabad's desire to erect a public menorah. "They were not ready at the time for such an outward display of Judaism," says the rabbi. Instead, he erected a menorah in front of the synagogue.
Even that made some fearful that, as one Holocaust survivor told the rabbi: "they will now know this is a Jewish location." With the Holocaust still very much on the consciousness of Jews living there, many were afraid to be noticed, and synagogues were housed in non-descript buildings, with no markers. It took time and patience. Slowly but surely, things began to shift.
The first public menorah to go up in the center of a German city was erected in Frankfurt, making Munich's Jews, some 200 miles away, feel more comfortable with the public display. The following year, in 1997, Germany's President Roman Herzog, and the leadership of Germany's Jewish community participated in Munich's first public menorah lighting which proved a turning point. Today, the public Chanukah event is a much-anticipated community highlight.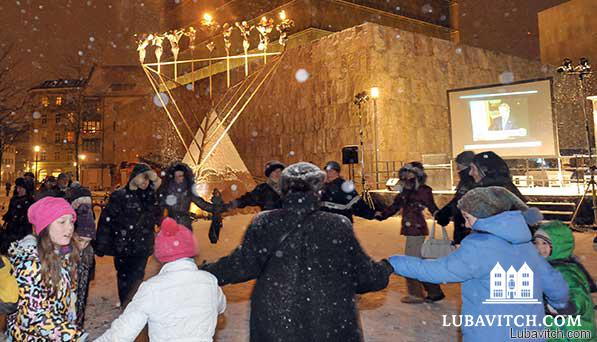 Vice President of the Munich Jewish community, Judith Epstein says that before the Diskins arrived "it wasn't a happening community like we know it today. It was more a sleepy, Holocaust survivor mentality, where they were hiding their Judaism."
Since she herself met the Chabad representatives, the community leader has begun attending synagogue more often and observing the Shabbat. "It gives me a lot of spirituality, and in hectic times, it keeps my life balanced."
With a strong team of Chabad representatives serving the country, the Diskins are networking with Chabad representatives nation-wide to tackle their toughest challenge: assimilation and intermarriage. The best way forward, says Chana Diskin, is helping Jews find Jewish partners. "And if he or she is on the other side the country, we need to help them find each other."
This past January, the German Jewish community marked 25 years of Chabad in the country. In her remarks at the event, long-time Jewish leader in Munich, Charlotte Knobloch, past President of Central Council of Jews in Germany, Vice President of the European Jewish Congress and the World Jewish Congress, said: "Today we need Chabad more than ever, in our city, in Germany, Europe and around the world."
Robby Rajber is proud that Berlin will be hosting the 2015 European Maccabi Games in July. He describes his life in Munich, as "fabulous," a sentiment echoed by Jews across the German Republic, and may be the sweetest defeat of this country's dark history.
With reporting by Asher Vorst.