Traveling in a motor home armed with Jewish gear, Rabbi Yossi and Malki Rodal make their way around the Australian outback in search of Jews.
Some 7000 Jews live in outlying areas with no Jewish community infrastructure, so these "Jewish Detectives," as they were dubbed by Australian ABC radio, are on a roll. The challenge? To meet and greet every single Jew in the outback at least twice a year with the offer of friendship and mitzvahs.
Chabad of Rural and Regional Australia, or RARA, is the only connection to things Jewish that Jews scattered in this dispersed area can enjoy. Announcing themselves with their bright maroon and yellow motor home or "Mitzvah Tank," the RARA reps are, says Evan Humble, a motorcycle trainer in Port Macquarie, a breath of fresh air.
"Living remotely"—and remote Port Macquarie, a small town in New South Wales, is—it is "nice to have fellow Jewish persons or a rabbi come to refresh the memory of what being Jewish and living in Jewish community is about," Humble says. The Chabad representatives make the 13-hour trip from Melbourne in their mitzvah tank to give new life to the memories. "Regrettably these memories fade when one is remote and away," says Humble.
RARA was founded in the 1990's by Saul Spigler, a Melbourne lawyer whose expertise is in recovering money lost and stolen during the Holocaust. Spigler, who now voluntarily oversees the organization together with his wife Beverly, was inspired by a 1977 trip he made as a Chabad rabbinical student through 6,000 miles of the Australian outback in New South Wales, South Australia and Queensland.
"The experiences on that trip inspired me to commit myself to organizing and supporting Chabad of RARA over the years," says Spigler. RARA has indeed grown with several groups of rabbinical students traveling in the outback. The Rodals have assumed full time leadership, and maintain contact with Jews in the outback year round.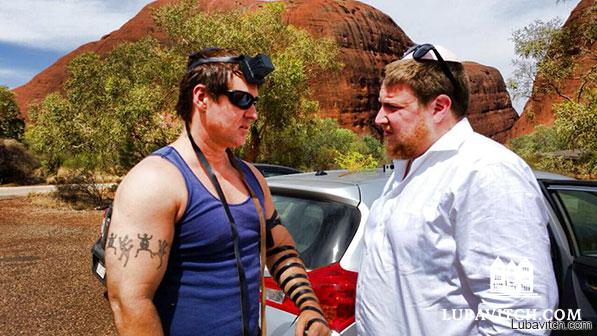 The Rodals, one of two groups on the road during the Australian winter months of July and August, are looking to make meaningful connections and to empower locals to grow in their Judaism. "We create opportunities for Jews in rural and regional Australia to reestablish their connection with their heritage as well as with established Jewish communities Australia-wide, and to provide opportunities for their involvement with the Jewish community," says Yossi Rodal during an early morning stop in the outback. "Our vision is to overcome the tyranny of physical distance and isolation in order to build a Jewish community."
The groups, which will respectively travel 6800 and 4300 miles, departed from Melbourne with a large database of names, addresses and contact info. This summer they will be stopping in some 210 towns and cities. Throughout there year they average eight long trips, making their way up the coast, meeting Jews—sometimes the only one in a town. Additionally, they regularly make stops in small towns, looking for Jews that are not on their lists.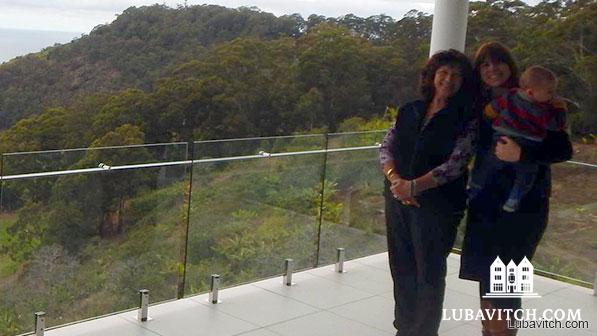 Recently the Rodals stopped in the small town of Macksville, situated on the Nambucca River, to see if they could find a Jew. That's when they happened upon the Autumn Lodge Nursing Home where they met Jed, who had been in touch with Chabad decades earlier when he lived in California. "When I moved to the outback I lost touch with the Jewish community," Jed told the Chabad reps. The couple spent several hours with him, affixed a Mezuzah on his room, promised to stay in close contact.
"I bet this is the only mezuzah in the entire Macksville," Jed said proudly, as the couple headed to the next small town for a scheduled meeting.
Fifteen hours from Macksville in Mackay, Queensland, a group of rabbis arrived after nine hours of travel to meet a doctor on the list. When they went to the wrong hospital, they lost time and missed the doctor. Disappointed that their trip would be wasted, the students made their way to the local mall hoping to meet "Israelis working at the Dead Sea salt kiosk."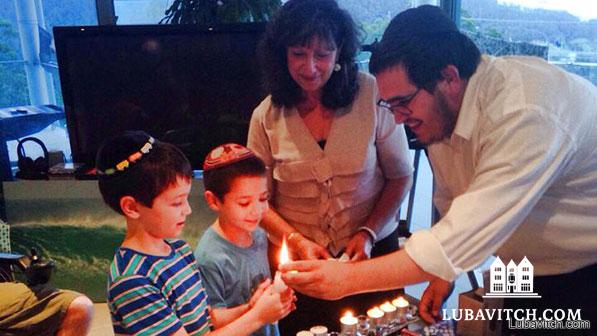 Making their way through the mall, the searched in vain for the kiosk. But they were flagged down from across the plaza by Paul, who told them that when he entered the parking lot, their flashy "motor home caught his attention." A doctor, Paul, told the students that he recently became interested in his Jewish roots but did not know who to speak to. He now found the right people. The three went to Paul's home where they gave him a crash course on Judaism, put on Tefillin and promised to keep in touch.
The Rodals plan to establish an online Hebrew School for outback Jewish children, Jewish themed weekends in centralized areas, winter and summer camps and stepping up the visitations by rabbinical students to more towns and cities where Jews come from nearby locations. The idea, explain the Rodals, is to help Jews living in the outback establish some kind of Jewish infrastructure for themselves so they should not have to depend too heavily on RARA.
George Koulakis, a former member of the Royal Australian Air Force, met RARA rabbinical students in 1996 while working in Darwin, the capital of Australia's Northern Territory. Today with the help of RARA, he has built a small Jewish community in Townsville, (pop. 200,000) in Queensland, where Rara comes to visit at least four times a year, with last year students coming for most of the Jewish holidays. The city has 105 known Jews living there and RARA is sure that there are more.
"I fell in love with their dedicated, blind ambition, and headstrong way of just going after Jews with no setbacks slowing them down," he tells lubavitch.com over breakfast. He is, he says, humbled by how much they've managed to do for Jewish life in the city. "They are driven by forces that most of us don't know."