55 Attend CKids' Inaugural Overnight Camp
"It was the best time in my life!" Suntanned and ebullient, eleven-year-old Michael Abenaim just returned from his first stay in overnight camp. For Michael and his twelve-year-old brother Daniel, CKids Gan Israel's ten-day inaugural overnight camp in Lake Worth, Florida proved a novel experience.
Michael and Daniel don't attend a Jewish school, but they have spent every summer at the Gan Israel day camp near their home in Florida, and before that, at Gan Israel in California. In late May, the boys' father, Mr. Elan Abenaim, was talking to his friend Rabbi Leibel Kudan, director of Chabad Ocean Synagogue in Hollywood, Florida. The pandemic, he lamented, seemed to have made summer camp impossible this year. Two days later, Rabbi Leibel was on the phone. CKids would be opening a pilot program in Florida this year. Would Elan like to enroll his boys?
The camp is the brainchild of Rabbi Levi and Chaya Plotkin. Both have been campers, counselors, and directors at Gan Israel day camps around the country since their early childhoods. Seeing the lasting impact the experience had on CGI campers, especially those for whom camp was their only exposure to Jewish education, the couple dreamed of opening an overnight camp on the same model. "Overnight camp has the most profound effect on kids because the children are immersed in a Jewish environment 24/7," said Levi. "And in this environment, children are more open to Yiddishkeit, and more inspired."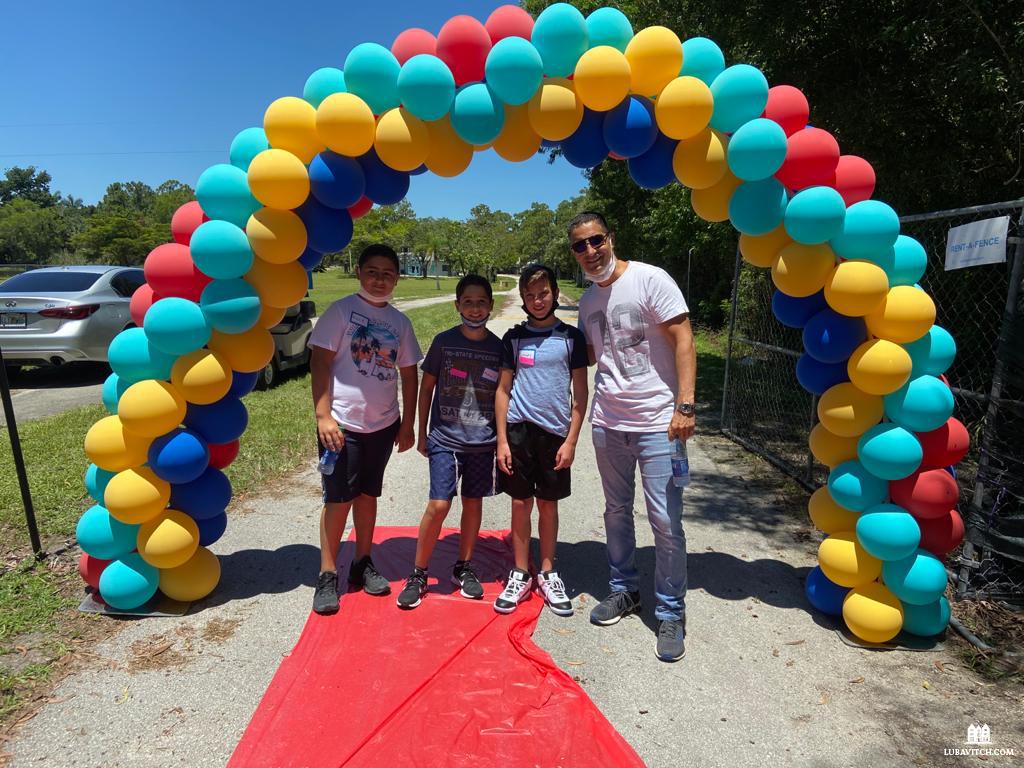 Last year, Rabbi Levi and Chaya proposed the idea to Rabbi Zalman Lowenthal, Director of CKids International. Florida, the state with possible the largest concentration of Jewish children and the fewest overnight camp options, was picked as the inaugural location.
Everything was set for enrollment to open in March, when the coronavirus pandemic hit and plans were shelved. When Florida reopened in May, organizers consulted with Florida Department of Health officials and local doctors before revising the plans in compliance with new regulations. All campers and staff were tested for coronavirus before entering the grounds; there was no visiting day; and all activities took place on site. The camp also had 24/7 security.
After three months in lockdown, Mr. Abenaim was thrilled that his boys finally had the freedom to play sports and spend time with children their own age. But he knew he'd made the right decision sending his boys after the boys returned home, while he was in the kitchen getting his morning cup of coffee. Daniel, who usually wears a kippah only in synagogue, came downstairs with one on his head. "He walked into the kitchen, washed his hands, and said the morning prayers," Elan said. "If someone offered me a million dollars or this moment, I would choose this, over and over again."
After unanimously positive feedback from campers, parents, and staff, CKids is making tentative plans to establish several larger and longer Gan Israel overnight camps, with separate programs for girls and boys over the next few summers.