Decrying the high rate of recidivism among ex-offenders, Judge Joy Flowers Conti, speaking at the recent Pittsburgh Chaplains Conference, underscored the importance of community support as practiced by Aleph Institute.
"Without some community support the ex-offender is going to reoffend. That is what all the statistics tell us," said the Chief United States District Judge for the Western District of Pennsylvania. "If there is not a support mechanism, they cannot make it. That creates a crisis in the communities, because it's crime. And crime begets crime, violence and the erosion of the community."
Speaking at a symposium on Repairing Our Community – One Person at a Time, sponsored by the Aleph Institute of the Northeast Region, the judge addressed trained rabbis and volunteers who visit federal, state and local prisons, state hospitals and group homes.
Rabbi Moishe Mayir Vogel, executive director of the Chabad-Lubavitch organization which provides for Jewish inmates with job applications, medical needs, housing and religious needs, said: "Important to the re-entry to society is for a former inmate to have a mentor, an advocate and someone who cares about him or her." The organization also runs a mentor program, pairing individual inmates with professionals and guidance counselors, to meet on a weekly or bi-weekly basis.
A study on Recidivism of Prisoners Released in 30 States in 2005 by the Bureau of Justice Statistics released in April showed that from 2005 to 2010, 76% of inmates reoffended within five years of their release. By contrast, Vogel says for that those involved with the Aleph Institute, the rate of recidivism is 8%.
"Without [the Aleph Institute], someone who is Jewish will be on the streets without home and that is something that will cause them to go back to prison, and their lives will be forever lost, [and have] an unfulfilled life," Conti said.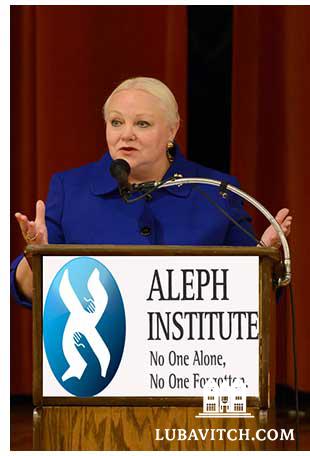 The judge urged the courts turn to organizations like Aleph who provide the necessary tools and programs to ensure a productive time in prison and then a smooth transition.
"When the rabbis, and those that are in prison ministry, are meeting with those individuals you are so important. Think how lost, how lonely it would be, if not one person came to see you. You are changing that life forever," Conti said. "Without G-d in your life, we suffer as a people, we loose so much of our ability to succeed. The faith based organizations are very vital."
Patty Love-Anouchi witnessed the positive effect of the Aleph Institute. in the life of an ex-offender when Vogel asked her to be a mentor. Love-Anouchi was a rehabilitation counselor at a local shelter for battered women. After meeting the rabbi, she agreed to counsel inmates. She worked with one female inmate, meeting with her every week, achieving a radical change. Upon her release, the inmate found steady employment and is excelling in her studies at a local community college.
"While I have always felt that people deserve a second chance, it changed my view in that I see actual concrete progress in ex-inmates' transformation," Love-Anouchi, who was awarded Volunteer of the Year at the conference, said. "I see this not only with my mentee, but with the other ex-inmates that come into Aleph Institute."
Also attending the symposium were Pittsburgh Councilman Corey O'Connor; Ulli Klemm, Administrator for Religion and Volunteer Services at the Pennsylvania Department of Corrections; Belinda Ashley, Chief United States Probation Officer for the Western District of Pennsylvania; Larry Ludwig, District Director of the Pennsylvania Probation and Parole Board; and Rabbi Yisroel Rosenfeld, Dean of Yeshiva Schools and director of Chabad-Lubavitch of Western Pennsylvania.
Judge Conti offered that ex-offenders could do great things if they are a productive part of society and have the confidence to move on with their lives. This she explained is why the organization is so important. "You at Aleph are doing extraordinary things on behalf of the judges in my court. We appreciate the work that you do," she said.