In the tropical Nigerian capital of Abuja, dozens of Jewish volunteers spent a day outside at Chabad of Nigeria's balmy community center, packing thousands of boxes with food essentials. As part of Chabad's humanitarian efforts to combat hunger in Nigeria, a quarter of a million meals were distributed to single-parent families last week, just in time for the end of Ramadan.
In the nine years since he arrived in Nigeria with his wife Chaya, Rabbi Yisroel Uzan has been devoting a share of his time to humanitarian causes for the general population. As director of Abuja's Chabad community center, the Uzans established a preschool, a mikvah, and even a small kosher supermarket. Although he views caring for the needs of the Nigerian Jewish community as his primary responsibility, when he saw the abject poverty all around him, Rabbi Uzan realized Chabad needed to get involved in broader humanitarian work.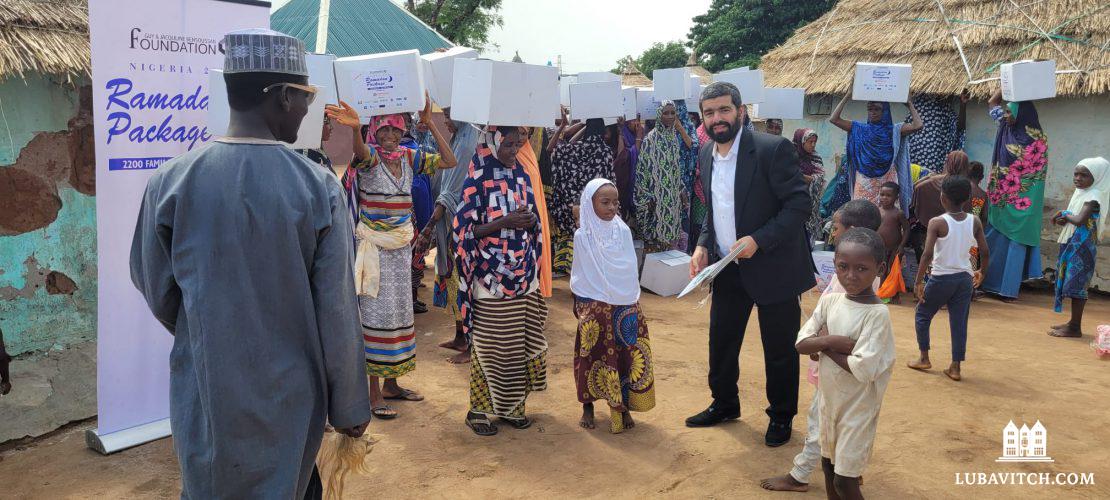 An estimated 88 million people live in extreme poverty in Nigeria, Africa's most populous nation. "It's impossible to live here and not be concerned by what you see happening around you," Rabbi Uzan says. So in 2018, the Uzans founded ChabadAid, a non-profit foundation that sets up humanitarian programs for the local Nigerian population. With the help of backers from Jewish communities worldwide, Chabad began working with international NGOs and the Israeli Embassy to focus on providing education and access to clean water. They built a sports stadium for special needs children, worked to develop schools, and drilled wells in remote villages to provide access to clean drinking water.
As the Muslim holiday of Ramadan drew nearer, ChabadAid began organizing a food drive in partnership with the Foundation for Ethnic Understanding (FFEU) to benefit the nation's widows and single mothers. "The Army and Police provided us with lists of families who lost their father," Rabbi Uzan said, "and we coordinated with the state governments." Working with the Nigerian government and an Imam from Abuja's National Mosque, the food drive quickly grew into a remarkable collaboration between the Jewish and Muslim communities.
Rabbi Uzan stockpiled an incredible four tons of food essentials: rice, pasta, beans, and flour. A few dozen families from Abuja's Jewish community spent hours packing it all up under the hot tropical sun last week.
Finally, they loaded up the thousands of boxes on trucks, and several NGOs distributed the goods across six federal states — Calabar, Kaduna, Lagos, Sokoto, and Borno. Rabbi Uzan himself gave out many of the boxes in and around Abuja. In all, 260,000 meals were delivered to 2,200 widows and their families.
For Rabbi and Mrs. Uzan, the food drive is just one part of ChabadAid's humanitarian mission. "Our primary focus is on boosting education, especially for people with special needs, and providing access to fresh water," Rabbi Uzan says, "but when we get any chance to help our neighbors, it's important that we step up."