Behind the walls of the guarded nano technology industry, a group of great minds meet five times a week in a breakout room in Albany, New York. They discuss, debate, and spar with each other as they parse a dense-looking text. No, it is not code for the latest nano invention. In this 6 by 8 foot room, the group of nano engineers are poring over pages of the Talmud.
Last month, the Nanotech Talmud Study Group, which convenes for an hour every day, marked the completion of the Talmudic tractate of Brachot. The completion celebration, hosted by Shabbos House, the Rohr Chabad Jewish Center serving the students at UAlbany, followed a Summer Study Siesta –a day of Jewish learning with Chabad representatives.
"Just like you have chosen to come and learn Torah while you could be doing something else, we also made that choice," Dr. Joshus Rubin told participants. "When I came here, I didn't know that we would have a Talmud class. My only plan was to make small things: nanotechnology."
Nano technology is the study and application of extremely small things that is used in many scientific fields, including chemistry, biology, physics and engineering. Albany, the capital of New York State, has, over the past decade become the hub for nano, with the opening of a 20 billion dollar university campus, SUNY Polytechnic Institute's Colleges of Nanoscale Science and Engineering. It is also the home to labs of IBM, Samsung, SEMATEC and other leading technology companies.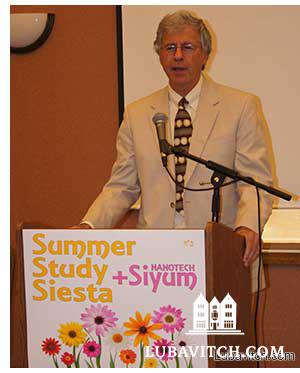 Dr. Rubin, who, nine years ago, began his journey to Judaism at the Roitman Chabad Center at Cornell University, credits Rabbi Eli Silberstein, the Chabad representative at Cornell, with inspiring him to pursue Jewish studies. Then a student, he was reluctant at first, concerned that Judaism was dogmatic and there was a lack of true Jewish scholarship.
"Once he got beyond that initial hurdle, the most distinctive thing I remember about him was his constant thirst for Torah study. An incredible desire to study that was never satiated, and continues to this day," says Silberstein.
The nano industry, observes director of Chabad of Albany, Rabbi Israel Rubin, has also brought new Jewish activity to the New York state capital. As an example, he points to the study group which began two years ago meeting at first only once or twice a week for fifteen minutes, and then grew into a daily hour-long regimen. Participants would remain longer at the office, to make up for their lost work hours. When we caught up with them last Friday, the group was concentrating on folio 6 of the tractate of Megillah.
The Talmudic discussion about the relationship between the results one achieves to the efforts invested resonated with these highly motivated over-achievers: "If someone says, 'I have worked hard, and I have not been successful,' don't believe him. If someone says, 'I have not worked hard and I have been successful,' don't believe him. If someone says, 'I have worked hard and I have been successful,' believe him."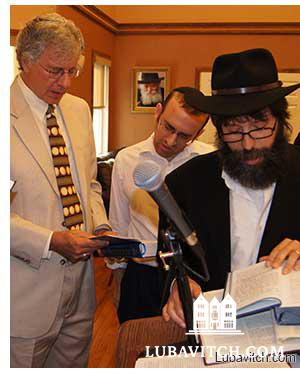 Ted Levin, one of the regulars, saw its application to his Torah study routine: "It's about making a true effort to study Torah every day and you will be successful. And when you place a greater effort in grasping the Talmud, the more you will understand."
Rabbi Rubin, himself a regarded scholar and author of numerous Talmud topics, enjoyed watching the group's progress. "They are professionals, technicians and engineers and even though they have a lot on their desk, involved in technological pursuits, they still are involved in Jewish learning," says the Chabad rabbi. "They are self-motivated and self-learning."
When the group completed the tractate of Brachot, the first of over sixty tractates, Rabbi Rubin and his son Rabbi Mendel, hosted a traditional completion ceremony of the tractate known as a siyum.
"The magic of learning Talmud is to both understand the tangled web of contradictions of rabbinic opinions, and the inevitable resolution of conflict of opinions that lead us to a deeper understand of the oral law," Dr. Scott Halle, a research and development scientist, said at the ceremony. The discussions with the group, he found, have enriched his understanding of the Talmud. "I have been humbled many, many times, in my first attempt to lean from the Talmud."
Larry Smith, a senior member of the technical staff at another major nanotech company, says that the study experience of a tractate concerning prayer, has brought new meaning to his prayers. He is, he said, looking forward to continuing his studies with the group.
"I would encourage others to give it a try."