In the whirlwind of New York City, anyone could be sucked in by the frenetic pace and the often impersonal attitude. For a Latin American Jew landing in the chaos, finding a way to connect to the Jewish community is nearly impossible.
"It's a huge city, you could be overwhelmed by a number of things including your job," Silvia Ringel, who works in a Brazillian bank, said. Fellow expat Daniel Mendelzon, a graduate of New York University and now at JP Morgan, concurs: "In New York there are many different communities, many different groups that you can be a part of, but it's not you."
Rabbi Mendy Weitman picked up on this while leading classes in the city. "I could see that they felt lonely and disconnected from their home and could not find a place in the local Jewish community." So the Chabad rabbi decided to create one.
Although the number of Latin American Jews living in Manhattan is hard to come by, Weitman says he is in contact with hundreds of LatinoJews regularly, and many hundreds more who participate at the various programs over the entire year. The community is comprised of South and Central American Jews, where the spoken languages for the most part are Spanish and Portuguese.
Weitman, the son of Rabbi Dovid Weitman, director of S. Paulo's Chabad Morumbi in and rabbi of Congregation Beit Yaacov, admits that "it would have been much easier to return to Brazil." But, like his father, the younger Weitman embraced the challenge of building a new center and nurturing a new community.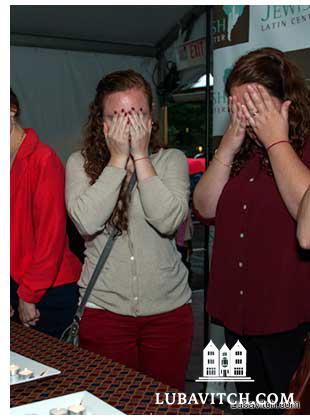 Shabbat and holiday services and dinners, social events, classes on Judaism, and workshops designed to help them navigate American business in the language they are most comfortable in, have made this a safe, welcoming environment for Latino Jews in New York City.
Not an easy task. "New York is a very hard city, people come and go, [therefore] building a community is a challenge," says Argentinean Florencia Chodos, who attends the classes led by Weitman at JP Morgan, where she works. Many of them come and go, making it difficult to reach them and build around them, but, say participants, Weitman does a thankless job and works tirelessly to create community and keep it together.
To find these expats, Weitman keeps his antennae up. Matias Ringel, originally from Argentina, recalls the way Rabbi Mendy found him in the airport. "We were going through the security line, with my wife and twins. Mendy was there, and he turned around and looked at us said 'don't we know you from somewhere?'"
The welcome embrace and hospitality visitors experience with the rabbi and his wife Frumie, brings them back again and again.
"I was randomly going to different synagogues and then we just started coming to the Latin Jewish center. Since then I have been coming here every week. It's unique – you don't find that in any other community here in New York," says architect Adam Ron who comes from Colombia.
Last week, hundreds turned out to salute the center on its fifth anniversary. Julio and Rita Bogoricin received the Jewish continuity award; Dr. Luis Oganes received the outstanding supporter award; Joseph Nahmad received the arts and culture award; and Hannah Schuftan received the community leadership award.
Currently the center's activities are housed in temporary locations. At the dinner, the Weitmans launched a new building campaign which will give the center a permanent place in Manhattan with ample space for its programs and services.
"I was always trying to find something that was similar to Bogota where I grew up," says Erick Epelboim, who works in the financial market. "At the Latin Jewish Center it just feels like home. A home away from home."