On the occasion of the 21st yahrzeit of the Lubavitcher Rebbe, Rabbi Menachem Mendel Schneerson, opposition leaders gathered in the Israeli parliament to salute the Rebbe, his teachings and his role in reviving Jewish life across the globe.
Speakers reflected on the Rebbe's deep involvement in Israeli life. Isaac Herzog, head of the Israeli Labor party and leader of the opposition in the Knesset, spoke of the Rebbe's correspondence with his father. He recalled one letter in particular, written during the Six Day War.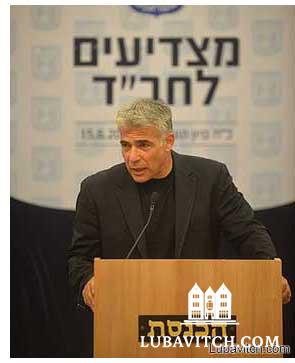 The letter, which Herzog has kept, was "One among other letters [from the Rebbe] on strategy, encouragement and of empowerment for Israel," written to his father. Although he often did not share the Rebbe's strategic opinions, Herzog spoke of his continuing admiration for Chabad and the Rebbe.
Deputy Prime Minister Silvan Shalom spoke about the time when he went to the Rebbe during the famous "Sunday dollars,"when the Rebbe would give a dollar to visitors to give to charity. At the time, Silvan was director in chief of the Israel Electric Company, a position not lost on the Rebbe. "You should spread light" the Rebbe told him.
Yair Lapid, a member of liberal Yesh Atid party, says that he came to know the Rebbe while he was working on a story for the Maariv newspaper. "I spent a month with his writings. I tried to grasp the Rebbe and I was not successful."
Speaking to a reporter earlier in the day, Lapid expressed an appreciation for the Rebbe's complexity. "He is one of the most fascinating individuals of the 20th century."