At a time when other faith communities are experiencing a dearth of young religious leadership, within Chabad there are many like Mendel and Avremel: 20 and 30 somethings who have grown up as children of emissaries and return to their hometown to continue and advance their parents' work.
Mendel Matusof always wanted to be a shliach, Chabad representative. But he had no interest in returning to his hometown of Madison, Wisconsin. The eldest son of Chabad's first representatives to Madison, Mendel grew up in a city that lacked the very basics of Jewish infrastructure and was sent away to school in Chicago at just six years old.
"It wasn't an easy life—not for my parents who had to send me away at such a young age, and not for me, having to leave home so young. I didn't really have any friends here, and I was not inclined to even consider coming back," he says.
So in the early 2000s, when his parents were searching for a suitable young couple to join them in Madison and focus on campus activities, Mendel and his wife Henya were interviewing for positions elsewhere. Eventually, they looked into the Madison position and began to realize that perhaps, "the best thing for us might in fact be in my own backyard."
His own backyard looks very different today than it did 35 years ago, when his parents, then newlyweds, planted themselves in Madison with a dollar and a dream.
The dollar was a gift from the Lubavitcher Rebbe, Rabbi Menachem Mendel Schneerson, and it came with his blessing. The dream was something Faygie and Yona Matusof nurtured when they were yet teenagers—well before they ever met: to become the Rebbe's shluchim, emissaries in the service of Jewish life.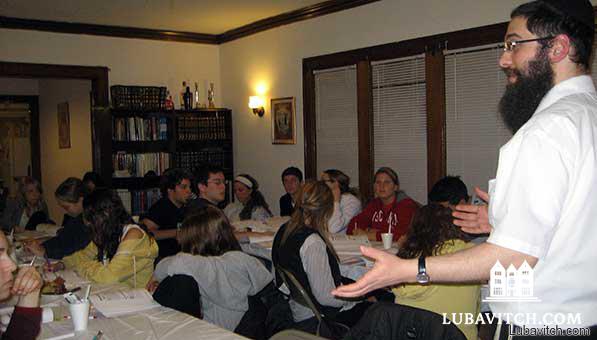 The Matusofs wanted to create a Jewish community where there was none. The prospects were not encouraging.
"When we arrived in 1980, we were told that it's only a matter of time before we leave." They didn't leave, of course, and today, as they engage with Madison's 5,000 Jews through the educational, social and religious activities that they've established, they say it's hard for them to imagine how they managed during those tough early times.
Happily, Jewish locals can now take for granted Madison's robust Jewish community: year-round holiday programs, adult education classes, a summer camp, regular prayer services and a mikveh—all of which made this a livable and lively Jewish community that demanded more dedicated emissaries.
To ensure that the couple they hired for their college campus activities would prove merit, the Matusofs enlisted a committee of campus Chabad representatives to interview applicants. "We wanted to make sure that there was an objective decision about who would best fill the position needed here," explains his mother. The committee chose Mendel and Henya. In 2005, the young couple took the reins of Chabad on campus at University of Wisconsin-Madison, developing programs for the 5,000-strong Jewish student-body.
Rabbi Yona's and Faygie's son, Avremel, who leads adult educational classes, joined his parents four years ago to expand programming for young Jewish professionals.
At a time when other faith communities are experiencing a dearth of young religious leadership, within Chabad there are many like Mendel and Avremel: 20 and 30 somethings who have grown up as children of emissaries and return to their hometown to continue and advance their parents' work. So many in fact, that there is now a surplus of 200 couples awaiting assignments to fill positions as shluchim.
Watching the Generations
Madison community members were thrilled that the little boy who grew up in their bosom, whose life-cycle events they celebrated together, was coming back home. Anna Heifetz remembers going to the Matusofs many years ago for Shabbat dinners back when Madison was what she calls "a spiritual wasteland."
The children, she says, "each had his or her own personality but grew up with the same values and traditions of their parents."
As a youngster, Avremel and the other Matusof children enjoyed running over to Anna's late husband Ben, who was known as the shul candy man. Today, Anna enjoys watching Avremel's children play when she joins them for Shabbat dinners, grateful that the open door policy that made her feel so welcome at the senior Matusof 's Chabad House, has been transmitted to their children.
Developments in new technology allowed Faygie to keep those of her children born later, at home, studying at Chabad's online school for the children of shluchim. Her sons now utilize the same solution and are grateful that their children don't have to travel quite as much as they once did.
"Growing up, the closest other religious kids were an hour and a half away," says Avremel. "Today, my kids love having cousins around to go to the park and play with, and they love going to Bubby and Zaidy's house."
Keeping the Home Fires Burning
When she was growing up, Rivka Gurewitz, nee Kalmenson, had every intention of setting down roots in Aubervilliers, France, the Paris suburb where her parents have helped build a thriving Jewish community and large Jewish day school. Rivka's grandfather, Rabbi Sholom Mendel Kalmenson, was a pioneering Chabad representative in France since 1963.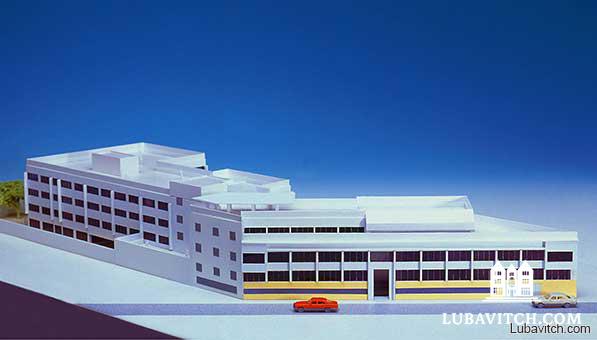 "I felt a sense of responsibility towards my community and I wanted to contribute to my parents' legacy," she explains. When she started dating, her passion for shlichut in France drew her to Sholom Shimon "Koli" Gurewitz who shared her vision, and they were engaged in 2012. But a problem arose.
"My husband grew up in Lyon, the third largest Jewish community in France, and he, too, wanted to give back to his community." French Jewish communities have been struggling with major issues like rising anti-Semitism in recent years, and both Koli and Rivka were reluctant to move to a different community when there was such a need for Chabad's human resources in their hometown. Few American or Israeli couples were jumping at the opportunity to move to a volatile country at a time when thousands of families were choosing to make aliyah to Israel, and the young couple felt that if not them, who?
Rivka and her husband weighed the situation. "We had a bit of back and forth, but eventually we mutually agreed to move to Lyon and join my inlaws in their central synagogue." Four of Koli's siblings had already returned to Lyon and established satellite Chabad locations around the city, but there was a clear need for assistance at the home base. The young couple enhanced programming already in place, and introduced new initiatives for Jewish youth—a critical demographic.
Taking Ownership
When Mendel Moskovitz, who grew up in Kharkiv, Ukraine, got married two years ago, he was offered a position in sunny Florida. But the pride he took in what his parents accomplished in Kharkiv, against all odds, was more compelling to him.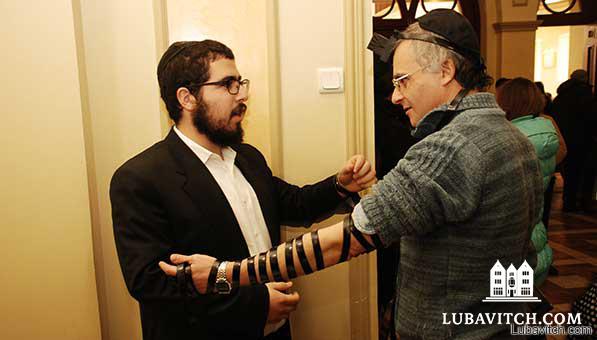 "I always wore a kipa that said 'Chabad of Kharkiv' and I really wanted to come back here." The sense of ownership and responsibility he felt to Kharkiv's Jewish citizens has made him the first child of shluchim to the former Soviet Union to return as a second-generation shliach. He is one of 10 local shluchim—among them home-grown couples (who returned to their Jewish roots through the work of his parents) as well as couples from Israel who have joined his parents to serve the city's 35,000 Jews.
"People told me I'm crazy for giving up on a beautiful, warm place to go to a frigid country that is currently at war," Mendel conceded. "But the truth is, I look back at my parents who came to Ukraine while it was still part of the Soviet Union and their sacrifice is incomparable to what we are risking today. When my parents came there was no kosher food. They created a Jewish paradise with a school and so many Jewish institutions."
His parents, Rabbi Moshe and Miriam Moskovitz, have been in Kharkiv since 1990. Miriam understates it when she admits that looking back 25 years, there were "some hard times." Her children rarely had visiting family and there were no observant children for them to play with. "It was very hard, and sometimes it was incredibly lonely," she remembers.
Today, having grandchildren nearby is a blessing she relishes, a sweet reward for all the lonely years. She and her husband, like all the shluchim who were personally guided by the Rebbe, were sustained by a sense of mission—and privilege at having been selected by the Rebbe—and have lived moment to moment with the Rebbe's mandate and his blessings.
This, says Mendel, is what motivated him to forgo the offer in Florida. "It is easy to worry about a war and give up, but this is my community and I have an obligation to serve. The people here need us, they need our help in so many ways."
All Grown Up
The sense of belonging is mutual. Community members feel invested in the children of Chabad representatives and look forward to seeing them return.
"They are thrilled when a child decides to join his or her parents," says Faygie Matusof. "It makes everyone feel like this is a worthy community, and that we care about them and are here to stay."
She remembers people feeling sorry for her children as they grew up so far away from a religious enclave with no like-minded peers. "When they see how the children are willing to come back as adults, they are amazed. They see that they are beautiful human beings and that they are not 'angry' or traumatized by the way they were raised and the sacrifices they made."
Seeing two of her children return to Madison "really solidifies our belief that we did the right thing in taking our kids and raising them out here in a desert. So much so that they are now proud to do the same thing!"
Fertile Ground for Growth
Dr. Jim Stein, a physician at University of Wisconsin School of Medicine, was an undergrad many years ago when the elder Matusofs had just moved to town. When he moved back to the city in 1996 as an adult, Chabad had grown substantially, but there was a limit to how much two people can do, he says.
"Ever since Mendel came to UW nine years ago, Chabad of Madison has exploded," Dr. Stein says. The baby boomer generation might have had some reservations about Chabad, but having the children of the rabbi they have come to know return to Madison, felt like welcoming back their own. "It took a decade, if not longer, for people in the mainstream community to accept Chabad." That means, he explains, that "the road has already been paved" for the children who come back. Dr. Stein, who also serves as president of Madison's Jewish Federation, says that today Chabad has become quite mainstream. Their events regularly draw well over 100 people.
"Both the quality and the quantity of their programs are the envy of many other Jewish organizations in the city."
"There is a sense of authenticity that the Matusofs and their sons offer that appeals to young adults. Across the United States there has been a decline at synagogues, Federations, JCCS—except at Chabad. We are seeing the same thing here in Madison. The Federation has been working very hard to engage young adults with variable success, whereas Chabad is working very hard and success is the rule in almost all their programs."
The success was hard won by Faygie and Yona. "My parents have spent 35 years of hard work before seeing these wonderful results. The success is on their shoulders and I'm cognizant of that at all times," says Avremel Matusof While Avremel may not toot his own horn, his mother is only too proud to kvell about her children's accomplishments.
"Times have changed and new people have new ideas. While my children won't do anything major without my husband's consent, he generally acts as an adviser and gives them the autonomy to accomplish their job in the manner they see as best. And they have done an amazing job!" Often that will lead to the Chabad house implementing hi-tech solutions— the hallmark of the millennial generation. Rabbi Yona Matusof used to keep his entire mailing list on a rolodex like system of index cards. When his son moved to town, a data management system quickly became the norm.
On the Shoulders of Giants
Koli's father, Rabbi Shmuel Gurewitz, is the senior Chabad representative to Lyon. Under his leadership, Lyon's Jewish community has grown and is now served by four Chabad houses and a 700-student Jewish day school. There are 40 synagogues in Lyon today, many of them led by young Jews who themselves, the children point out, returned to their Jewish roots as a result of the Gurewitzs outreach.
Having a new young couple join an established Chabad center often shakes things up and opens the way to fresh ideas and new programs. But that does not mean that the older generation gets to rest on their laurels and retire. "They are not off the hook," says Rivka Gurewitz with a smile. "They are the experienced ones who built everything from scratch. Our ideas are welcome, but it is them we turn to for advice. Their experience is invaluable and they are incredible mentors."
Knowing that their parents were sent by the Rebbe and were personally guided by him makes the younger generation defer to their parents' wisdom and life-experience. Conversely, the older representatives are grateful and themselves inspired by the professionalism and creativity that the young Chabad representatives bring with them.
Mendel Moskovitz was eight months old when his parents moved to Kharkiv. Settling here with his wife, he has all the benefits his parents did not have: he knows the lay of the land as any local does; he's got the language skills and a good handle and who's who in the community, allowing him to negotiate his way with ease and confidence that his parents did not have in those early years.
He is inspired by all they've done, and humbled by the privilege he now has. "It is a pleasure and an honor to work alongside my father, and it is also a big responsibility upholding what my parents' built over 25 years. They have created something so special and helped so many people. I want to continue that legacy."