Jacob hadn't set foot inside a synagogue since 1971. But after Hurricane Ian turned peaceful Cape Coral, Florida, into a watery nightmare, he called Rabbi Yossi Labkowski to ask about Yom Kippur services. On Wednesday at Chabad of Cape Coral, Jacob broke down when he attended Yom Kippur services for the first time in fifty-one years. Despite the residual carnage outside, Rabbi Labkowski says his community came together for a meaningful Yom Kippur.
Before Judaism's holiest day, Chabad of Cape Coral mobilized a full-blown relief effort to help distressed community members, from hot meals and temporary housing to mental health counseling. As Chabad emissaries, Rabbi Labskowski and his wife Rivky say they're here to help, and not just spiritually. "When the community needs material help, we're absolutely going to do everything we can," he says.
The night after the storm, the Rabbi and a few Hatzalah volunteers responded to a call for help. "Emergency services weren't answering," he recalls, "a community member, Eileen, called; she was stranded in her house in three feet of water." Their vehicle struggled through flooded streets, around hidden pools, and over fallen branches for forty-five minutes before they got Eileen to safety.
Initially, they organized an effort to ensure everyone in the community was alright. Hatzalah volunteers drove where they could, and a local volunteer steered his boat to Pine Island, where a destroyed bridge had isolated people from the mainland.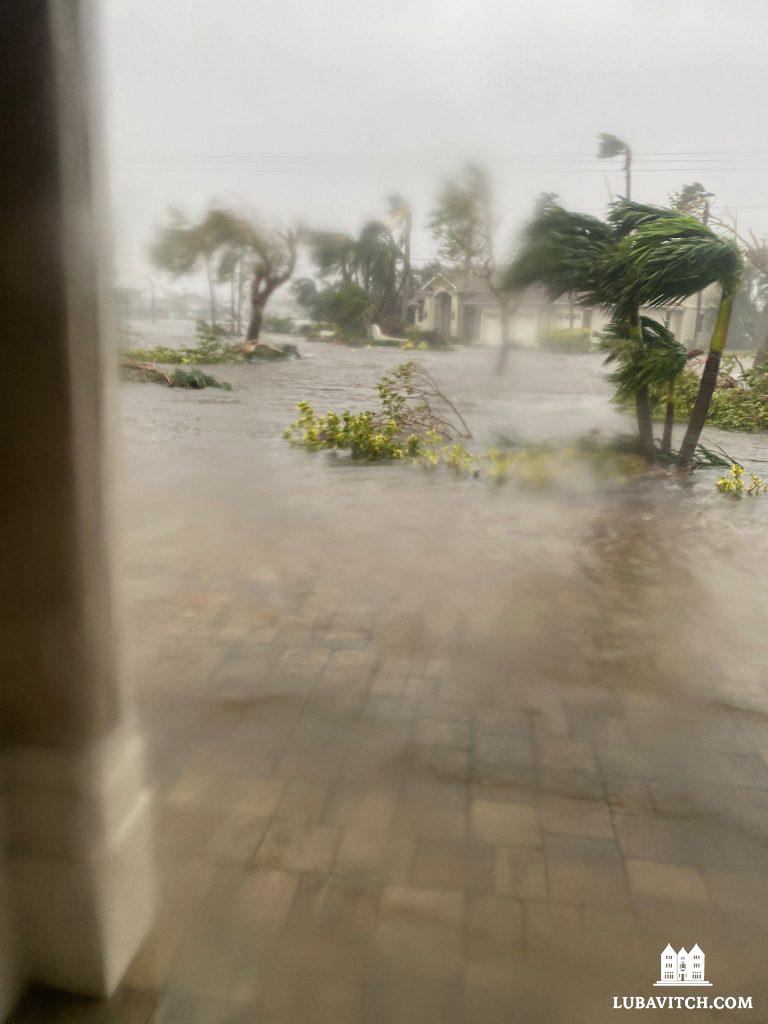 Several community members opened their homes to friends who no longer have one. One mother was moved by Rabbi Labskowski's request to house Eileen. "This is why you have to stay connected to Judaism," he told her son. "Someone will always care for you."
"So many people lost their homes entirely," Rabbi Labkowski says. So while temporary arrangements have kept a roof over their heads for the past week, he's looking at arranging permanent housing. Powered by a donated generator and food deliveries from Florida Jewish communities, Chabad continues to serve hot meals for the community and neighbors and distribute medical supplies.
Working with multiple agencies, the Labkowskies brought in doctors, nurses, physician assistants, nurse practitioners, and trauma therapists on Thursday to offer free help and counseling. "The community is still in shock," Rabbi Labkowski says. "We need to help people get back on their feet."
Across the affected regions of Florida, Chabad's many centers have stepped up efforts to provide emergency relief to their communities. At Chabad of South Orlando, director Rabbi Yosef Konikov and his team have rescued people stuck in flooded homes and delivered food and water to people stranded due to flooded roads.
In hard-hit Fort Myers, Rabbi Yitzchok Minkowicz's Chabad center served a full community meal ahead of Yom Kippur. "People went hungry all week," he says. A friend, David, told him, "I was hungry enough that I didn't know how I would fast on Yom Kippur." Thanks to the food sent by the Boca Raton Jewish community, he was able to fast and enjoy Chabad's plentiful breakfast on Wednesday night.
As he looks forward to Sukkot, Rabbi Labkowski is hopeful that his Cape Coral community will be able to celebrate the joyous holiday despite the trying circumstances. "We're setting up our Sukkah, and we'll come together for meals," he says. "In times like these, people are tremendously grateful just to be alive."
To support Chabad of Cape Coral, visit chabadcape.com/hurricane-ian-relief-fund