Senators, members of Congress, ambassadors, and dignitaries enjoyed kosher spreads, high-profile talks, and academic dissertations at a day-long conference in Washington DC. Held in an elegant caucus room, right across from the United States Capitol, the "Living Legacy" Conference honored and reflected on the life work of the Lubavitcher Rebbe, Rabbi Menachem Schneerson, ahead of the 120th anniversary of his birth.
Congressional leaders put partisan politics aside for a moment, with Senator Ted Cruz (R), House Majority Leader Steny Hoyer (D), Rep. Lee Zeldin (R), and about twenty others speaking at the conference. Senate Majority Leader Chuck Schumer (D) of New York reminisced about his visits to Chabad Headquarters in Brooklyn in a speech peppered with Yiddish expressions. "Not many gatherings have both Jan Schakowsky (D) and Madison Cawthorn (R) in attendance," said Rabbi Levi Shemtov, Executive Vice President of American Friends of Lubavitch (Chabad), after the Illinois Democrat and the North Carolina Republican both spoke at the breakfast.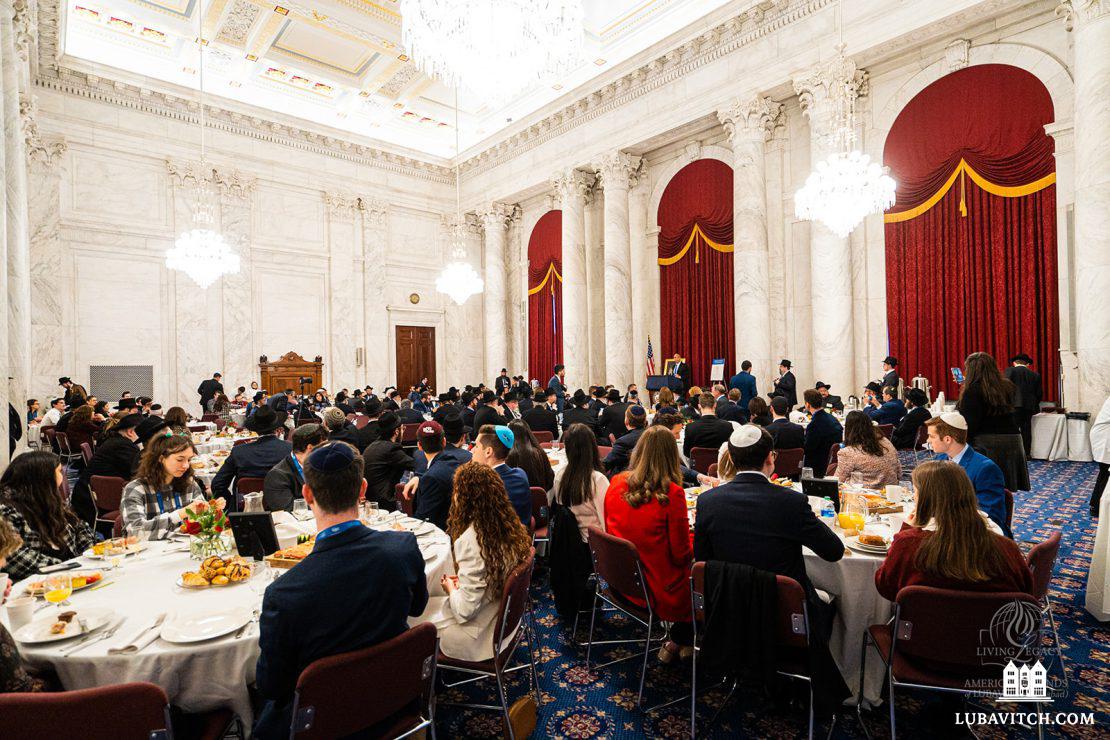 "Chabad rabbis from around the world came here to get energized and underscore the Rebbe's message," Rabbi Shemtov said. "It would be one thing to have hundreds of Jews from Brooklyn coming here which would be wonderful, but when you have people from forty-something states and dozens of countries, that's something else." Chabad rabbis traveled from as far afield as Kazakhstan and Casablanca and from small U.S. communities in South Dakota, Hawaii, and Alaska.
In the afternoon, British Professor Naftali Lowenthal spoke at a lecture hall in the Library of Congress about the Rebbe's enduring efforts to educate and build communities around the world. He was followed by Justice of the Supreme Court of Western Australia Marcus Solomon, who also serves as a rabbi at a Perth synagogue and teaches Hebrew School on Sundays. He spotlighted the Rebbe's unique approach to the separation of Church and State. "The Rebbe saw the divinity within humanity," he said, focusing on Chabad's willingness to celebrate Judaism in the public sphere. "We each must demonstrate that our public expression of faith is compatible with our civic and public lives," Justice Solomon said.
The events in Ukraine cast their shadow over the conference and served as a significant theme in the day's proceedings. Rabbi Jonathan Markovitch, Chief Rabbi of Kyiv, delivered the invocation at the diplomatic luncheon, speaking of his desire for peace to return to Kyiv. "We all want peace, quiet, and success," he said before leading a prayer for peace in Ukraine at the congressional breakfast in the morning. He had left Ukraine with his wife in the early days of the war but returned to help his community.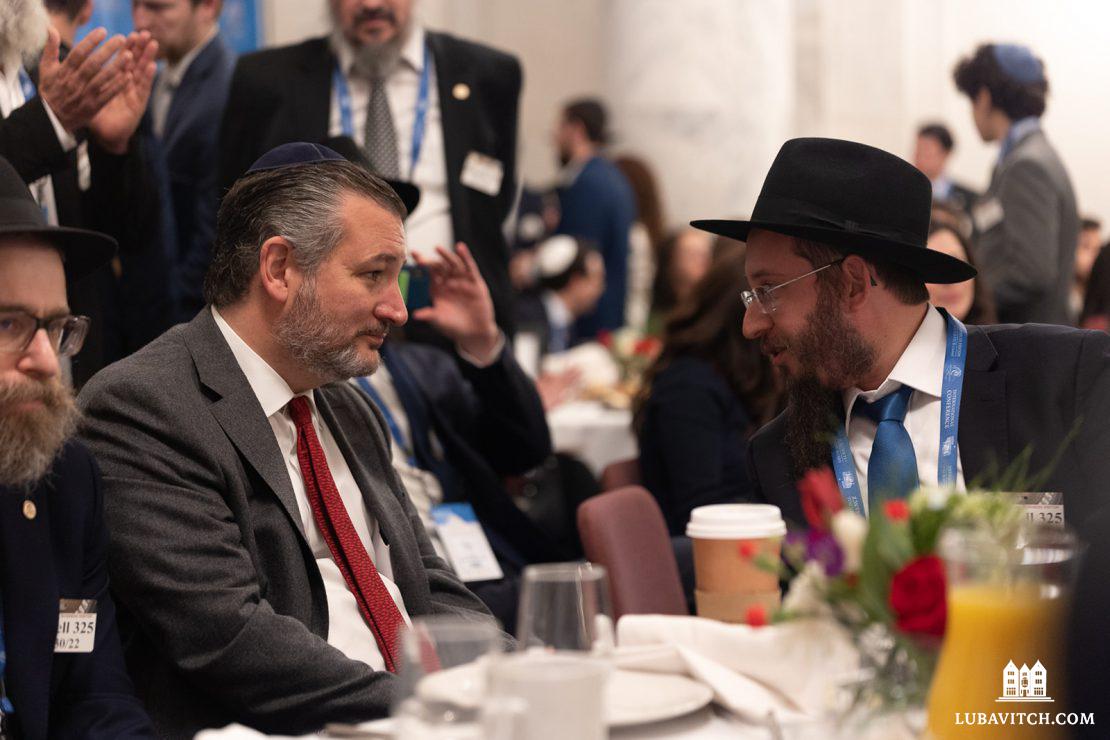 Diplomats and ambassadors networked with Chabad emissaries from around the world at the international luncheon. Mr. David Malpass, President of the World Bank, gave a global perspective on Lubavitch's work and the Rebbe's legacy. Mrs. Anne Neuberger, Deputy National Security Advisor for Cybersecurity and Emerging Threats, also spoke at the event.
As the sun set over Washington DC, the hundreds of conference-goers gathered for an elegant banquet. There was a rousing talk from Former Senator Joe Liberman, who pointed out that Chabad has proven unique in its ability to carry on the Rebbe's legacy, and as the Rebbe's 120th birthday approaches, his life's work is proceeding even stronger than before. Former refusenik turned Israeli politician Natan Sharanksky took the dias and reflected on his encounters with Chabad emissaries behind the Iron Curtain, "Chabad had a network before there was an internet," Mr. Sharansky remarked.
The attendees were privileged to receive a report from the director of Chabad of Berlin, Rabbi Yehuda Tiechtel. Since the war in Ukraine erupted, his organization has been hosting hundreds of Ukrainian refugees, including an orphanage from Odessa. He recalled what happened when German President Frank-Walter Steinmeier visited the children. "He sat with me, surrounded by these precious children who lost everything but still somehow have the strength to laugh," Rabbi Tiechtel said, "The President turned to me and said, 'Rabbiner, this is the light that Chabad brings.'"