On Sunday and Monday, Rabbi Mendel Zarchi was preparing for a Rosh Hashanah crowd of 150 guests at Chabad of Puerto Rico's bustling center in Carolina, Puerto Rico, when a Category 3 hurricane crashed into the island. Hurricane Fiona flooded thousands of homes and plunged the entire island into the dark. Much of Puerto Rico is still without electricity or water.
Assessing the aftermath, Rabbi Zarchi resolved to do all he could to provide aid to locals, and ensure the Jewish community is able to celebrate Rosh Hashanah in a good state, physically and spiritually. He issued a call for emergency supplies, from medicine to non-perishable food. "On Rosh Hashanah we remember that all human beings are G-d's creations," he says. "We're helping wherever we can."
Chabad purchased a generator ahead of Hurricane Maria in 2017, and as one of the few places on the island with working internet, Rabbi Zarchi opened the Chabad House to people who need the internet to work remotely this week. With a tropical heatwave on, Chabad's refrigerator has been working overtime to keep the community's holiday food safe. But most of all, the community has been touched by an outpouring of support from the American Jewish community.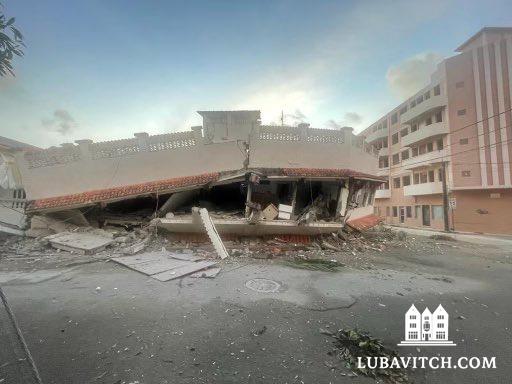 "We might be surrounded by water on all sides," Rabbi Zarchi says, "but we know we're not alone. We've been overwhelmed by support from the Jewish community in the states." Several companies, including Kedem (Kayco Foods), responded to the call by sending thousands of dollars of food and aid, and local warehouses owned by the Monarch Group have donated space to process the shipments.
"Thursday morning we're expecting $15,000 worth of provisions," Rabbi Zarchi says. The supplies are set to be loaded on trucks, and Chabad's team is working with local relief organizations to distribute the goods to the island's worst hit regions, with stops as far as two hours away in Guanica, Cabo Rojo, and Salinas. "We're seeing the terrible adversity people are facing," he says. "I hope we can help with the aid we've procured; even just to know that there are people who care is encouraging."
Despite the wrecked infrastructure, the Jewish community here looks forward to Rosh Hashanah. Rabbi Zarchi and his wife Rachel are working to keep up spirits and ensure it'll be a meaningful beginning to the New Year. "We had a pre-Rosh Hashanah event scheduled for Tuesday," Rabbi Zarchi says. "We refused to cancel, dozens of people came, and it gave everyone a wonderful and inspiring escape."
Some in the community took leave of Puerto Rico ahead of the storm, but 150 people are still expected at Chabad for Rosh Hashanah. "We're all facing adversity together," Rabbi Zarchi says. "It's brought us closer, and I'm confident we'll celebrate an intimate and sweet Rosh Hashanah together."