Three Chabad centers—all growing—and a host of Jewish educational and social activities make proud the burgeoning Jewish communities of Bethesda and Chevy Chase, MD. Spurred to action by one woman who "gave of herself 110%" to build facts-on-the-ground, inspire meaningful connections and a joyful Jewish present, this is a glimpse into a community that saw only one way forward after the mover behind it all was suddenly gone.
Bethesda, Maryland, a suburb of Washington, D.C., is one of the most affluent and highly educated communities in the United States. In 2014 it placed first in Forbes list of America's most educated small towns and first on CNNMoney's list of top-earning American towns in 2012. The large local Jewish population of professionals, lobbyists, and academics is highly secularized, and one would expect Chabad's message of traditional Judaism to be a hard sell in the progressive community.
Yet, today Chabad of Bethesda and Chevy Chase, a nearby suburb, is flourishing with a Hebrew School, Gan Israel Day camp, mikveh, popular children's programming, weekly adult education classes and a synagogue with a daily minyan that has outgrown its current space. With three thriving Chabad centers, one in Bethesda and two in Chevy Chase, Chabad has successfully developed into a tremendous resource for the local Jewish community. The community is currently building a modern new center, with an enlarged sanctuary to accommodate the growing community, and more classroom space for the Hebrew School that has quadrupled in size in the past five years. A new Chabad couple will be joining in the fall to aid in the expansion in programming.
The driving force behind this remarkable growth, Mrs. Zlata Geisinsky, a gifted educator, dedicated community leader, and devoted mother, passed away quite suddenly in the early days of summer 2010 (Rosh Chodesh Tammuz). She was 49.
Zlata moved to Rockville, Maryland, with her husband, Rabbi Bentzion Geisinsky, in 1983, to serve Southern Maryland's Jewish community. After setting up a center there, they moved to nearby Potomac, and again to Bethesda, drawing together a tightknit and dedicated following.
Unassuming and nonjudgmental, Zlata drew numerous people to her, to her open home and heart, and inspired them to embrace Torah and mitzvahs with greater enthusiasm and commitment. In a place where sleek and shiny corporate Judaism was the norm, the Geisinskys stood out for their sincerity, warmth and genuine caring.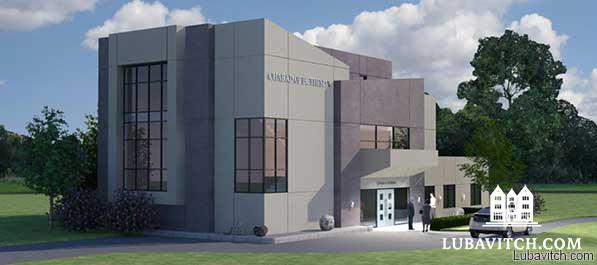 Co-director of the Chabad House's activities, Zlata served as a personal counselor to many in the community. She was responsible for building and running the local mikveh–the only one serving the greater Washington area outside of Orthodox communities in Baltimore and Silver Springs, and directed the preschool at the Melvin J. Berman Hebrew Academy, Rockville's largest Jewish preschool. A role model to many, she devoted a great deal of effort to issues affecting Jewish women.
Dr. Robert Eisdorfer, a community member and physician who cared for Zlata during her last days, reflected on the deep impressions she made in her quiet ways. "None of us realized how much she did and how she was the glue of our community until she was gone because she was involved in so many different things that didn't always overlap. Her absence shed light on how widely and brightly her light shone."
"You don't really know what you have until it is gone," he says sadly.
With her passing, her husband moved his focus to the newer Chabad centers in Chevy Chase and the eldest of Zlata's six children, Sender Geisinsky, and his wife Nechamie, have taken over most of the responsibilities at the Bethesda Chabad House. Bentzion explains that the husband and wife partnership is essential to a Chabad House's success, and since he could no longer provide that for his community, he handed over the reins, confident that Nechamie's warmth and passion will fill the void that Zlata left.
Following his mother's premature death, his life, says her son Sender, "was in shambles—there seemed no viable path forward without her. Life just couldn't go on." But the life his mother modeled finally drew him out, her loving voice coaxing and cajoling him to pull himself together and "give 110% to shlichus and raising a family."
He expanded the Chabad center's programming during the last few years with astonishing results. "We started a minyan three times a day in the year after her passing," an achievement that is almost impossible in a community where most Jews go to synagogue only three times a year. But community members, indebted to the woman who inspired them all, made it happen. The minyan continues to this day.
Zlata's life work continues through the three thriving Chabad Centers she helped establish, a camp and Hebrew school that are now serving a second generation of students, as well as new women's classes, a new Torah scroll, and a unique charity fund, Keren Yad Zlata, perpetuating her quiet kindness. The new community center will be named in her honor and her son is working on a new preschool, to be named Gan Zlata or Zlata's Garden.
Her daughter, Aidie Shusterman, a shlucha in Beverly Hills, California, says her mother achieved so much in her short life, leaving her imprint in the preschool she established, the mikveh, and the multiple Chabad Houses she helped build.
"But if you were to ask my mother, I have absolutely no doubt that she would say that her children are her legacy. At her essence, my mother was above all else, a mother. She put her entire being into raising us and we felt it at every moment of every day."
Since her mother's passing, Shusterman makes a conscious effort to emulate her mother's kindness and pay it forward. "Every program in my Chabad House, every Shabbat and Yom Tov meal, every act of generosity or kindness, I do in reflection of her and with hope of doing her proud. But most of all, every moment of every day, I am a mother."
Dana Ginsberg of Potomac, Maryland, says that Zlata was not only her introduction to a more spiritual lifestyle, but "a second mother." A marathon runner who will soon run her 7th race, Dana was inspired by Zlata's lifestyle and character to make many meaningful changes. The passing of her role model and mentor came as a terrible shock. "I started running to deal with the void she left, and I ran my first marathon in her honor."
"Even today when I run, I feel like Zlata is the wings beneath my feet."