As students move back into their dorms on campuses nationwide, Chabad is doing its thing, welcoming them with opportunities to make it a spiritually enriching year.
Rabbi Dov and Runya Wagner, Chabad representatives at the University of Southern California (USC), posted Facebook greetings to students with the offer to put a mezuzah up on their dorm rooms. "It's Mezuzah Season! Want one? Let us know…"
"Having a mezuzah on your door reminds you who you are: a Jewish person," said University of Central Florida (UCF) freshman Lexi Goldstein, who received a mezuzah from her local Chabad on Campus.
Many campus Chabad centers offer the mezuzahs as a loan for the year, taking $20 to $35 collateral. At UCF, a donor has stepped forward to pay for the mezuzahs, provided that it stays in use or is returned when the year is over. This year UCF Chabad is busy affixing mezuzahs on 150 dorm rooms.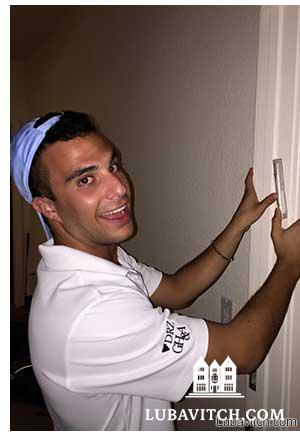 Rafy Layish is a freshman at UCF. The mezuzah is familiar to him, having grown up with them at home. Having one on his dorm apartment, he explains, keeps the Jewish atmosphere he's used to. "We wanted to maintain a Jewish presence in our apartment," he says, speaking for his roommates as well.
The mezuzahs are a curiosity to other students on campus. "Our non-Jewish friends are usually curious to know why it's up there," Layish says. "I tell them that the mezuzah is there as a constant reminder of mitzvot; that inside [the case] there is a scroll with the Shema inscribed on it."
Focusing on one's Jewish idenitity often takes a back seat to students' college obligations. The mezuzah, says Goldstein, has so far been a reminder to her to also focus on Jewish observance. "Every time I walk through the door it reminds me what I need to do Jewishly."
Like other students who are new to the campus, Goldstein hadn't met the local Chabad representatives, Rabbi Chaim and Rivkie Lipskier, when she found out about the mezuzah program. But it became an opportunity to interface, giving her a reason to meet the rabbi, and him the chance to reach more of the campus's 6,000 Jewish students one on one.
At that first meeting, the rabbi introduced himself to Goldstein and talked about the Chabad programs available on campus. Since then she's been to the Chabad House and plans to keep attending. "They [Chabad reps] are great people, I like them a lot, I enjoyed it," she says.