With intermarriage rates worldwide at close to 50%, Rabbi Shlomo Levy makes no secret of his intentions when planning his annual "Peguisha" weekend for college students and young professionals in Buenos Aires. "We want them to meet other single Jews," he says simply.
Over the last 30 years, every August the Peguisha has brought thousands of young Jews together for 4 day of workshops, lectures, kumzits and inspiration. 230 eighteen to thirty five year-olds from Argentina, Paraguay, Uruguay, Chile and Brazil joined this year's weekend held at a beachfront hotel in Carilo, Buenos Aires.
For some, like David, the only known Jew in Quitilipi, a city in Chaco Province, Argentina it is their only opportunity to meet potential Jewish partners. Speed-dating sessions, workshops on Jewish values in marriage and relationships and many networking sessions maximise this opportunity.
Participants discussed the whys of intermarriage, and each received a book entitiled 'Rabbi, Why Can't I Marry Her?' They celebrated Shabbat together with joyous singing and dancing. For many young men, it was their first time being called up to the Torah, some of the women chose Jewish names for themselves.
The peguisha ended with a bonfire and 'stump the rabbi' session where no topic was off limits.
Rabbi Shlomo's son, Rabbi Zalmi Levy directs the El Lazo youth center, the largest youth center in Argentina with his father. The center has engaged more than 52,0000 young people in the last 24 years and claims to have been the meeting place for over 1000 Jewish couples during that time.
The Peguisha is a project of El Lazo.
Many of the participants, said Levy, bonded over the weekend, either with new friends, or potential life partners. And importantly, "everyone left feeling uplifted, with promises to keep in touch and the commitment to further their Jewish involvement."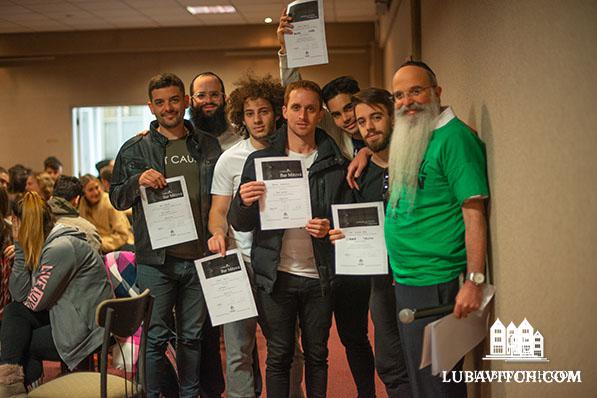 Some of those who had their first aliyah to the Torah and received Bar Mitzvah certificates