Nestled in the world's largest Ponderosa pine forest, Flagstaff, Arizona is a ruggedly picturesque city surrounded by mountains. Home to Northern Arizona University, the city sees a steady stream of tourists year round; in the summer months, hikers, bikers, and nature enthusiasts seek out its varied trails, and the winter brings waves of skiers and snowboarders eager to shred the slopes. Seasons change, travelers come and go, but Chabad of Flagstaff is a fixed presence, serving residents, students, and tourists.
A groundbreaking ceremony this past Sunday, March 26, for the Molly Blank Jewish Community Center now marks a new era for the city's Jewish community. The 11,500-square foot building, which will include a synagogue, kosher kitchen, social hall, library, classrooms, student and youth lounge, and outdoor terraces, is quite the upgrade from Chabad's current small storefront. The center will also feature a women's mikveh, the very first in northern Arizona (the closest one now is located in Phoenix, a two-and-a-half hour drive away).
"This is going to open up many new opportunities," says Rabbi Dovie Shapiro, who co-directs the Chabad with his wife, Chaya. The new facilities, he says, will allow for larger events and proper catering, and will also provide a better venue for their annual summer camp. On the drawing board: tourist retreats, guest lectures, weddings, and a preschool, which will enhance the Jewish experience of Flagstaff's 500 permanent Jewish households, the additional 300 who move in for the summer, and the 700 Jewish students registered at NAU.
The center's 2.2 acres of land were originally purchased in 2010 with a grant from George and Pamela Rohr of the Rohr Family Foundation, "the original visionaries," says the rabbi. With that, the Shapiros were looking at raising $4.6 million for the center's construction.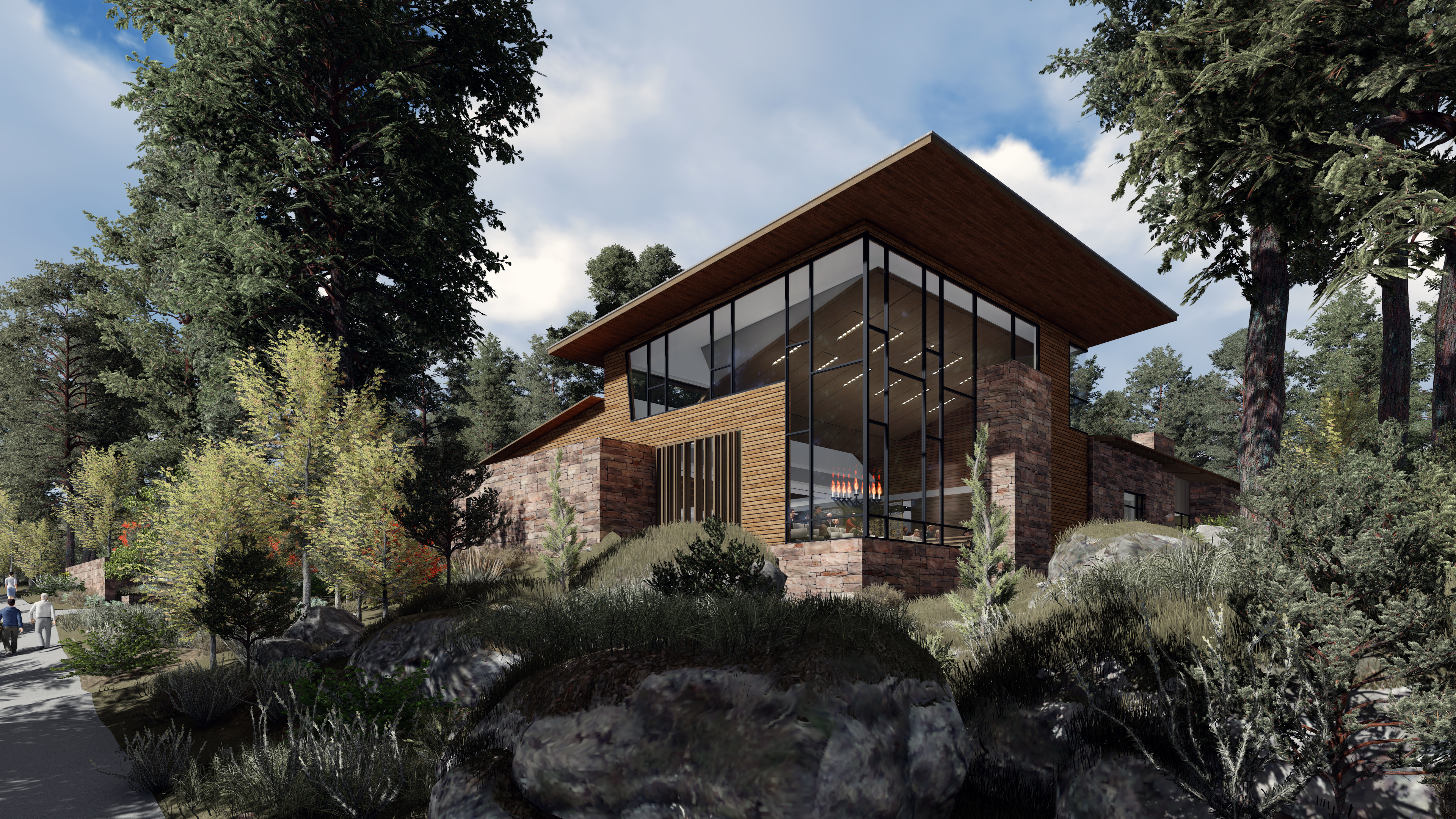 The space stood empty for five years until, in 2016, community members Michael and Carmen Blank decided to bring the proposed building plans to life by offering a challenge grant from the Molly Blank Fund, dedicated in their mother's honor: if the Flagstaff community would raise a million dollars in six months, the fund would match and double it, donating two million.
The campaign was a success. "Community members, supporters, and friends stepped up to do it together," says the rabbi.
Chabad then enlisted the services of architect Jim Shelton, who is working with their vision to create a space that makes the most of Flagstaff's natural beauty and is also warm and welcoming. "It must be open, to invite people in, but create a safe place as well," Shelton explains. "It is critical to…create a very open plan that connects people together."
The broad scope of services and functions that Chabad offers created a challenge. "This diverse use, coupled with limited space and resources, always creates some conflicts," he says, explaining that the key is to add flexibility by having spaces serve multiple purposes. "Chabad of Flagstaff will transform the community, its services, and its connection, and its beauty will inspire."
Celebrating the groundbreaking was a crowd of 300, including Flagstaff Mayor Coral Evans, NAU provost Daniel Kain, Chabad of Arizona's regional director Rabbi Zalman Levertov and other dignitaries.
"Thanks to Mrs. Blank and the Molly Blank Fund, and to all of you here. . . Flagstaff will have a community center that welcomes, honors, uplifts and recognizes our Jewish community here in Flagstaff; a center dedicated to providing Jewish education, outreach, and social programming for families and individuals of all ages and all backgrounds," Mayor Evans said in her address to the crowd.
Appealing to the crowd to help raise the $750,000 needed to secure the matching grant and finish the project, Mrs. Carmen Blanks announced an additional $750,000 matching grant from the Molly Blank Fund.
"What we are building here. . . is not just bricks and mortar," Chaya Shapiro says. "We are building the future of the Jewish people. We are building community. . . A place where everyone from all walks of life and all backgrounds are welcome and embraced."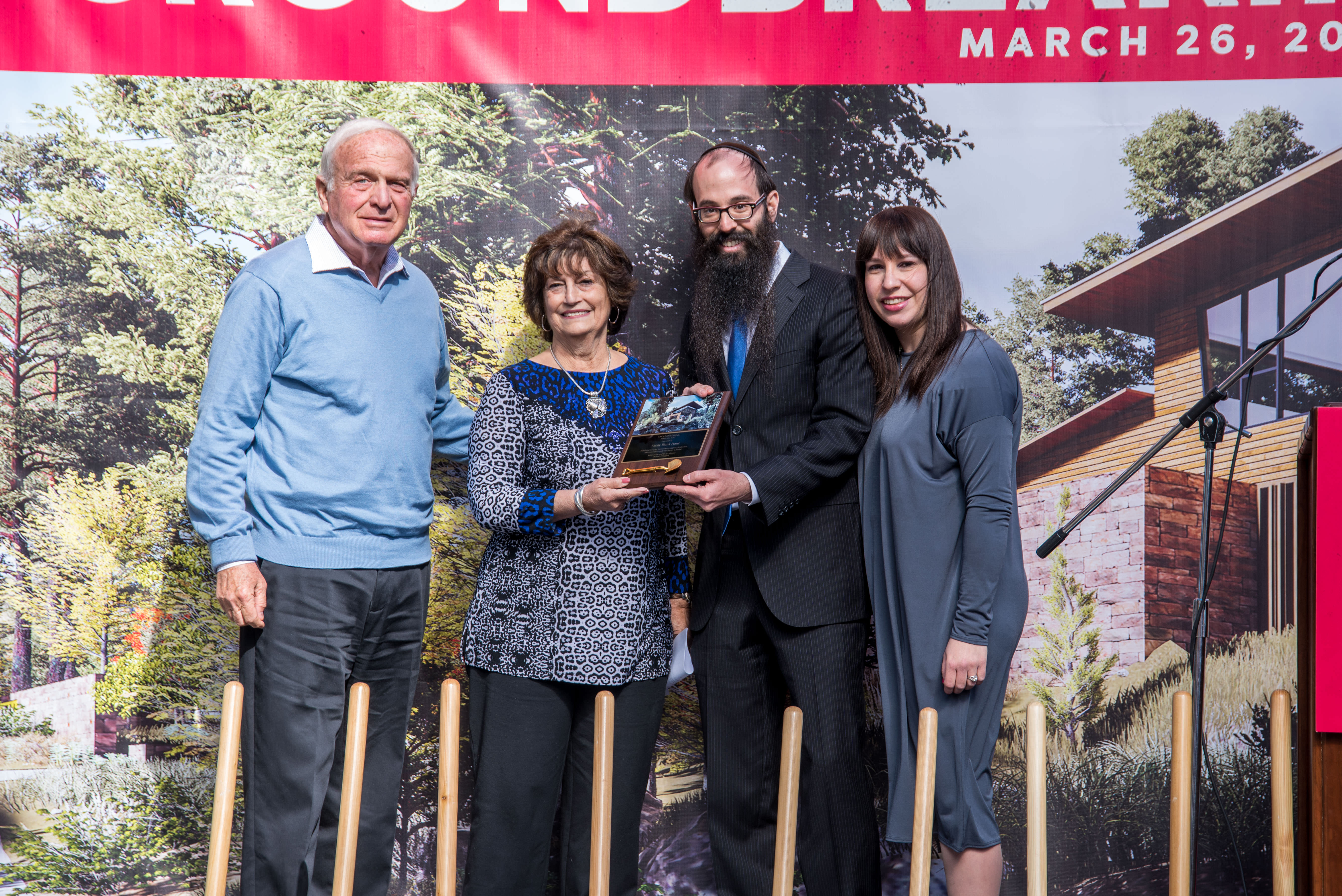 Jessica Stott, Chabad's President at NAU, says the new space "will just be more opening and welcoming to students and the community in general." Even more exciting, she says, is that the new building at 930 W. University Ave. will be closer to campus. "When it's far, it's a big deal to travel there. Now, you'll be able to see it from campus," which sits just two blocks away from Chabad's new location.
Chabad Flagstaff is unique in that it caters both to students and permanent residents. "This allows students to meet community members, and the community appreciates the youth. They really complement each other," observes Rabbi Shapiro. "Although each demographic has its needs, many overlap, and our goal is to build a facility where everyone can be together."
Stott describes her experience sharing a space with the community as a positive one. "I've grown close to a lot of the community members and I've gained mentors and friends. It's also beneficial for community members, because the older ones have so much to teach and they love talking to the students."
Pausing to reflect, she adds, "it's nice to see that when you grow older, you can still be involved in Judaism—you can still learn and make Judaism a part of your life." It will be nice, too, for students to finally have a space of their own at the center with the new lounge and facilities. "This will give students more opportunity to have their own classes and grown and learn," she says.
Life coach and community member Burt Gershater says the new center is uniting the community in more ways than one. "The building shows us how much we as a community can accomplish when we come together. The new center will take things to a new level that we never imagined to be possible."
In the eleven years since the Shapiros moved to Flagstaff, Gershater adds, the Jewish community has seen "incredible growth and promise," prompting the Shapiros to recruit another Chabad couple, Rabbi Shmulik Moscowitz and his wife Yael, to help them.
Construction on the building is expected to be completed by early summer of 2018.
To learn more about Flagstaff Chabad, visit www.JewishFlagstaff.com.