It was a rare night out for Jewish women in Abuja.
Spa for the Soul marked the opening of the newly constructed Abuja mikveh, with an all-inclusive spa night featuring manicurists, masseuses, yoga and pilates instructors, jewelry designers and more.
The event drew forty women from both Abuja and nearby Lagos, an hour by plane, as well several women from Ghana. Some 80 Jewish families live in Abuja and Lagos, a number that fluctuates as businessmen, travelers, and seasonal residents come and go.
Completion of the mikveh, the first in Nigeria, did not come easily to Rabbi Israel and Haya Uzan, Chabad emissaries to the country, and now that it's done, Haya is focusing on communicating the tradition and dispelling misconceptions that surround it. "It's an ongoing effort, because the women come and go," she says.
Lack of knowledge is a recurring issue so education about the mitzvah of mikveh and what it entails is key. "At first, many people were skeptical," says Uzan. "'Who is going to use the mikveh?' they asked. 'It's too complicated.'" Some women thought the observance of the practice of mikveh involved collective bathing—they were hesitant about even attending the spa event.
Working under the leadership of the head Chabad emissary of Central Africa, Rabbi Shlomo Bentolila, the Hazans began construction on the mikveh 18 months ago, but building anything in Nigeria, let alone a westernized mikveh planned according to halachic specifications, comes with a unique set of challenges.
"Many parts of the mikveh had to be redone due to low quality of work. We had to teach the Nigerian construction workers how to read the plans properly." And high-quality materials—a scarcity in Nigeria—had to be imported from Europe.
The mikveh is built on land provided by Israeli businessman Eyal Mesika of security firm EMI. Further assistance came from businessmen Avi Abecassis and Eli Goldar of construction company Gilmor, who helped with the funding, as well as many other sponsors who contributed to the campaign.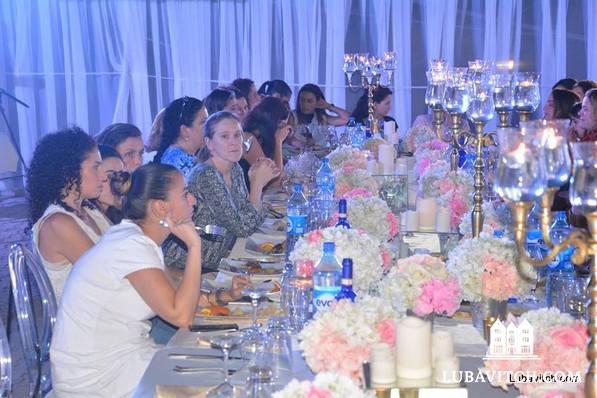 Construction was supervised by mikveh expert Rabbi Gershon Grossbaum and representatives of Keren Mikvaot. It was designed with the help of professional interior designers working remotely from France.
The finished product was well worth the wait. "When women at the opening saw it, they were so surprised and excited to find such a beautiful structure in Nigeria," Uzan who, until the opening of the new mikveh, had either to use the Atlantic Ocean in the port city of Lagos, or fly to France, a five-hour plane trip, to make use of a mikveh there.
Community member Mor Aviad agrees. "The dedication ceremony was a holistic experience, a purification of the body and the soul," she explains. "Every activity at the event was connected to the subject of renewal. It was an important reminder of the place of faith in our lives, and, of course, a reminder that each woman needs some quality time."
Aviad, who lives in Nigeria with her husband and three children, adds that she is "very relieved" to have a Jewish Chabad playgroup in Nigeria, where her youngest daughter is enrolled, to help her children connect with their heritage and their homeland, Israel.
Seeing the state-of-the-art mikveh in person, says Uzan, is an important step in the right direction. Slowly but surely, Jewish women of West Africa are using this clean and modern oasis in the Nigerian desert as they take ownership of ancient practice.
To learn more about Chabad of Nigeria, visit their website at www.JewishNigeria.com.