On his first visit to Belgrade, Rabbi Yehoshua Kaminetsky was stranded. The room he booked was taken, and no area hotel had any availability. With nowhere to go, he spent the night in a hotel lobby, and told himself that he'd never move to Belgrade.
That was 8 years ago. This past September, he and his wife Miri opened a new Chabad center and a luxurious mikveh—Serbia's first in 70 years. (Until now the closest kosher mikvah had been in Budapest, a four or five hour trip each way.)
Joining the four hundred guests at the September 12 opening were the president, vice president, and board members of the Belgrade Jewish community, along with Israeli ambassador Alona Fisher and her deputy. Chabad emissaries arrived from Serbia's surrounding countries, among them Bulgaria, Croatia, Poland, and Vienna, for the event.
Serbia is home to 3500 Jews, 2000 of whom live in Belgrade. There is also a small Israeli community of about 100 people, as well as many tourists and traveling businessmen. When the Kaminetskys first moved to Belgrade eight years ago, their Chabad House was located on the outskirts of town.
"We came here with nothing," says Rabbi Kaminetsky. Now, thanks to an anonymous donor, they have been able to purchase a building on the main street of Belgrade, in the center of the city. The new facility sits right alongside the Serbian ministry buildings, government offices, and international embassies.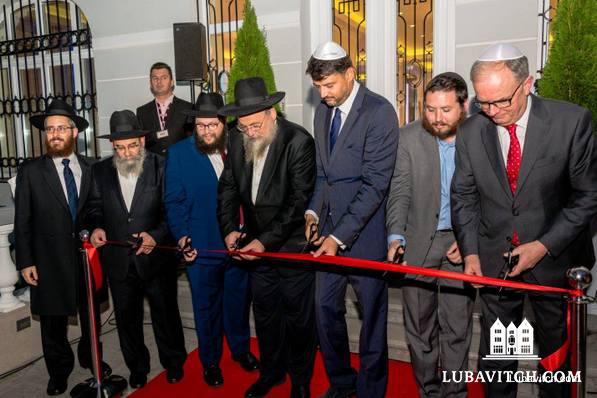 "The new Chabad center is located in a great place, in the center of the city. It's a strong statement to the Belgradians," saysYosef Levi, former Israeli ambassador to Serbia.
Holocaust survivor Josif Baruhovic agrees. "It's very representative, especially in this street of Milos the Great," the leader for whom the street is named.
The building was originally purchased three years ago, but construction permits were delayed until plans that would preserve the historical structure of the building were confirmed. Renovations finally began last November, allowing just enough time for construction to be completed by this year's high holidays. The multi-million Euro center includes a ballroom, industrial kitchen, library, synagogue, kindergarten, state-of-the-art playground, guest rooms, and offices.
Professor Dejan Popov, an active member of the community, is grateful for Chabad's presence in Belgrade. "If it weren't for Chabad, I wouldn't have the opportunity to take my children to experience the authentic atmosphere of Shabbat and the holidays."
Former Israeli ambassador Levy agrees. "For me, Chabad Serbia is a success story. They started from nothing, and they built a community, they built a center, and they started activities. They have their group of followers, members, and friends, and that group is getting bigger and bigger."
Adir Elal, CEO of Airport City Belgrade, believes that the new building is a positive step forward for the community. "We know there's a place in Belgrade which will always be safe, and that will remind us who we are and where we came from."