Rabbi Zalman Bluming is a man on a mission.
For the past 15 years, the energetic rabbi and his wife Yehudis have welcomed students to the Rohr Chabad at the University of North Carolina Chapel Hill and Duke University. They have housed and fed hundreds of patients and their families at Beit Chanoch, the House of Healing at Duke Medical Center. In between semesters filled with classes and rousing Shabbat meals, the rabbi leads Israelinks trips for an international roster of college students. The two also direct a thriving community for the families and researchers who call this small North Carolina city home.
The broader Jewish community is taking note. On January 22, the Blumings received the Earl and Gladys Siegel Young Leadership Award, a prestigious designation granted annually by the Jewish Federation of Durham-Chapel Hill.
Inspired by the recognition and the mutual support he has enjoyed with the Federation, Bluming is on a mission to encourage his colleagues to enjoy closer collaboration as well. "I really believe there is a natural relationship between Chabad and the Federation," Bluming declares. "Every Jew, affiliated or not, is a member of both and we share a responsibility to every Jew.
"I also hope to highlight to every Federation the natural partnership Chabad shares and I have certainly seen a heightened interest from the Federation world."
The alliance in Chapel Hill has helped all segments of the Jewish community. The Blumings teach regular classes and host Chanukah and Purim parties at the Federation's new 10 million dollar campus. Several local Jewish organizations are in the midst of expansion campaigns. And, after many years of a more conservative approach, Bluming notes that "Chapel Hill has gained a tremendous confidence in its ability to emerge as a viable and vibrant community."
Hymie Genderson has lived in the area for the last decade. He tried out different synagogues before landing at Chabad for the High Holidays in 2011. "It was an instant click," recalls the pharmaceutical executive. "They took me under their wing and helped me discover the path of Judaism comfortable for me." Had Chabad had a presence on campus decades earlier, muses the 48-year-old, his life may have taken a different turn. As it was, Genderson met and married his non-Jewish former wife at college.
The Blumings, he says, "are modeling such a beautiful home for the students." The relationships they see, believes Genderson, "help them once they start their own families." At one point, while he was traveling extensively and going through a divorce, the meal he enjoyed at the Bluming's shabbat table was his only hot food of the week. Well, that and the leftovers Yehudis packed for him to go.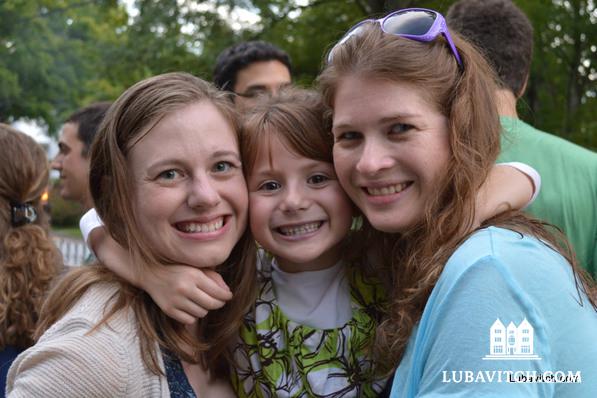 Last year, Bluming's teenage son koshered Genderson's home. Genderson learns with several local rabbis weekly. Remote study partners serve the purpose when he's on the road. ""The rabbi has done so much for me, so much here. It all started with Rabbi Bluming."
It's important, believes Bluming, to provide not only gefilte fish and roast chicken at your Shabbat meals, but also food for the mind. There are enough social events to go around on campus, he says, but when Nobel laureates, professors and sports leaders are regular speakers, "you have a real niche."
When she was a freshman at UNC in 2004, Lexie Kuhn met the Blumings. Having a family unit on campus is unique, says Kuhn, and imperative. "A college student doesn't usually get two solid parental figures at college. Chabad was the only place to find that family feeling." To unwind during the stressful semesters, Kuhn would bake challahs with Yehudis. The Bluming's three-year-old taught the med student to form a six-braided loaf.
Now a physician and back in Chapel Hill, Kuhn brings her own three-year-old to the Blumings for marathon challah baking sessions. "I'm really proud to say my children both have a Jewish identity from a young age, it makes me really happy." Kuhn's daughter was named at Chabad and a year later the Blumings coordinated her son's brit. Though not a student anymore, the Blumings still provide her, and now her own family, with that same "taste of home."
Their impact isn't limited to the students on their own two campuses. The spirited rabbi helped inspire Israelinks, an intense study and touring program that brings students to Israel on bi-annual subsidized trips. Joel Gutovitz, a sophomore at the University of Kansas, just returned from 15 days in the Holy Land. "Being there, soaking in the history, was very profound," Gutovitz shares. "My grandparents were Holocaust survivors and it is so meaningful to me to have a land, a safe space.
"Seeing Judaism through Rabbi Bluming's energy, he's the most high energy person in the world, inspired us all on the trip." Gutovitz has brought at least one tangible change to his life since returning mid-January. "The rabbi encouraged us to spend 12 seconds each morning thinking about what we are grateful for, within ourselves and around us." Through the stress of college life, this, says Gutovitz, "puts it all in perspective."
Madeline Seltman is Director of Engagement at the local Federation. The Blumings, she says, deserve this award for "always doing what is best for the community." Together, Seltman and Yehudis organize holiday programming and Seltman says it's a pleasure "working with the Blumings since, unlike some other synagogues, Chabad and the Federation are open to anyone in the community regardless of affiliation.
"So many people didn't grow up here, don't have families to spend holidays with," continues Seltman. "We are a community of transplants and transients, and the Blumings give everyone a home."