Over 1,300 people gathered at the Thousand Oaks Civic Arts Plaza to celebrate forty years of Chabad in the Conejo, California. Headed by Rabbi Moshe and Matty Bryski with Rabbi Yisroel and Leah Levine and two other emissary couples and several assistants, Chabad of Conejo serves thousands of Jews. They often mark milestones with galas, but this one surpassed the norm.
"Usually we give awards to honorees, listen to speeches and enjoy some entertainment for twenty minutes to half an hour," said Levine. "This year, we wanted to make it more of a fun night for the community to recognize that we're celebrating together." Bryski agrees. "Forty is a significant number in Judaism. Moses was on Mount Sinai for forty days, the Jews were in the desert for forty years, and the Talmud says that forty is the age of deeper understanding. So we wanted to do something special to honor that."
Forty years ago, things looked very different in this Jewish community. "When the Chabad of the Conejo opened its first location," Bryski said, "no one ever dreamed that the Conejo Valley could become the Jewish community it is now. We now have nine Chabad Houses. Thousands of people are involved."
Aside from the classic Chabad programs they offer, such as Hebrew School, bar mitzvah lessons and hospital visitation, Chabad of Conejo's signature program is the Conejo Jewish Academy for adult education.
"We have multiple classes and lectures every night." said Levine. "We have thousands of adults who attend the Conejo Jewish Academy," said Bryski.
Not only adults benefit from Jewish education at Chabad of the Conejo. "We also have a Hebrew high school. Over 100 teenagers come after school for Jewish classes," said Bryski.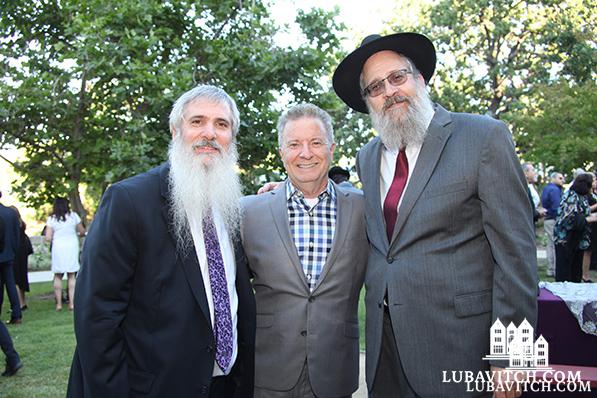 Rabbi Levine (right) and Rabbi Bryski (left) with a supporter of Chabad in the center
The celebration of these accomplishments included music by Kol Esperanza, Jewish-themed comedy by Mark Schiff, a nostalgic video with photos from Chabad's four decades and a reading of all the honorees from galas over the past forty years. "Forty-two of our sixty honorees from all the banquets from the past four decades were there," said Bryski.
Inspirational speeches followed. "I spoke about Jewish unity and anti-Semitism," Levine said, "and the resolve of the Jewish people not to be victims any longer and to bring light into the world. Rabbi Bryski spoke about the ripple effect people who have been inspired by Chabad have on others."
"It was a magical night," Levine said. "The music in particular gave people a feeling of Jewish pride and connection to Israel with their medleys, songs and stories. Everybody was just wowed by the entertainment and by the message of coming together to celebrate our accomplishments and our Judaism."
But it's not just about one night of celebration in Chabad of the Conejo. "Although it's always wonderful to look back at past accomplishments," Bryski said, "we have to look to the future and add to the work we've begun."
Photography by Stanley Photography & Video
The forty year anniversary logo
Rabbi Bryski speaking at the event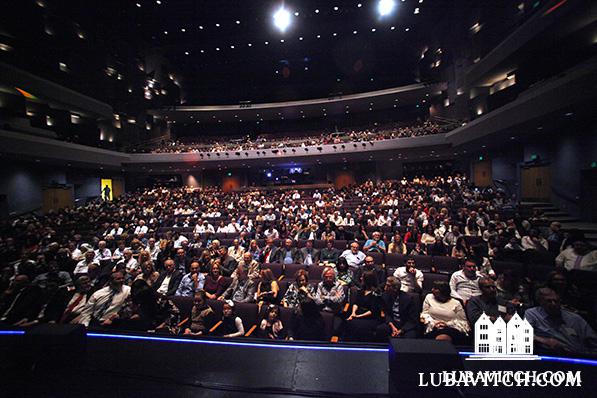 A crowd of 1,300 attended the event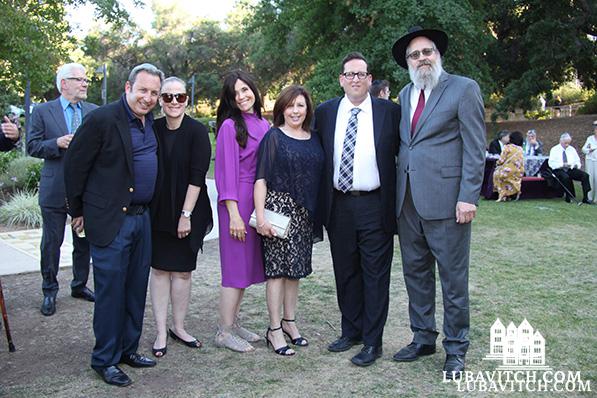 Rabbi Levine, far right, Leah Levine, middle left