When Rabbi Ovadia and Nechoma Goldman came to town in 1998, they were told Oklahoma City was reform country. "Nice thought, but you won't last long here," was the polite yet clear message. The couple, then in their twenties, was not deterred. Today, two decades later, the community is united around their presence.
"Honestly, I was clueless about Chabad and what they do," recalls Edie Roodman, then the Jewish Federation's executive director. "But if two people were here to add more Jewish spirit and light, I was more than willing to support them and be there for them."
Soon after their arrival, Roodman asked Rabbi Goldman to speak at a function at the governor's mansion. It was a who's who of Jewish leadership, and his speech was a literal platform in the community. Since then, Goldman credits the Federation's leader as giving Chabad a place at the table and expressing sensitivity toward Shabbat and kosher.
Though OKC's Jewish community is small, with approximately 1,500 people, the city's interest in Judaism has soared in recent years. When the Goldmans first moved to the area, kosher meat and wine were not in the local stores, but now they are readily available. Nechoma runs a popular preschool, and the students move on to Chabad's Hebrew School. Adults are also learning. Goldman's most popular offerings are his varied Torah study classes, which attract a wide following.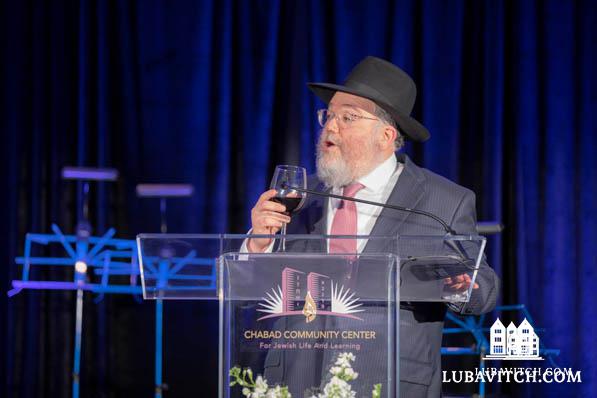 Education is not the only way connections have been made in the community. Observing holidays provides a chance for Chabad to unite the community and educate them about lesser known dates on the Jewish calendar. "Nobody knew about lag baomer," Goldman says. "And Shavuot was considered a minor holiday and celebrated accordingly." Today, they have robust programming in all areas of Jewish life. Even Chanukah has received more public attention, although, traditionally, the holiday was celebrated quietly at home. This past year, Chabad's large menorah was lit in front of 400 people from the general community, which was almost double the number of people from the year before. A local institution even asked to borrow Chabad's large outdoor menorah for their own event.
"The fact that holidays, and Judaism, have become something that everyone talks about makes us feel very good," Goldman enthuses. "I couldn't dream of anything better." Roodman adds to this sentiment, saying,"We were always a community that tried to celebrate important Jewish holidays. I think the way Chabad celebrates, and welcomes everyone, sets a really high bar for other Jewish organizations to do more and better."
During Roodman's twenty-five-year tenure as the Jewish Federation executive director, Chabad and the Federation were "always wonderful partners. It was never a competition, just a way for all of us to do more and better."
"More and better" was a theme at Chabad's recent twentieth anniversary celebration. Attendees raved about the Goldman's continued effect in the city, while the two leaders promised more programming, classes, and experiences.
Roodman was especially proud of them. "They have cast a net so far out into the community, enhancing and enriching Jewish feeling and pride. Incredible Jewish souls."