The room erupted with a standing ovation at the tenth anniversary gala for Chabad of Waterloo as Rivky Goldman was presented with a bouquet of flowers "for all the cooking, counseling, and love you give to each student." In the journals placed on each table, was a letter received from Canadian Prime Minister Justin Trudeau. "I am pleased to offer my warmest greetings to everyone celebrating tonight," the letter read, noting that Chabad has been a "focal point in the Jewish Community" and thanking them for their "dedication to fostering fellowship."
Rivky, her husband Moishy, and their infant son arrived in Waterloo in 2008. Though still settling in, on their first Shabbat in town, they hosted ten students from the nearby Wilfrid Laurier University and the University of Waterloo. "Now, if we have ten students on a Friday night, we ask ourselves what went wrong," Moishy muses. Their activities and community have grown so that they now regularly host around a hundred students at the Rohr Chabad Center for Jewish Life. Their mission is to provide Jewish community for the approximate eight hundred Jewish students who attend the universities and the three hundred Jewish families who live in the vicinity. Though these are two very distinct demographics, the Goldmans endeavour to meet the needs of each. Their JLI classes and Holiday programs are popular with families and adults, whereas on Friday nights, their large dining room becomes cozy as students squeeze makeshift seats into any space they can find.
"But it's not just quantity," Moishy insists. "Our metric is the effect we are having on individuals to grow in their yiddishkeit."
The gala dinner was a testament to that success. The capacity crowd of 180 made this clear with their words and applause throughout the evening.
Master of Ceremonies for the evening Luisa D'Amato, columnist at the Waterloo Record, shared her personal encounter with Chabad. After surviving the Holocaust and immigrating to Canada, Luisa's maternal grandmother changed her last name to Anglicize it. She had done her best to shelter her children from their Jewish identity and the horrors she'd witnessed on it's account. "Every time I tried to explore my Judaism, I was sharply discouraged, until Chabad reached out and I was warmly embraced," she said. Since her first JLI class last winter, Luisa hasn't missed a week.
Luisa introduced the guest speaker of the evening Cantor Moshe Kraus of Ottawa, a Holocaust survivor himself. Moshe told the audience how, depleted of all his strength after surviving so much horror, he had gone on to build a proud Jewish family. He shared the exhortation of the Klausenberger Rebbe, who had befriended him at that time. "We have questions about our past, but no answers. Our only answer is to live as Jews the way our parents and grandparents taught us to."
Rivky's flower bouquet wasn't the only surprise of the night. In a gesture that guests described as a "touching moment," the Goldmans chose to publicly honor their children. The infant who arrived with them ten years ago, now eleven, was joined on stage by his younger brothers and little sister. The siblings commute two and a half hours daily to attend Chabad day schools in Toronto, and they share their home and parents with the students and community. "The kids didn't choose to sign up for this," Moishy shared with Lubavitch International. "We wanted to honor their sacrifices too."
For more information and to support Chabad of Waterloo, visit www.JewishWaterloo.com.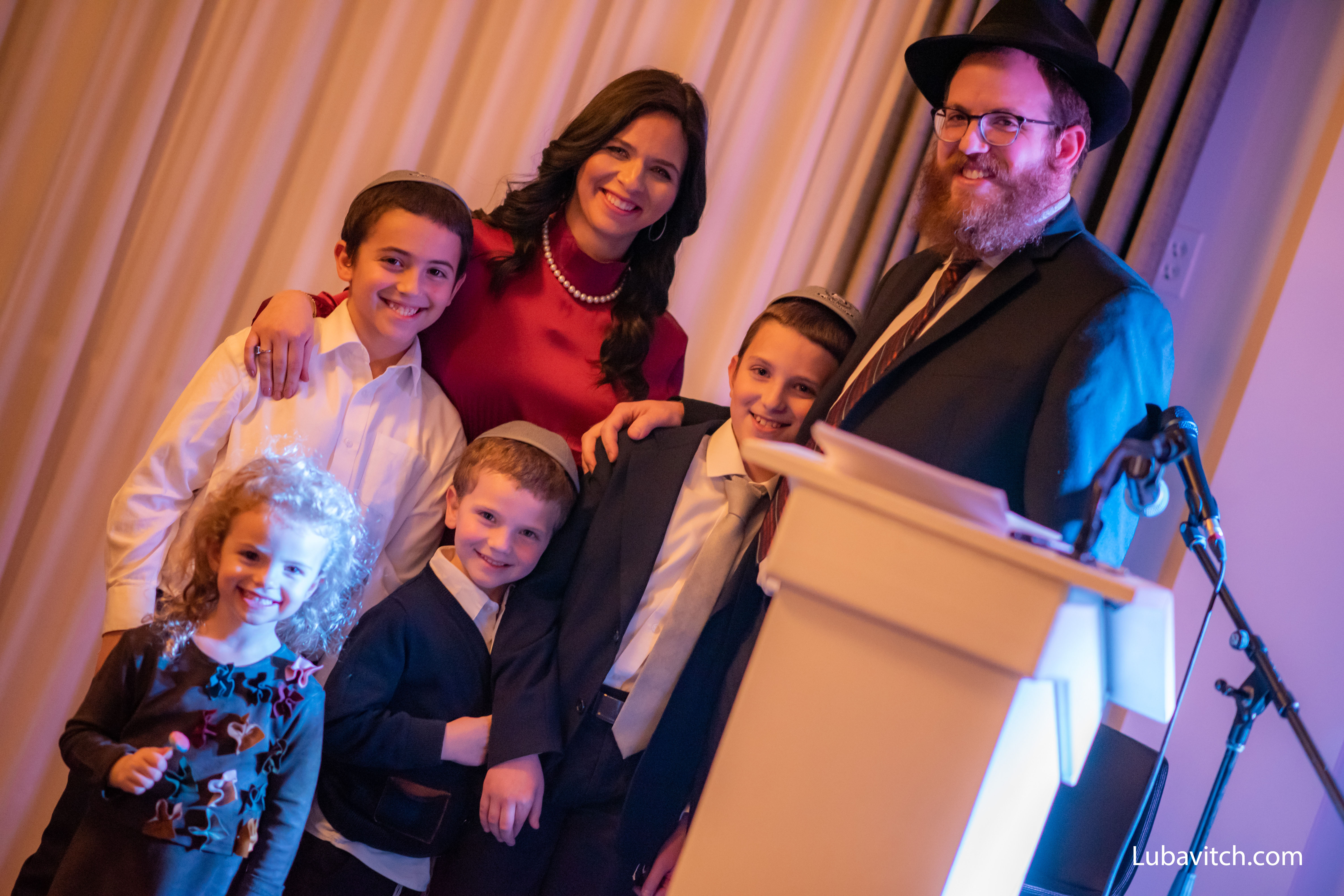 The Goldman children are honored at the tenth anniversary gala for Chabad of Waterloo
Cantor Moshe Kraus signs copies of his autobiography, Moishele Der Zinger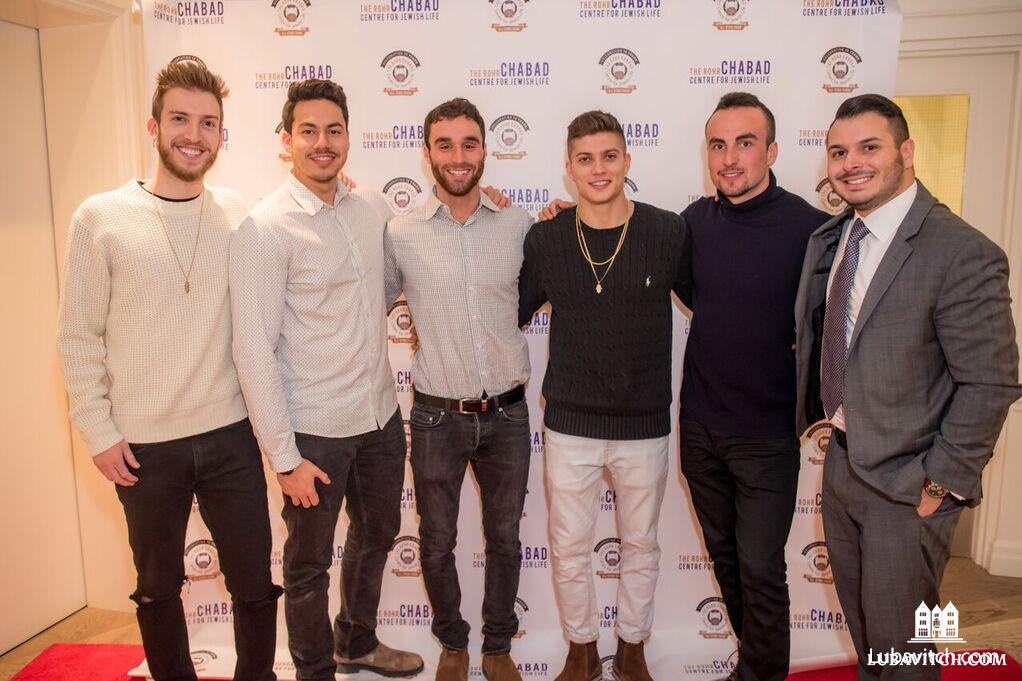 Mitch Consky (3rd from left) winner of the Young Leadership Award is surrounded by fellow alumni of the Rohr Chabad Center for Jewish Life in Waterloo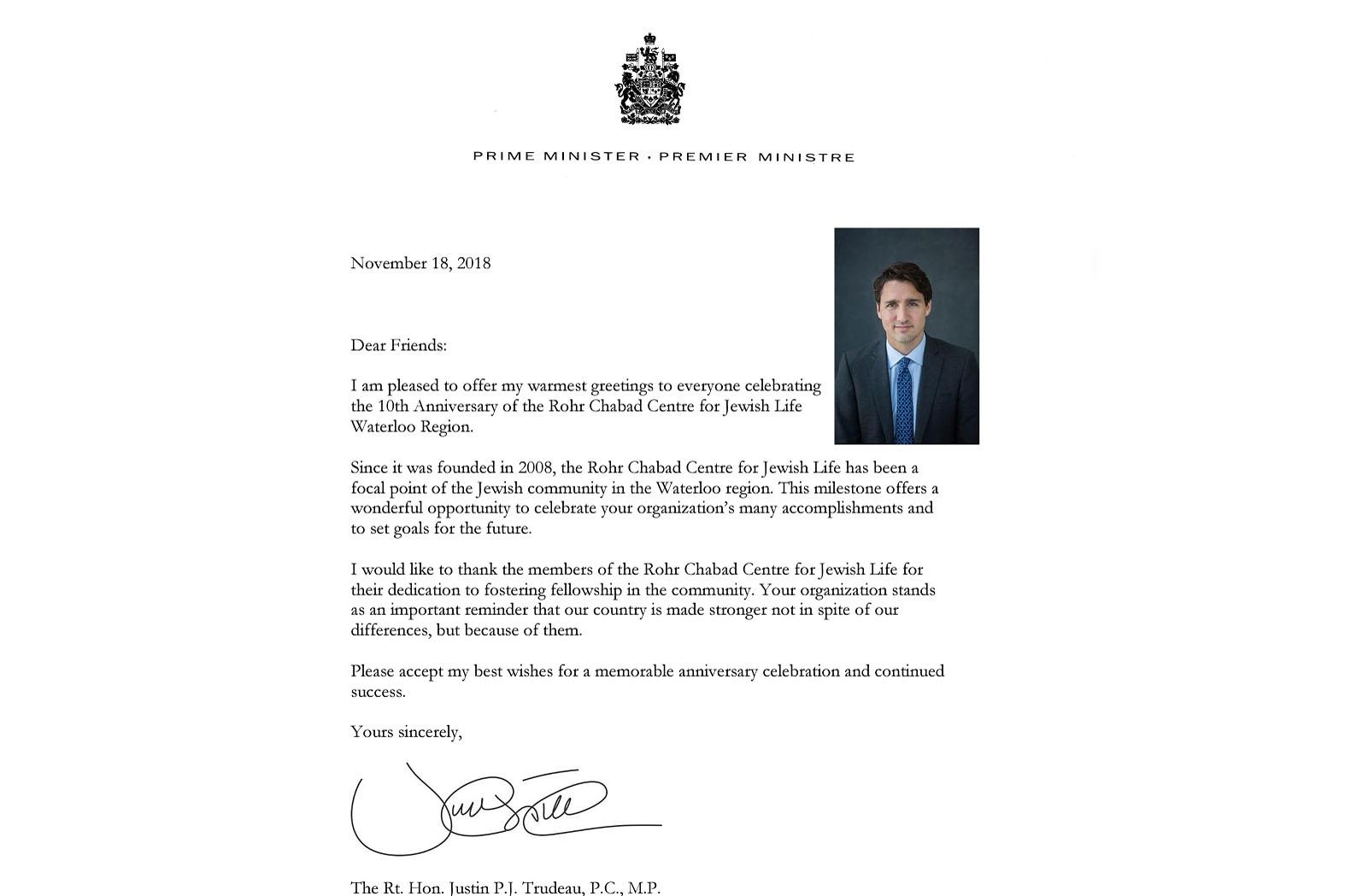 Letter from Prime Minister Trudeau in honor of Chabad of Waterloo's tenth anniversary dinner