You saw the photo, it went viral on social media.
Pictured was a group of high school students in Newport Beach, California, at a party, giving the Nazi salute around a swastika formed out of plastic cups.
The incident was widely condemned and addressed by the school district and local community. One step toward promoting awareness came from Rabbi Reuven Mintz, director of Chabad of Newport Beach with his wife Chani.
He invited Holocaust survivor Eva Schloss, the stepsister of the famous diarist Anne Frank, to share her story of survival and her message of tolerance with the pictured students and their families in a private meeting. Schloss was around their age when she was liberated from the Auschwitz concentration camp.
"Our sages taught that evil can be redeemed and transformed into good," said Mintz, "After a negative experience, we are best positioned to grow and increase in goodness, tolerance and understanding. Every step back can—and must—become the impetus for a giant leap forward."
Schloss told reporters that she was shocked that incidents like these could happen in 2019 in a well-educated town and school. "They really didn't think of the consequences but I think they now learned a lesson for life." Mintz said the early March meeting was "emotional and difficult, but also down to earth and very forward-looking," Schloss said the students appeared contrite and "visibly moved."
Mintz said he was "hopeful that despite their actions, these young individuals, with promising futures, have the potential to become advocates of tolerance, understanding and coexistence in the school, in our community and beyond."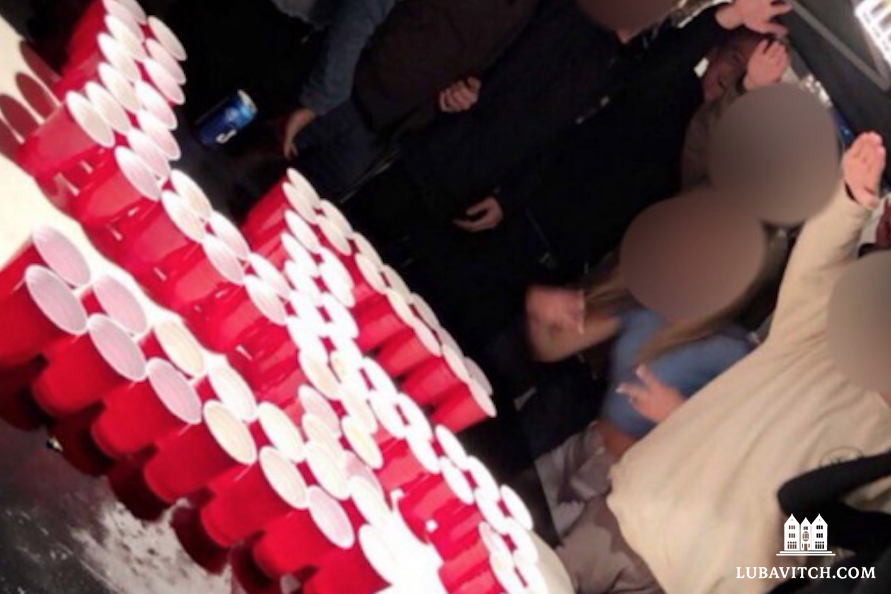 Viral photo of high school students in Newport Beach, California, at a party, giving the Nazi salute around a swastika formed out of plastic cups