It's mid-summer and somewhere in a train car way below New York City a group of ninety kids are playing a lively, volley-ball like game involving red balloons they are trying to keep in the air. The train rounds a bend, the game is over and some kids start singing a camp song while others chat happily with their counselors and friends. This is Gan Izzy in the City, a summer camp with a twist, the brainchild of Rabbi Chayim Boruch and Sarah Alevsky, directors of family programs at Chabad of the West Side in Manhattan.
"Everyone told us not to bother starting a camp in the City because everyone leaves in the summer, or sends their kids to camps in New Jersey and Westchester," Sarah told Lubavitch.com. She took their advice for over ten years, but two years ago she started to research it's veracity. "I noticed there were many families and kids who did stay in the City and I wondered what it would take for them to send their kids to camp. When I listened to the reasons parents weren't sending their kids away, I realized the advice I had been given wasn't sound and there may be a demand for a local camp if we could answer these misgivings," she said.
Concerns varied, but mainly boiled down to three points. Parents were either unable to afford the $600 – $800 per week camp fees for a six week summer, didn't want their children travelling to and from campgrounds outside the City, or were uncomfortable with the competitive nature and focus on sports that camps traditionally engender.
Gan Izzy in the City was designed to break the mold and build a camp that would be local, financially viable and attractive to kids with varied interests.
"We are grateful that we could use Chabad of the West Side as our base," Rabbi Chayim says. Central Park, just two blocks away became their space for all outdoor activities including hikes, water play, martial arts and basketball. They even camped out there one night. Accompanied by park rangers, the kids pitched tents, enjoyed a cookout-style dinner and went on a late night tour of the park.
Twice a week, the camp went on trips, visiting all five boroughs of New York over the season. Using public transportation to further attractions, or walking to some of the city's great destinations, the camp kept travel expenses to a minimum. They rode the coasters in Luna Park in Coney Island and had a scavenger hunt through the Oculus mall in Manhattan. They took a ferry to Governors Island and played mini golf at Pier 6, visited the Bronx Zoo and explored the Jewish Children's Museum and Chabad Headquarters in Crown Heights. They splurged on one coach bus trip to go blueberry picking in New Jersey. "Our city has so much to offer and the kids felt like they were on an adventure discovering it all," Rabbi Chayim says. Riding the train proved to be a favorite activity with some of the campers.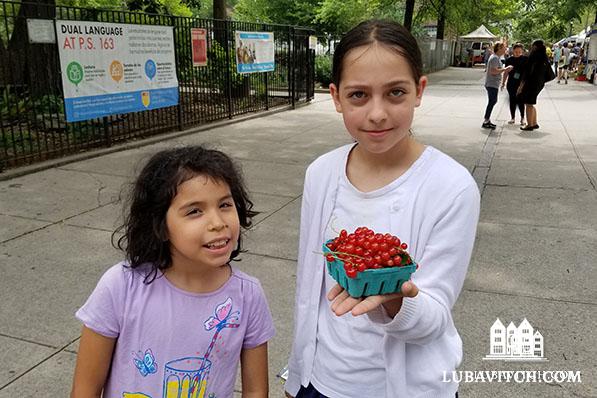 Gan Izzy in the City campers show their purchases on the way from a New York farmers market

Though they enjoyed plenty of sports including martial arts and basketball, a rich and varied program of activities allowed children to explore many interests. A favorite was mad science with Rabbi Chayim, but kids also took part in art classes, culinary activities, team-building exercises, drama and plenty of games. They went swimming once a week at a private pool a bus-ride away.
In October 2017, Sarah put feelers out among the parents. By the time summer 2018 came around, 45 kids were enrolled and for 2019 they doubled enrollment. "Word spread through the grapevine. Kids had a great time, parents were happy so they told their friends," Sarah says.
The parents' gratitude is evident in the stack of thank you cards and messages the Alevskys received as camp ended. "My son didn't want to go to camp and you guys completely changed his views," says one. "Thanks for taking my kids to these incredible places, I'm too lazy to take them to,' reads another. "This is my daughter's third Jewish day camp and she says it's the best one," is written on a third.
Jodi Samuels lived on the same block as Chabad of the West Side before she moved with her family to Israel. Her older children had been part of the Alevskys' Jewish scout troops, so when she found herself in New York last summer and heard they were running a camp, she called to enroll 11-year-old Caila. "My daughter has special needs and there was not a moment where there was a question if they could take her; they just focused on how they could make it work for her. This was a pleasant change compared to other camps where they start with all the obstacles before they've even met my child," Jodi shared with Lubavitch.com.
This inclusive atmosphere may have begun with Rabbi Chayim and Sarah, but it's also the thing Sarah noted about the families who attended, "Everyone came together; parents bonded and the kids became friends. Our camp had a small town feel in the big city."
The Upper West Side is home to very distinct Jewish communities each with largely homogenous demographics. At Gan Izzy in the City there was a lively mix: Public School children, traditional yeshiva students, kids from Manhattan-based Chabad families. They came from neighborhoods all over the City and even from Israel and Mexico City.
Jodi summed up her experience, "The Alevskys are involved at all levels. They create such a warm atmosphere, staff are lovely and approachable and the camp is very reasonably priced."
Gan Izzy in the City hit it's mark and the camp has set dates for next year's season. "We're looking forward to even more fun," says Sarah. "If we double our registration again, we'll be out of space, but that should be our biggest worry," she ends with a laugh.