It's Firefighting Day at the Lev Chabad day camp at Meir Hospital, and four-year-old Shira Maatuf is impatient for activities to begin. She has been in the hospital for a few days with a lung infection and while it interrupted her carefree summer vacation, for Shira, the Lev Chabad activities at Meir Hospital are more than an acceptable substitute. The organization's day camps offer a fun and meaningful alternative to what would otherwise be long, tedious and lonely days spent in a hospital ward.
Shira is one of 2,000 children in eighteen Israeli hospitals who participated in Lev Chabad's day camps last year. The organization fills the void left by the summer-long hiatus of the Israeli government's in-hospital classrooms. The camp services are available to all hospitalized children, regardless of religion or background.
"Most children get a vacation from the normal routine of the school year," shares Rabbi Levi Mendelsohn who heads Lev Chabad. "For many of the children we serve, there is no vacation from treatment or the hospital."
"It's such an important initiative," says Dr. Giora Gottesman, head of the pediatric infectious disease department at Meir Hospital. "It brings so much happiness to the children who are ill."
At the tables set up outside the children's wing, Shira is warmly welcomed by the camp staffers. Every day's activities center around a separate theme, such as "Circus Day." Values like happiness and kindness are integrated into the theme and taught through songs, stories, games, and crafts. She and the other children engage in a series of activities related to the Firefighting theme and the associated value of bravery. She ends the day's activities wearing an apron with the words "ani gibor" (I am a warrior) that she decorated herself.
"At the day camp, children are surrounded with laughter, companionship and song," says Rabbi Mendy Lipkin, who heads Lev Chabad's activities at the Kfar Saba hospital in central Israel. Shira's father, Sagi, is grateful to the Lev Chabad volunteers, calling them angels. "They distracted my daughter from the fright of being in a hospital ward. She almost did not want to leave. They really positively affected her recuperation."
Some of the children, like Shira, are hospitalized for shorter stays. Others, like those in the oncology and cardiology wards, have been in the hospital for weeks or months.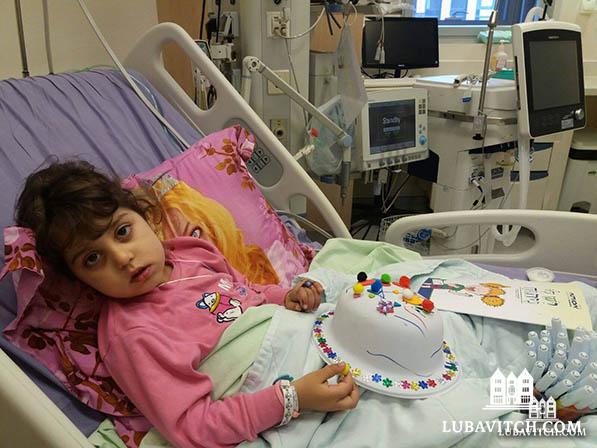 "The day camps provide a welcome reprieve from the pain and agony associated with hospitalization," notes Iris Lisha, head of the pediatric nursing department at Kaplan Hospital in Rehovot, twelve miles south of Tel Aviv. "It minimizes the tension and exhaustion of the parents who struggle to keep their children occupied for hours on end. It's a big help to the nursing staff."
The camp is particularly helpful to children who are bedridden or quarantined. "In those cases, we bring the activities to them," explains Rabbi Idan Mechanic. He and his wife Lilach have been directing the camp at Kaplan Hospital for almost six years. "One little girl was bedridden for two weeks after surgery. The activities were brought to her bedside and really cheered her up."
The camps run throughout the last two weeks of August, and though it's an appreciated initiative, Mendelsohn says he's hoping to see its participation decrease. "We want to see children healthy and at home where they belong."