The rise of anti-Semitism in France has been driving many Jews from the country. Most leave for Israel. Others are fleeing the bigger cities and heading south to the French Riviera. Le Cannet, a small suburb on the northern border of Cannes is home to two hundred fifty Jewish families. Last month, Chabad of Cannes opened Le Cannet's first synagogue.
"Many of the younger families who move here are finding Le Cannet to be a more affordable place to live," says Rabbi Mendel Matusof, who directs Chabad of Cannes with his father, Rabbi Yehuda Leib. "For years our congregants have been asking when we will do something for Le Cannet."
In 2014 the Matusofs appointed Rabbi Levi Gourevitch and his wife Mouchka to begin running activities for Le Cannet's growing Jewish community. With the closest Shabbat services, a forty minute walk into Cannes the need for a local synagogue and community center was highlighted.
With the help of the City the new Chabad house and synagogue, located in the center of town was inaugurated April 22. Officials of the local municipality participated at the event and joined a tour of the center following the ribbon cutting. Guests included First Deputy Mayor, Muriel Di Bari and Mayor of Cannet, MP Michelle Tabarot and Vice President of the Regional Council, Philippe Tabarot, both whom are long standing friends of the Jewish community. "We are happy to have in Le Cannet a center that teaches the love of another,"said Philippe Tabarot.
The event, observed Rabbi Matusof, was important to the city's Jews. "Among the older members of our community, there is the feeling of wanting to keep a low profile. The enthusiastic participation of city officials was a boost to their Jewish pride."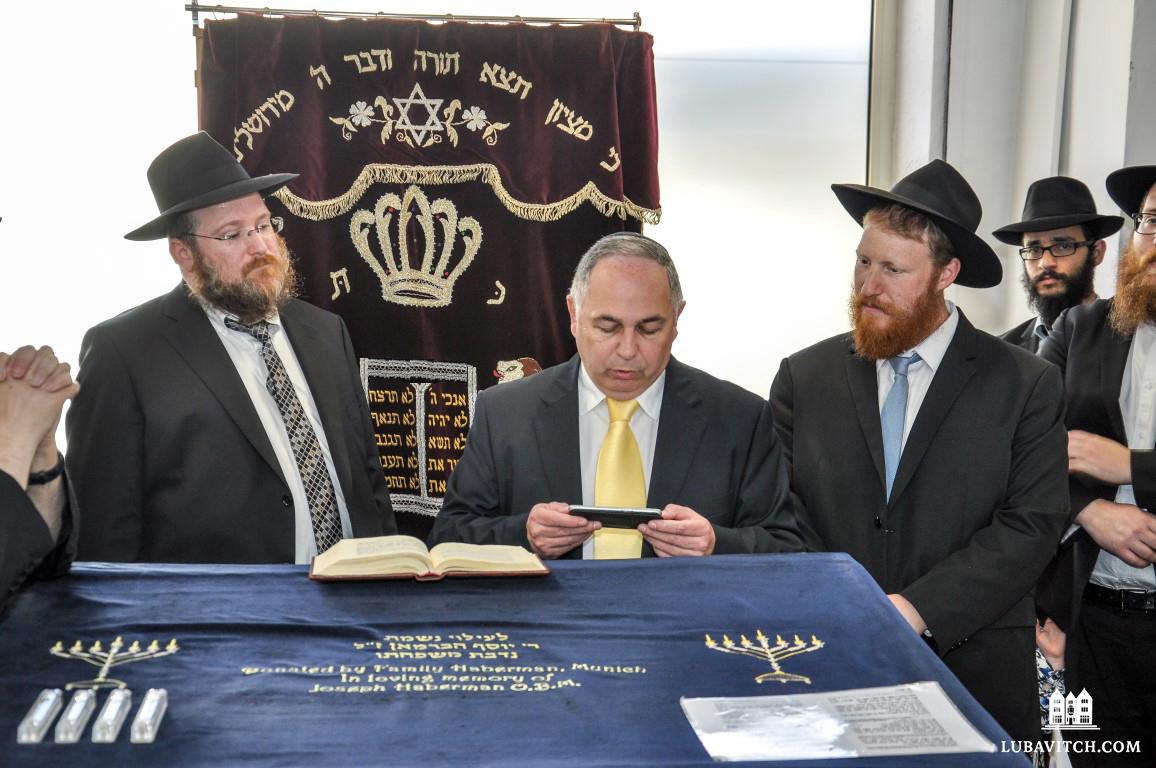 Mr Jacques Merker reads a prayer at the inauguration of Le Cannet's first synagogue, as Rabbis Mendel Matusof and Youdi Lewin look on.