At a small, socially distanced ceremony held last week in Colorado, Rabbi Yerachmiel Gorelik made history as he became the Colorado Army National Guard's first-ever Jewish chaplain.
Gorelik, who serves the Jewish community of Northern Colorado and Colorado State University in his post as director of Chabad of Northern Colorado, says he was called to serve his country following recent antisemitic attacks at synagogues around the country. "One of the Rebbe's popular teachings is that the only way out of darkness is to promote light," he said. "The recent surge in antisemitism globally and nationally, including the synagogue shootings, created that struggle for me, that darkness. And, like others whom I encouraged, I thought, 'What can I do to create light and fill that void?'"
In his role as chaplain, Gorelik will provide counsel and support to people of all faith traditions as well as agnostics and atheists. Lieutenant Colonel David Nagel who oversees the chaplaincy program said Gorelik's "work in the community and strong commitment to his own faith made him an ideal candidate."
Colorado Governor Jared Polis swore the rabbi in as chaplain and captain on the grounds of Colorado State University. CSU President Joyce McConnell and Fort Collins Mayor Wade Troxell and Gorelik's immediate family attended the ceremony. Polis, Troxell, U.S. Senator Michael Bennet, U.S. Representative Joe Neguse, CSU Chancellor Dr. Tony Frank, Larimer County Sheriff Justin Smith and several other local leaders wrote letters of recommendation on Gorelik's behalf. Frank noted his, "ability to interact and lead across cultural and spiritual borders with respect and concern for the well-being and dignity of all involved." Troxell commended Gorelik's impact on "a diverse population in the public square, standing up to inequalities and acting with inclusivity towards those of differing faiths."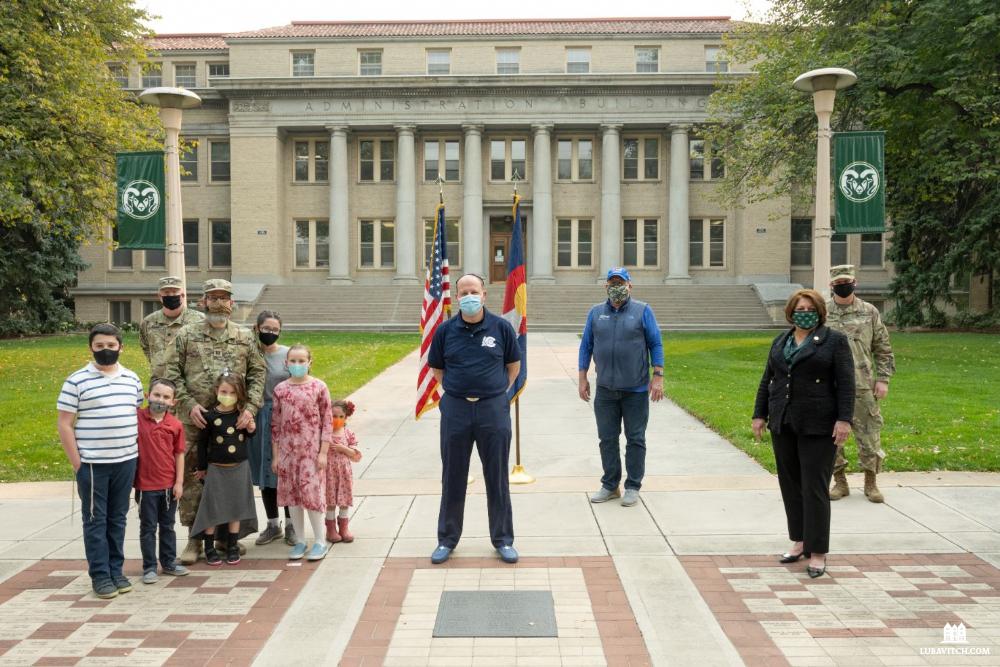 As well as directing the Chabad, Gorelik and his wife Devorah Leah are parents to six children. Gorelik serves as a faculty adviser for Jewish groups at Colorado State University, teaches a college course on Judaism and serves on several diversity and anti-bias task forces programs in the region. He was named CSU's Best Teacher in 2014 and Outstanding Faculty Advisor in 2012 and 2018.
Colorado has about 3,500 Army National Guardsmen who serve in seven battalions across the state. Gorelik has been assigned to a battalion that serves Northern Colorado, so he will stay local and continue carrying out his other duties while assuming his new role as chaplain.
Gorelik sees this new role as an extension of his service to the Jewish community and his work as a Chabad emissary. "I've always had a tremendous love for the military. A purposeful life is serving a cause higher than self, and I appreciate those who serve others in any capacity," he said. "We felt this is where G-d was sending me, not only because it serves the country, but it also serves the state and is a natural extension of my work throughout Northern Colorado. It is an honor, privilege and pleasure to serve those who serve."