A baffling plea for help reached Rabbi Mendy and Esther Harlig on March 7th. A member of their Chino Hills, California community asked if the Harligs could help rescue her cousins in Kharkiv, Ukraine.
Rabbi Harlig said he had hosted this community member for Shabbat meals and he knew she had moved to California from Ukraine some years ago, but he had no idea why she thought he'd be able to help. "Her cousin's mother is paralyzed," Rabbi Harlig recalls, "unable to help her mother to safety, she and her daughter were stuck on the ninth floor of an old apartment building watching the bombs fall."
"I thought it was impossible at first," Rabbi Harlig says. "I don't know anything about Ukraine, and I certainly don't know the language." Still, the desperation in this woman's voice convinced him something needed to be done. Rabbi Harlig called philanthropists and got in touch with multiple organizations and relief workers, but none of his efforts seemed to go anywhere. Listening to his Ukrainian colleagues describe the situation on the ground, Rabbi Harlig got the sinking feeling that his mission had met a dead end.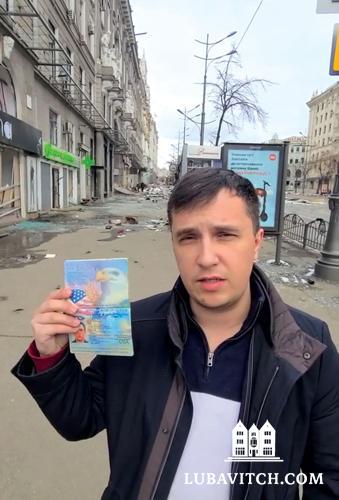 "I stumbled across a newspaper article about a man from Ohio," Rabbi Harlig says. "It was about Mr. Vlas Shurubko, who works as a truck driver out of Dayton, Ohio but had been visiting his grandmother in Kharkiv when the war broke out." After a few days of hunkering down with his grandmother in a friend's house, Vlas decided to take action and coordinated an army of volunteers delivering food around the city. Rabbi Harlig knew it was a long shot, but he sent Vlas an email asking if he could help his friend's cousin, just in case.
Five days later, he got a response, and six days later, Vlas told him, "They are on the train. All good." Vlas had arranged for two muscular friends to "help granny down." Another volunteer escorted the family as they boarded a train for Poland. "So I wasn't the one who completed the task," Mr. Shurubko said, "I just helped a little to arrange it."
"I felt it was my role to do everything I could, even if the odds seemed impossible," Rabbi Harlig said. "Sometimes all it takes is one small step, and miracles can happen."