How does a young couple begin to build a community?
That question has been on my mind since my daughter and son-in-law became Chabad emissaries to an expansive rural town on the East Coast. For all its landmass, the town has a small population and is home to fewer than a thousand Jews. I couldn't imagine how my daughter and her husband would go about creating a community there. Perhaps they should reconsider, I said, and look for a place where there is a greater need.
They didn't understand why I was so concerned. After all, I enthusiastically report on young shluchim doing this kind of thing all the time. But when it's your own children, you look more closely. And from up close, the idea of moving to a place like that seemed unreasonable. I felt that they were setting themselves up for an uphill battle.
But the hard work didn't scare them. They set up a table at a town fair and introduced themselves to a few curious strangers. They learned the ropes from others who have done this before them, and from their own friends who were doing the same.
They raised funds from friends and family to get started. I suggested that they lease a small condo. They rented a large house.
The Chabad reps in the adjacent town gave them some leads. They cold-called. They baked challah for Shabbat and hand-delivered them to the six Jewish families they discovered in a thirty-five-mile radius. They visited the nearby hospital and met with patients and their families. They created a website and joined the town's Facebook group.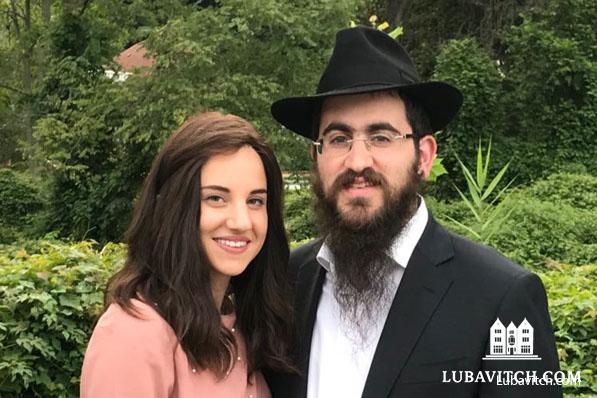 Rabbi Shneur and Leah (Olidort) Brook established Chabad of Shelton-Monroe in CT in fall of 2018
The local Freemasons heard that there was now a rabbi in the neighborhood and invited him to lead a class about Chanukah. The local newspaper ran a story about the new Chabad couple in town. Soon people were reaching out to them.
One long-time resident called to share her excitement that "there will finally be something Jewish for us here." Some sent welcome messages. Others came over for Shabbat dinner. Suddenly a spirit of community was in the air.
This Chanukah—about four weeks after moving into their new digs—they hosted the town square's first-ever public menorah lighting. They expected a crowd of about twenty five. But, in the end, more than eighty showed up to watch as the city's mayor helped kindle the Chanukah lights on a cold New England December night.
It doesn't really matter what the demographic or where the Chabad shluchim are situated: on college campuses or prison wards, in after-school programs or active adult communities, in Africa, Brazil, or the American backcountry, Chabad creates communities where no one else believes it's possible. The process itself stirs a revival. The buzz of new activity is invigorating; lonely people come forward, and sleepy places come alive.
Creating community may be a remedy to the pervasive problem of loneliness, which has become one of the greatest health risks endemic in the Western world. A CIGNA study conducted earlier this year found that nearly half of all Americans self-identify as lonely. And in the UK, the government has gone so far as to appoint a minister of loneliness to address the crisis.
Despite the social connectivity of our digital age, the number of people who feel socially isolated and say they have no one to confide in has tripled over the past two decades. Not only an affliction of the elderly, loneliness affects the young as well. In fact, it is Generation Z (eighteen to twenty-two-year-olds)—the most social-media-savvy demographic—that is the loneliest generation.
The data suggests that while virtual online communities can be valuable resources for sharing information, they cannot provide the nurturing connections that come from engagement in real-life communities. They cannot replace the experience of face-to-face encounters, or sustain us with the joy and fulfillment that come from working together over a shared goal.
The articles in this issue are about creating larger-than-life experiences that depend on a collective effort. Shluchim don't invite people over to fill the house; they invite people over to build the house. They ask for help because they need the participation of others. And to be needed may be one of the best curatives to social isolation.
We don't know how many people have been saved from retreating into lonely hibernation by that call from the new Chabad reps in town asking for help. But the effect is plain to see: a better society where people connect to build vibrant communities where loneliness doesn't need a minister.
Baila Olidort is the Director of Communications at Chabad Headquarters and Editor-in-Chief at Lubavitch International. Her editorial is published in the Winter 2019 issue. To learn more about Chabad of Shelton-Monroe, go to https://www.jewishshelton.com/.
Connecting with light in Connecticut: the first Chanukah party in the Brook's new home