Those peculiar huts are popping up again on driveways and porches in Jewish neighborhoods around the world. The Feast of the Tabernacles, or Sukkot, is a joyous eight-day festival when Jews eat their meals in temporary, makeshift booths. Constructed of cloth, wood, or any number of materials and topped with leafy tree branches or bamboo, the Sukkahs are the center of Jewish religious experience for the duration of the holiday.
Beginning tonight, Monday, September 20, Sukkot is a time of merriment and mirth, culminating with the traditionally boisterous celebration of Simchat Torah on Wednesday, September 29.
With the Covid pandemic stretching into its nineteenth month, Chabad emissaries are thinking outside of the box to bring the primary observances of the holiday to the Jewish public, while being mindful of pandemic-related precautions. Last year saw a rise in the popularity of Chabad's unique Sukkah-mobiles. Typically built in the back of a rented truck or even aback an extended tricycle, the portable structures allow many thousands to engage in the central mitzvot of the holiday at their convenience. This year, Chabad representatives are building on their past success.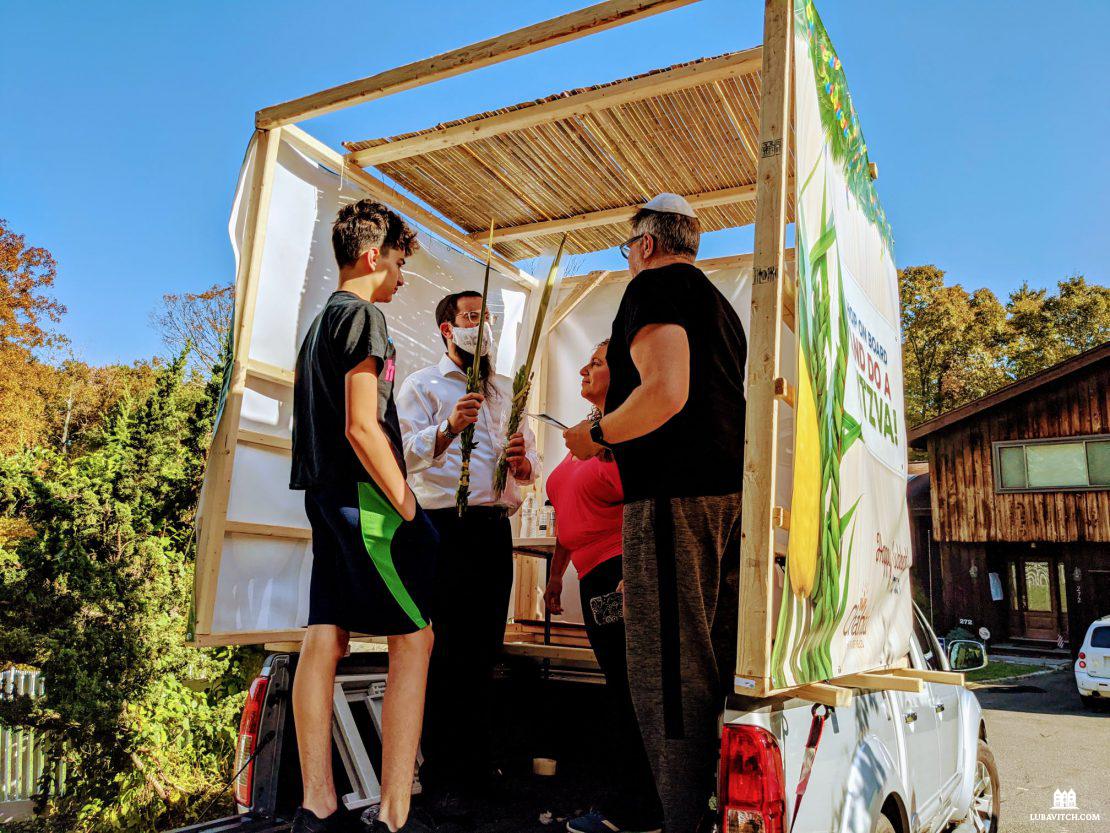 Rabbi Dov Drizin of Valley Chabad in Woodcliff Lake, New Jersey, remembers helping his father, also a Chabad rabbi, build a portable sukkah as a young boy growing up in Northern California. "Chabad has been building and taking these sukkah mobiles around for as long as anyone can remember," he says. "With Covid however, we went all out. If people can't come to us for the mitzvah, we will take it to them."
The primary mitzvahs of Sukkot are blessing the four species (a citron, palm, willows, and myrtle) and eating while seated in a Sukkah. Chabad rabbis stock their mobile Sukkahs with cookies, muffins, or other pastries together with sets of the four species. After parking in a public space, they invite Jewish passers-by into the Sukkah to make the blessings and participate in the mitzvahs. This year, Rabbi Drizin, like many of his fellow emissaries, plans on driving his Sukkahs to the homes of local families, bringing the joy of the holiday to the homebound. 
The symbolism of the holiday takes on new meaning this year for Rabbi Shneur Oirechman of Chabad of Tallahassee and FSU. "Bringing the four kinds of plant species together symbolizes the coming together of all types of Jews as equals," he says. "It's a message of faith and unity that is particularly relevant now, when our connection to G-d and each other is the only anchor that keeps us moored in a constantly-changing world."