In the Crown Heights section of Brooklyn, the Chabad community likes to call its neighborhood the "hospitality capital of the world." This past weekend, the community lived up to this title by hosting hundreds of young Jewish professionals from around the world. Groups of young Jewish men and women accompanied their rabbis for a uniquely immersive Jewish experience — the Chabad Young Professionals' "RE-Encounter Shabbaton".
Hitting the streets early Friday morning, participants in the Shabbaton grabbed coffee and a bite to eat before touring Chabad World Headquarters. Rebbetzin Dina Gorkin gave the group a quick crash course on the Jewish view on marriage before taking the group to visit a mikvah. The day was a chance to experience the unique slice of Jewish life on offer in Crown Heights, including a kosher food crawl.
"Crown Heights is overwhelming but inspiring," says Adam Danenberg, a Pittsburgh resident. "It's very cool after all these years being on the outside to come here and see Chasidic life from the inside."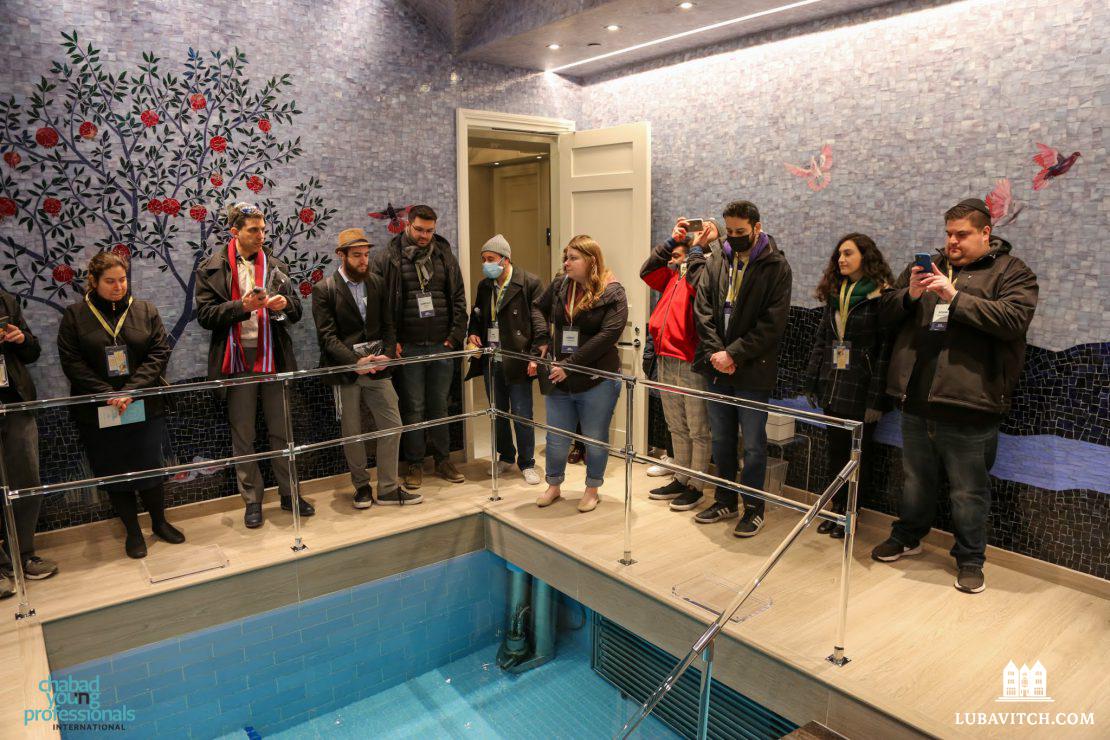 As Shabbat drew near, noted Chasidic scholar and lecturer Rabbi Simon Jacobson addressed the group, stressing the immediate relevance of Chasidic ideas to Jews of all stripes. As the weekend's scholar in residence, he would speak alongside Rebbetzin Goldie Plotkin and a host of others on relationships, Chasidic philosophy, and more. "That guy can sure talk. Everything he says makes you think, and you learn so much," said Levi Men, who flew in from Bellevue, Washington for the Shabbaton.
After a Shabbat full of farbrenging, learning, and home-cooked meals at the Shabbat tables of families around the neighborhood, the group headed to Area53 in downtown Brooklyn for Havdalah. Rabbi Henoch Rosenfeld of Chabad Young Professionals Pittsburgh started the event off with a prayer for the Jewish hostages who were then trapped in a synagogue in Texas.
After a cantorial rendition of Havdalah, the evening festivities were launched with a concert by Chasidic Rapper Nissim Black. Giant Jenga, music, and good vibes were present as the group built on the rapport already solidly cemented over Shabbat. Rabbi Sholom Brook of Chabad Young Professionals Minneapolis said networking and bringing people together has always been crucial to CYP's programming. Dan Rosenfeld, a student from Mexico City, says he was initially skeptical about attending the Shabbaton. "Once I was here, though, the experience opened my heart and mind. You meet so many amazing people and build relationships that can last a lifetime," he said.
"This Shabbaton was created to foster connection between young Jews, and give them an opportunity to have meaningful conversations," said Rabbi Moshe Kotlarsky, Vice Chairman of Merkos L'inyonei Chinuch. "The Shabbaton provides a time for people to reconnect; to Jewish identity, to the people that matter most, and to G-d," he added.
Sunday morning, the program culminated with a trip to the Ohel, the resting place of the Lubavitcher Rebbe. "Coming to the Ohel was just a beautiful spiritual experience for me," said Levi Men. "I've been to a couple of Shabbatons before, but nothing like this," he added. "It was a phenomenal experience."