For the more than 7,000 daily passengers who travel on the Jerusalem-Tel Aviv heavy rail line, Yitzhak Navon Station is the gateway to Jerusalem. Located adjacent to the Central Bus Station and the largest convention center in the Middle East, Binyanei HaUma, the station is a central hub of the public transportation system. On June 8, it hosted an inauguration ceremony for a new synagogue located conveniently in the heart of the station.
"There was tremendous demand for a synagogue here," says Rabbi Yeshayahu Wiess, who is the Chabad rabbi of the new synagogue. "It's vital to have a designated place where people can go to pray, learn Torah and receive guidance in Jewish matters before entering or leaving the holy city." In addition to his new post, he continues to serve the Jewish needs of the several thousand workers on the railway system. "We are the address for every Jewish matter. If there is a new station that needs a Mezuzah, I get the call."
After a nearly four-year approval process and several months of preparing the physical location, the synagogue was ready for use before Rosh Hashana. However, the Covid-19 pandemic prevented it from being opened until now.
Services and Torah classes will be a regular fixture at Mesilat David Hamelech, as the synagogue is named. The name recalls the connection the Jerusalem-Tel Aviv railway forges between the City of David, the spiritual center of the nation, and Israel's economic heartland.
The project was sponsored by Rina Cohen in memory of her husband and parents. The ark was donated by Rabbi Velvel and Sarah Farkash of Brooklyn, New York, in memory of Sarah's brother, Menachem Mendel Berkowitz.
Speaking at the inauguration, Israel's Former Chief Rabbi Yisrael Meir Lau gave his blessings to the project and noted the physical depth of the new synagogue, located in the deepest heavy rail train station in the world, some 260 feet underground. "This synagogue gives new meaning to the words of Psalms 118:5: 'From the depths, I called out to you O' L-rd,'" he said.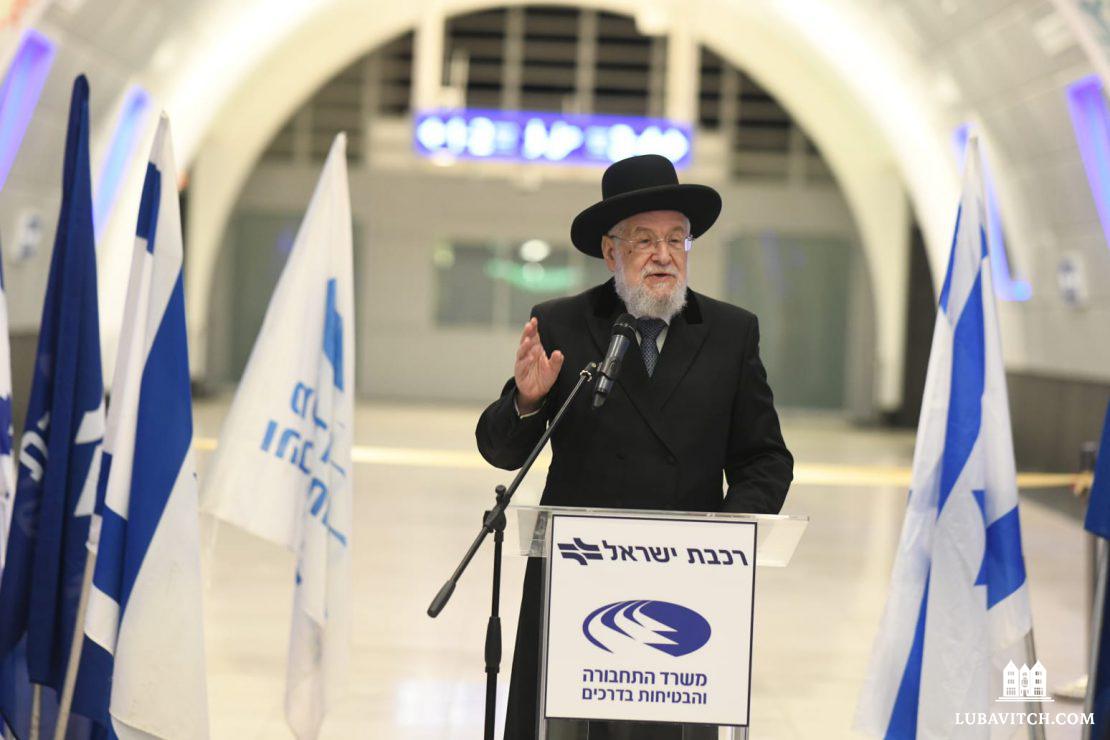 Michael Maixner, Israel Railways CEO, compared the railway's role in connecting the material and spiritual centers of the land of Israel to Chabad's mission to connect the physical realm with the spiritual.
The event was attended by prominent Chabad rabbis, including Rabbis Avrohom Michoel Halperin, member of the Chabad Rabbinical Council of Israel; Yaakov Halperin, Chabad representative in Jerusalem; and Naftali Lipsker, Chairman of the Branch Committee of the IDF. Also present was Moshe Shimoni, Chairman of the Board of Directors of Israel Railways.
"As more and more people become aware of the synagogue, they're coming in to learn and pray." Rabbi Weiss said. "The response has been very positive, thank G-d."