The sign on his dressing room door at the Los Angeles Opera read, "David Babinet, Principal Artist." Babinet's personal dresser brought him his costume and dressed him from head to toe.
An imposing presence at six feet, four inches tall, with deep-set eyes beneath bushy eyebrows, Babinet stepped onto the stage in the role of Prince Yusupov in Nicholas and Alexandra and killed off the villain, Rasputin, played by the legendary tenor Placido Domingo.
Performing alongside Domingo and other stars was the fulfillment of a lifelong dream for Babinet, who had spent years in intensive training before taking his place in the prestigious and competitive world of opera.
He began by majoring in music at the University of Colorado, which meant four years of total immersion, leaving no time for socializing or other pursuits. "I was determined to get to the major leagues," he said. "My entire life was dedicated to this goal."
Next, Babinet entered one of the country's most prestigious opera programs, the College Conservatory of Music (CCM) at the University of Cincinnati, where he earned a master's degree in vocal performance in 2000.
For the next five years, the up-and-coming baritone performed at noteworthy venues throughout the United States and Europe. He won numerous competitions, including those run by the Metropolitan Opera, Palm Springs Opera, Nunzio Crisci Opera, and the Dante Alighieri Society.
It was a heady life but also one of extreme discipline, grueling hours, and constant separation from friends and family. "Opera was my entire world, my religion, my source of spirituality. It felt like a higher purpose," said Babinet.
"If You're Jewish, Why Don't You Know Hebrew?"
David grew up in Boulder, Colorado, with a Jewish mother and a French father who ran a holistic health clinic. The prevailing culture, including at home, was "New Age spirituality." Aside from the occasional Seder or Chanukah menorah, there was little Judaism in the Babinet home. (David only later discovered that his grandmother had sung in the Yiddish theater in Newark, New Jersey.)
It was an overzealous Israeli border police officer who first made Babinet think seriously about what it means to be Jewish.
In 2002, a trip to Israel to perform Falstaff in Tel Aviv with the International Vocal Arts Institute became a turning point for Babinet. At 26, it was his first exposure to a Jewish environment, and he was intrigued.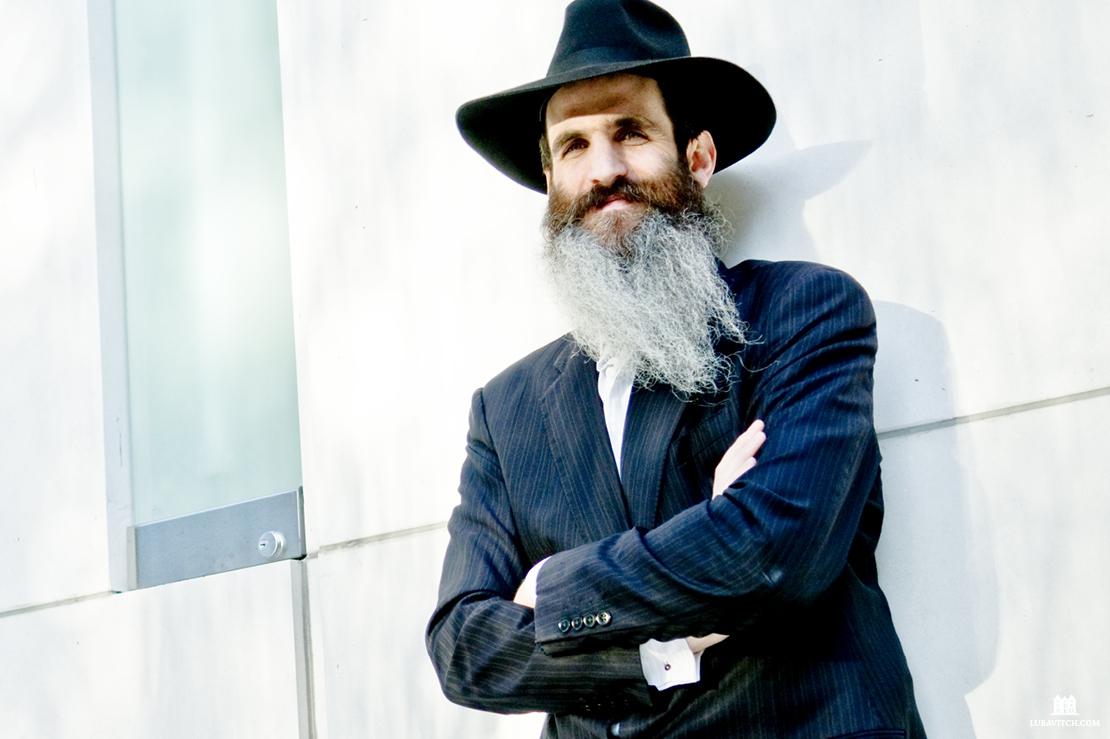 During the trip, Babinet crossed the border into Egypt to scuba dive in the Red Sea. When he told the border police that he was Jewish they gave him a hard time. Why didn't he know any Hebrew, they asked him. So, Babinet figured that on the way back, he would say he wasn't Jewish. But, his Jewish first name tripped him up. He was detained and strip-searched. Although he was eventually released, he missed his flight.
The experience of being in Israel and having to define his Jewish identity was a revelation. During a conversation with a fellow Jewish singer, he mused, "If I married a non-Jew, would that make me non-Jewish?"
"His response still echoes with me," said Babinet. "He said, 'Jewishness is dwindling. You're Jewish, you're responsible.' Those words stabbed me. They fueled my journey to find a Jewish woman to carry on the tradition."
Back in California, after a synagogue hopping spree, Babinet opened the Yellow Pages and saw an unfamiliar name. He called Chabad of Glendale and asked the rabbi, "What are you? Reform? Conservative?"
"We're FRIENDLY! Come for cholent!" bellowed the voice on the other end of the line. It was the right answer at the right time. "Rabbi Simcha Backman was irresistible," said Babinet.
"New York, New York"
Babinet bonded with Rabbi Backman and his family and spent every Shabbat at one Chabad House or another. Still performing opera, but committed to keeping Shabbat, he often walked from the Chabad House to rehearsals or gigs, sometimes as far as seven miles.
In 2005, when Babinet had occasion to go to New York for auditions, Rabbi Backman encouraged him to spend Purim in Crown Heights.
"I wasn't looking for something easy," said Babinet. "I wanted something to change me for the better." This led him to Yeshiva Tiferes Menachem in Seagate, where he spent the next three years immersed in Torah study. "The militaristic discipline I followed as an opera singer translated well into life as an observant Jew," he said.
He pressed the pause button on opera.
Babinet emerged from the yeshiva ready to start a Jewish family. He married Yaakova Crafton and they settled in Crown Heights where they now live with their children, Rivka Alta and Menachem Mendel.
He "Heard it Through the Grapevine"
Now a family man, Babinet decided to turn his expertise in wine into a livelihood. As the child of a Frenchman, his appreciation for wine began early. He had spent years at the family estate in Normandy and Tuscany developing his knowledge of fine wine and he made his own wine and beer during his days in Los Angeles.
Learning that making one's own wine for Pesach was meritorious prompted Babinet to become a winemaker and sommelier, selling his product and conducting wine tastings. Eventually, he went to work for Royal Wine, where he and his staff of sommeliers serve wine and educate consumers at special events and liquor stores.
He also tends bar and sells homemade cocktails. On a recent afternoon, during the coronavirus pandemic, Babinet's kitchen was bubbling over with enticing concoctions. It was Cocktail Tutorial time on WhatsApp! Strawberries and limes simmered in a pot while he stirred up a brew of honey and lemon.
Not "The Same Old Song"
Babinet's life was good, but ten years without serious singing had passed, and he wanted to reconnect with music. He contacted his voice teacher and took on voice students of his own. He got involved in chazanut and served as a cantor for High Holiday services around the country.
Babinet also began to share his journey, music, and wine with Chabad House audiences. His crowd-pleasing presentations are billed, "An Evening of Opera, Broadway, Great Jewish Classics…and Wine."
"I tell the audience that I returned in two ways—to Judaism, and also to music," he said. "I reclaimed who I am, what my passion is, and how I can best contribute to the world. And that involves singing the music I love to sing." He looks forward to performing again in larger venues.
His recent presentation for a California Chabad House included "El Toreador," "O Sole Mio," "La Vie en Rose," "Mamale," "Rumania, Rumania," and selections from Fiddler on the Roof, interspersed with anecdotes about his journey.
Fittingly, Babinet ended his performance with "My Way," the iconic song written for Frank Sinatra. As the lyrics say:
"Yes, there were times, I'm sure you knew
When I bit off more than I could chew
But through it all, when there was doubt
I ate it up and spit it out
I faced it all and I stood tall
And did it my way."
BRAVO!