In this multimedia mini-series, we look at Chabad's response to the effects of the coronavirus pandemic on Jewish life events. In this, part one, we look at how Chabad is revising its boisterous Shabbat celebrations.
A regular Friday night dinner at Chabad at S. Diego State University sees over 100 students standing on their chairs, some with arms slung around their neighbors' shoulders, singing the Kiddush along with Rabbi Chalom Boudjnah. He and his wife Mairav host Shabbat morning services too, mainly attended by local families, and a Shabbat lunch-and-learn joined by twenty to thirty young professionals. These days, as the coronavirus pandemic has shut down all communal activities and sent the university's students back home or to shelter in place, the chairs stand empty. But the bustle hasn't slowed.
"In a way, we are busier than we usually are," says Rabbi Chalom. Mairav shared how they have been hosting daily video interactions with the students and young professionals who make up their core demographic. In addition to their regular programming, they have created an open calendar where students can reserve a time to chat with either Rabbi Chalom or Mairav. "Students are looking to us for direction and reassurance, especially when everything around them seems so shaky," she says. "I tell them that though we usually love inviting people to join us at Chabad, now Chabad is going to be with them in their homes."
Two weeks ago, on Thursday, the Boudjnahs were busy with their usual Shabbat preparations while keeping an eye on the coronavirus's spread in the USA. They prepared the Shabbat food in time for it all to be fully cooked before sundown on Friday and set the tables. At four o'clock P.M., two hours before the candle lighting time would signify the commencement of Shabbat, as concern grew in the media, the rabbi called two of his friends who are doctors. They both advised against holding a gathering for so many people.
The couple switched gears. They packed the food into individual containers, added a challah roll, candles and a card with the blessing for lighting to each, and sent out a message to their community. "We assumed the students come every Friday night for the fun and vibrant experience so we didn't expect many to stop by for Shabbat supplies," Meirav says. They were proven wrong, as more than 150 students picked up Shabbat packages
The positive feedback came quickly, "Thank you for not canceling Shabbat," wrote one student. "It was calming to have a candle to light and amazing to know that the Jewish community/Chabad is still there to support us even under such circumstances," said another.
By the following week, though many students had left town, the Boudjnahs set a table outside their home. They placed a 'challah and hummus' package on the table and when it was picked up, replaced it with a new one for the next guest. They will do the same tomorrow.
With the pandemic interrupting much of what keeps Chabad Houses busy, the Boudjnahs and their thousands of fellow emissaries have had to recalibrate. Dina Creeger at Chabad at University of Cincinnati, Ohio described a discussion she had with one of her local alumni late last week. The woman, who lives alone, expressed how isolated she was feeling. "My natural instinct was to invite her to join us for Shabbat, but I realized that now our role has changed and it's our job to be giving them ways to connect from home," Dina says.
With this in mind, emissaries worldwide are finding new ways to connect to their communities. Rabbi Alter Korf of S. Petersburg, Florida is hosting a pre-Shabbat l'chaim and sermon over Zoom, and Chaya Fuss in Fremont, California led a live challah bake on Instagram. The Creegers invited students to join them virtually for the Havdalah ceremony and Rabbi Elimelech and Perel Gurevitch of Laguna Beach, California will lead a matzah ball soup-making demo on Instagram this evening.
"There has been much talk about how social media pulls us apart, disconnecting us from real connections," says Rabbi Chalom. "Now it's bringing us back together and allowing us to be there for people who need us."
The Boudjnahs are consistent in their message to students and friends:. "Do what you can to be of service to another. Don't panic, don't be afraid. There is a G-d who is in charge. We are all in it together and we will get through it, together."
Watch 'When Jewish Life Goes Viral: Home for Shabbat,' video interview with Rabbi Moshe Fuss of Chabad of Fremont, California: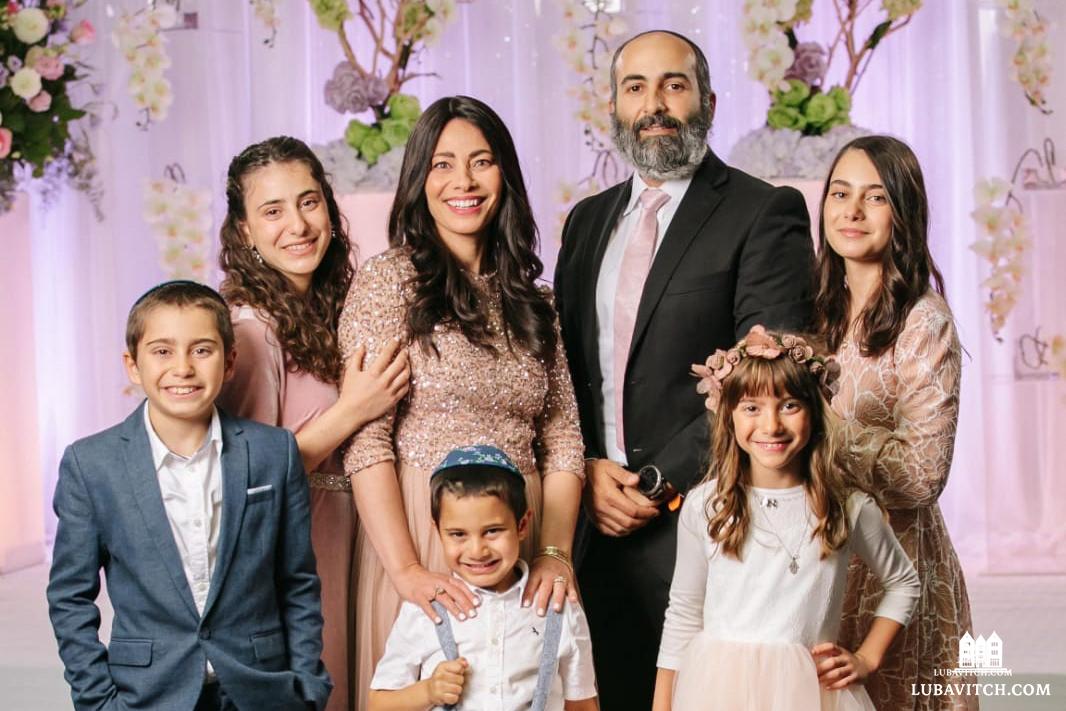 Rabbi Chalom and Mairav Boudjnah and their family.