At the Shipudei Beer Sheva Mediterranean style eatery, they are used to serving hummous, shwarma and falafel. These days, owner Yossi Bitton has thrown some spiritual food into the mix with a Tefillin box that he's installed, offering patrons the chance to wrap Tefillin and say the Shema prayer.
The custom made box, one of over a thousand that are now found in offices, businesses and stores across Israel, includes a pair of Tefillin, instructions and the prayers.
The project began with Eliezer Shakhaf, an employee at a Tel Aviv marketing agency and one among tens of thousands of pedestrians who've grown accustomed to seeing Chabad-Lubavitch students strategically posted at the city's central bus station.
A member of Chabad of Givatayim, he shares the appreciation for the mitzvah of helping a fellow Jew with Tefillin. But he also noticed many feeling rushed, and others uncomfortable about praying on the street.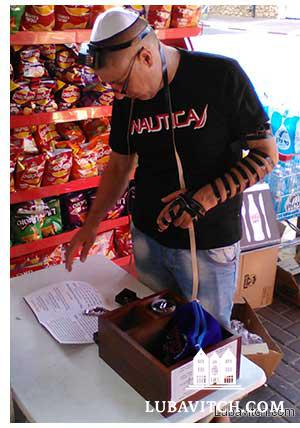 "When I put on Tefillin, I feel a deep connection to G-d. I am wrapping my heart and intellect for a higher purpose." Thus, it seemed to him that many individuals may welcome "a more intimate way of praying to G-d."
On a trip to New York last year, he visited the resting place of the Lubavitcher Rebbe, Rabbi Menachem Mendel Schneerson, where he noticed people helping themselves at a Tefillin stand. "How about if I create such an idea in miniature and make it available to businesses in Israel?" he wondered.
Back home, he went to a woodworking shop and asked them to create a box outfitted with a compartment for the Tefillin, a place for head coverings and a charity box. He stocked it with the prayer texts and instructions for wrapping tefillin.
"I placed it in the office where I work and it was a great hit," with the possibility, he says, to bring the mitzvah to many more Jews.
Shakhaf reached out to Chabad in Israel and together launched a successful pilot program installing 100 of his custom made boxes in various businesses and shops in Israel. Last week 3000 new boxes arrived, and nearly a thousand have been installed.
Rabbi Mendy Kramer says that Shakhaf and his business acquaintances have agreed to cover 50% of the cost of the Tefillin and box. At each location, one individual at the business offers to be responsible for the Tefillin. The local Chabad representative ensures that they remain in good condition.
"With the box in a quiet corner, people may be more inclined to come at their convenience, when they have a few minutes to put on the Tefillin and say the Shema privately, before returning to work," says Shakhaf, pointing to studies that show that people tend to take care of errands and other activities during the workday rather than when at home.
"People are walking into the restaurant to put on Tefillin, some daily and others weekly," Bitton says. "They are happy that there is a quiet place for them to put on Tefillin for a minute or two before continuing with their day."