In Zagreb, people are coming forward to participate in an exciting experience that takes Judaism out of the museum and into the lived life.
In the beginning, Yona Brandl's classmates wanted to know what a kippah was, what those fringes hanging at his sides were, and why he wouldn't eat at their birthday parties. Yona is the only Jewish boy in a school of 230 students. His sister, Rina, is the only Jewish girl.
Before enrolling their children in Zagreb's elite Ivan Gundulic School, Michal and Roni Brandl met with the school's administrators. "We told them who we are and what we do. We established our boundaries and explained that the children will miss classes on Jewish holidays," Michal, a native Croatian, tells me. "We were direct and open, and they appreciated that."
Practicing Jews are almost unheard of in Croatia, and having one as a classmate is even rarer. Yona and Rina accept their unique status among their classmates as a matter of fact. And thanks to them, their peers now know that Jews are not museum artifacts. In fact, Michal, an assistant professor at the University of Zagreb's Chair of Judaic Studies, tells me that Croatians are often pleased "to finally see Jews here again."
The Brandls did not grow up observing Jewish tradition. "I was not irreligious. I was anti-religious," says Roni, who is Tel-Aviv-born and Croatian-raised. "Socially and politically, I was as far left and anti-religious as you can imagine." But today, the Brandls are strictly kosher and Shabbat observant.
When asked how they cultivated this level of observance and this courage of their convictions in a place like Zagreb, the Brandls will tell you that they owe it all to Pini and Reizy Zaklas.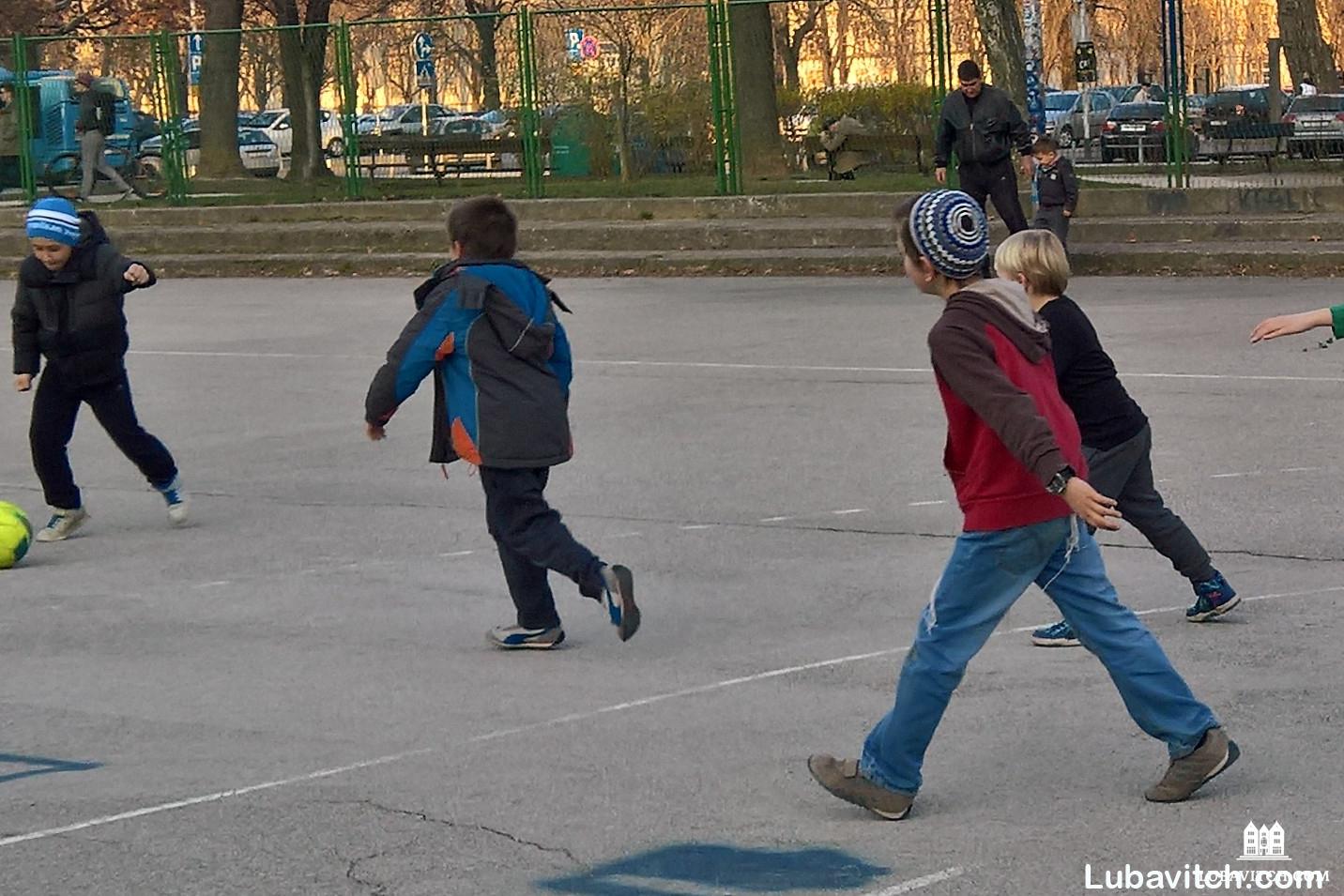 Yona Brandl is the only student in his school to wear a kippah
***
I have flown from New York to Zagreb in order to attend Chabad's formal opening of a mikvah—a watershed event for a community that hasn't had a mikvah in seventy years.
Rabbi Pini meets me at the airport. The thirty-nine-year-old rabbi is spry and quick on his feet, and you would never know that he's recovering from two coronary angioplasties. As we head to Chabad, he responds to a steady barrage of phone calls and text messages, managing logistics for the day's event.
In the car, he tells me about Jewish life in Zagreb, Croatia's capital city. Out of the country's population of around 4 million, only 1,700 are members of the Zagreb Jewish community. Chabad has contact with another 2,500. Pini explains that there are many more Jews in Zagreb, but the fate of Croatia's Jews during the Holocaust has made them too afraid to identify. Others simply don't know they are Jewish.
In 2004, Pini and Reizy moved from Israel to Zagreb in order to serve as Chabad's emissaries to the region. The odds were stacked high against them. They didn't speak the language. The Jewish community is small. And the assimilation rate is high. In the past, many Jews converted out of the faith to survive, and Croatia's intermarriage rate hovers near 100 percent. The vast majority of Croatian Jews are highly educated but woefully ignorant about their heritage.
"My wife and I came here to share an experience of Jewish life that had ended in Croatia with the Holocaust," Pini explains. "We do that first of all by just living here visibly as Jews."
With a paltry few leads to go on, Pini began to meet people one at a time. "Here in Zagreb, it's practically a ritual to visit the cafe every morning," he says. "I've turned that to my advantage and have been connecting with people this way for the past fifteen years." The strategy has worked well, and although Pini still goes for his coffee "fix" as often as twice a day, local Jews are now coming to Chabad of their own accord—for weekly classes, Shabbat services, holiday programs, bar and bat mitzvahs, and just to connect.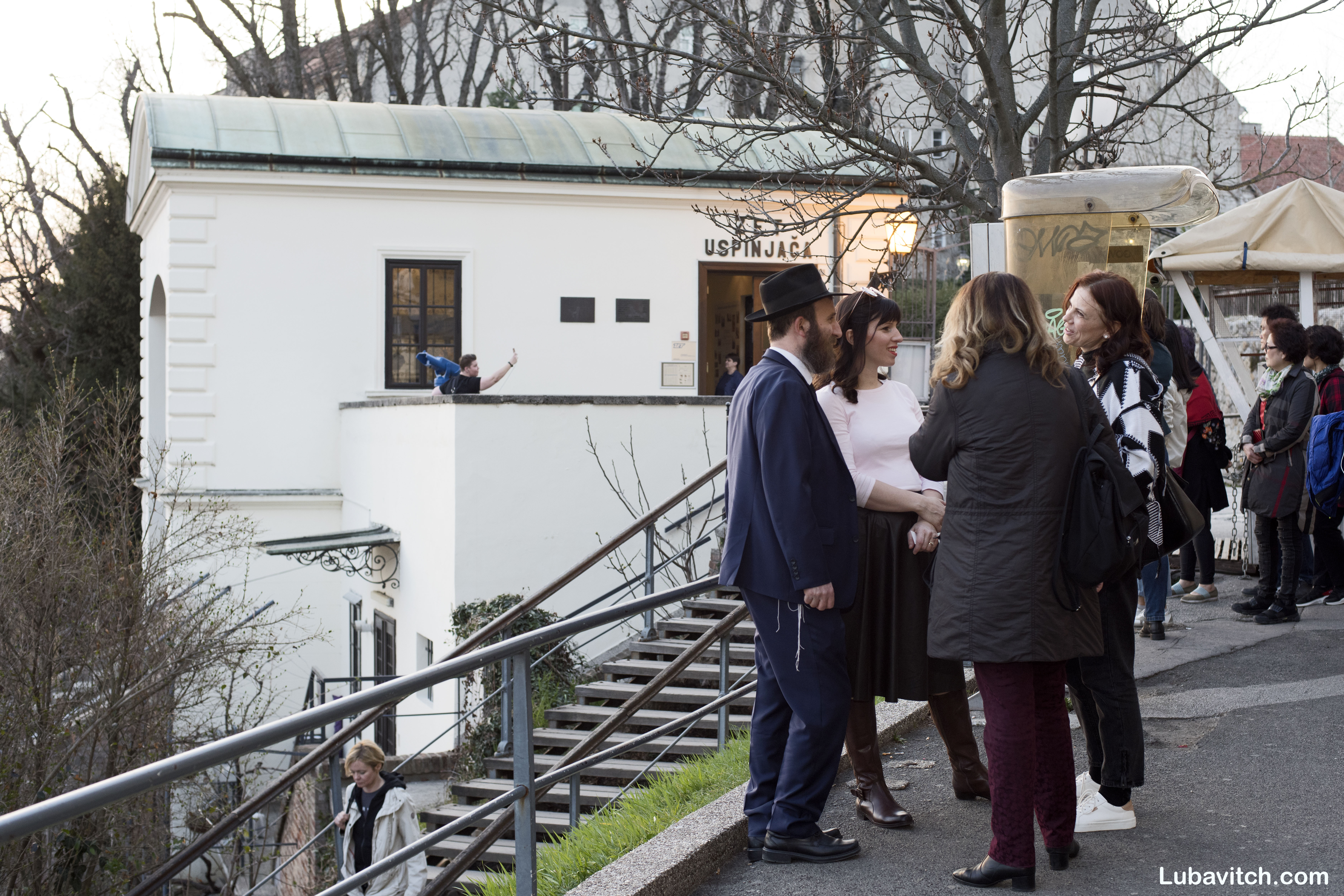 Outside the Chabad
When we arrive at Chabad, the aroma of home-cooking wafts out of the kitchen to greet us. The bright, newly-renovated five-story building sits on a residential street in the heart of the city. Inside the professionally outfitted kitchen, a chef prepares to feed a crowd.
Pini shows me around, pausing to welcome guests from abroad who have come for the mikvah opening. I poke my head into one of the rooms where Reizy is leading a class. Teaching Torah is Reizy's and Pini's stock-in-trade. Between the two of them, private and group classes are in session all week long, in English and in Hebrew.
We head up to the five-story Chabad House's top floor, which serves as the family home. One of the Zaklas children is playing piano. From the terrace, Pini points to the streets of the old Jewish community. As in most Balkan cities, there's precious little evidence of the 20,000 Jews who called Croatia home until it wasn't.
Locals who come into the Chabad House for the first time expect to find some sort of ode to a tragic past. "Instead, they find that it's good to be Jewish—it's not just a burden," observes Michal. The happy hum of people coming and going, the sounds of children and of family chatter punctuated by Reizy's uproarious laughter make this a lively, welcoming place.
In recent years, cautious curiosity has prompted many Jews to explore their roots. V. Mayer, a local journalist, learned the truth about her heritage a few years ago, when her mother lifted the lid on the family secret. With her long-held suspicion of her Jewish ancestry finally confirmed, Mayer wanted to know more. But she was not prepared to come forth and make herself known to the Jewish community. Then, one day, she spied the Chasidic rabbi with his children at one of the city's public playrooms.
Reflecting on that moment, Mayer says, "I knew then that if I'm ever going to learn about Judaism, it will be from this rabbi—an authentic, traditional Jew." Still, it took her a year to work up the courage and contact Pini for a meeting—and even then, she would only meet in the lobby of a local hotel.
Mayer began to come, and others did too–gingerly at first–to learn, to question, to discover. Young parents in particular were looking for something meaningful to pass on to their children. "Until Chabad came along, Judaism centered around the Holocaust and what was lost," explains Michal Brandl. "But that's just not enough for a younger generation. All they knew about being Jewish was that they are not Croatian." And like Mayer, those who come once keep coming back—for the learning, but also, says Mayer, "because there's so much joy and love here."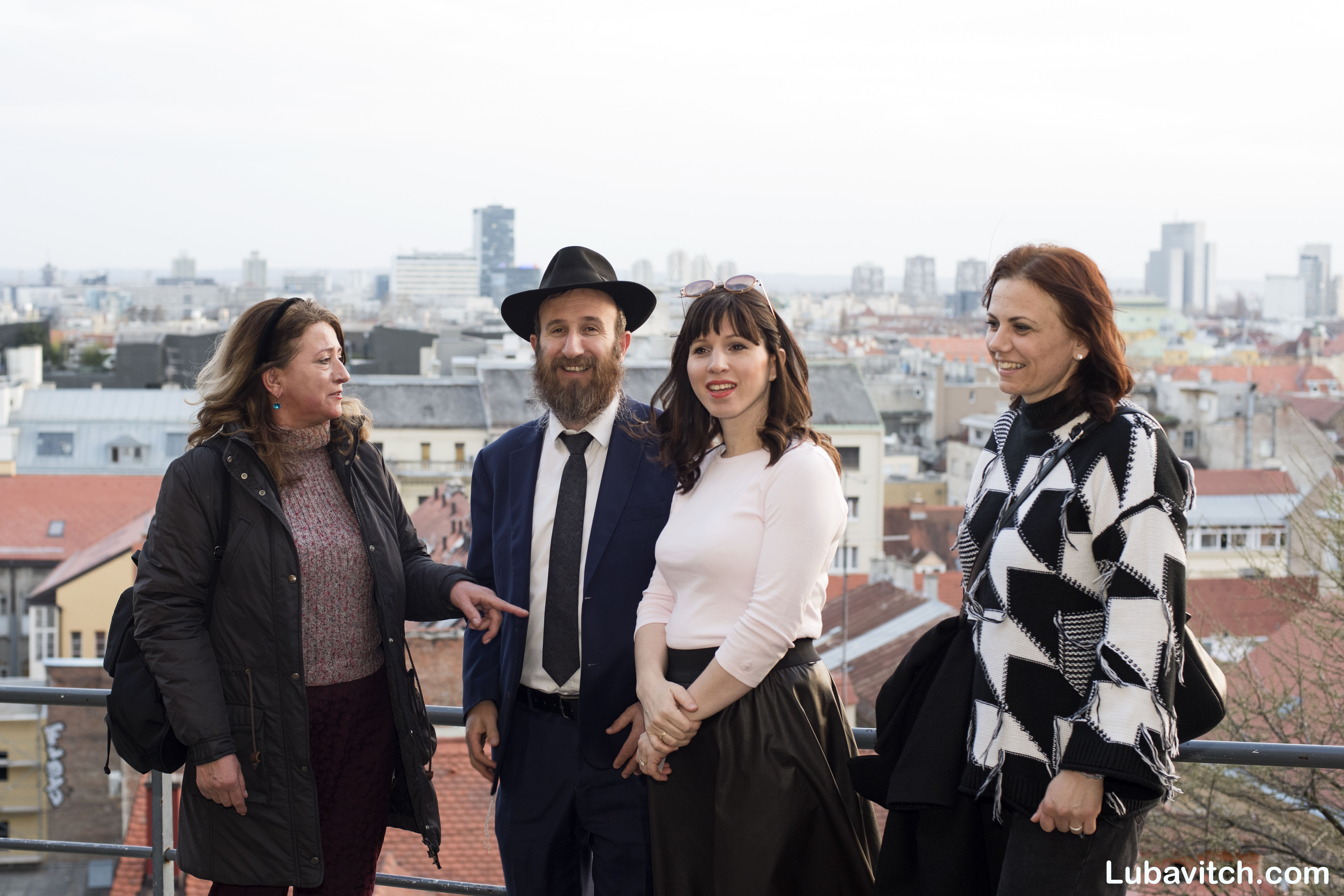 From the rooftop of the Chabad center
On Thursday evenings, an eclectic mix of locals join a two-hour class at Chabad called "The Introduction to Chasidism." It's led by one of Croatia's own, Vulkan Marinko, 39, who holds several advanced degrees in philosophy and religion. Born to a Jewish mother, Vulkan had no Jewish upbringing. But his intellectual search led him to Maimonides' Guide to the Perplexed, and then to the Tanya. "These two works exposed me to a kind of intellectual responsibility that I didn't find anywhere else," he says.
Vulkan is teaching a Chasidic discourse—one of the foundational texts of Chabad. Attending his class are some self-described non-believers. "People come because they like to test their biases, and because I'm not trying to sell them any piety." They come, he says, because they really want to understand the Chabad paradigm: What makes Pini and Reizy do what they do? Where does their unique vitality and positivity come from? "This class helps them understand the values, the vision, and the mission that Reizy and Pini represent," Vulkan says.
***
"I never imagined that a physical space would make such a difference!" Reizy exclaims when we finally sit down to talk. She's thrilled to see the fresh faces that are showing up since the Zagreb Chabad House moved into its new building. Reizy isn't talking about numbers—Chabad has been renting hotel ballrooms for holiday events such as Passover and Chanukah to accommodate as many as 500 congregants. It's not the large crowds that excite her, although she is thankful for that.
Pini and Reizy have noticed that the new building is a game-changer. "It's not that we are doing anything different, but with the new building, we are seeing the cumulative effect, the impact of our efforts, for the first time."
And the Chabad House isn't even finished yet. Reizy explains: "We haven't even inaugurated the new Chabad House because we don't have the funds to furnish it yet. But somehow, word got out, and people who've never come before are coming."
Plans for a kosher cafe, a well-stocked Jewish library, and even a Torah ark await funding. But the Zaklases are patient. They've been through difficult years–grappling with scarce resources, loneliness, and the challenges of life far away from home (see interview). So they've learned to look forward with optimism. And that's proven to be a powerful strategy. After all, a mikvah in Zagreb seemed like a pipedream only a few years ago.
Like Reizy, Michal used to travel to neighboring Budapest or Vienna to use the mikvah. Now she won't have to. "Thanks to Pini and Reizy, there's kosher meat in the freezer, there's a mikvah, there's a synagogue. Suddenly, we are a Jewish community with everything we need," Michal says.
Other Jewish women are also dipping into the mikvah, experimenting with this Jewish tradition that Reizy has been teaching them. "Many who aren't observing Shabbat or kosher tell me that they want to commit to the mitzvah of mikvah," Reizy says. "And that's wonderful–everyone comes to it their own way."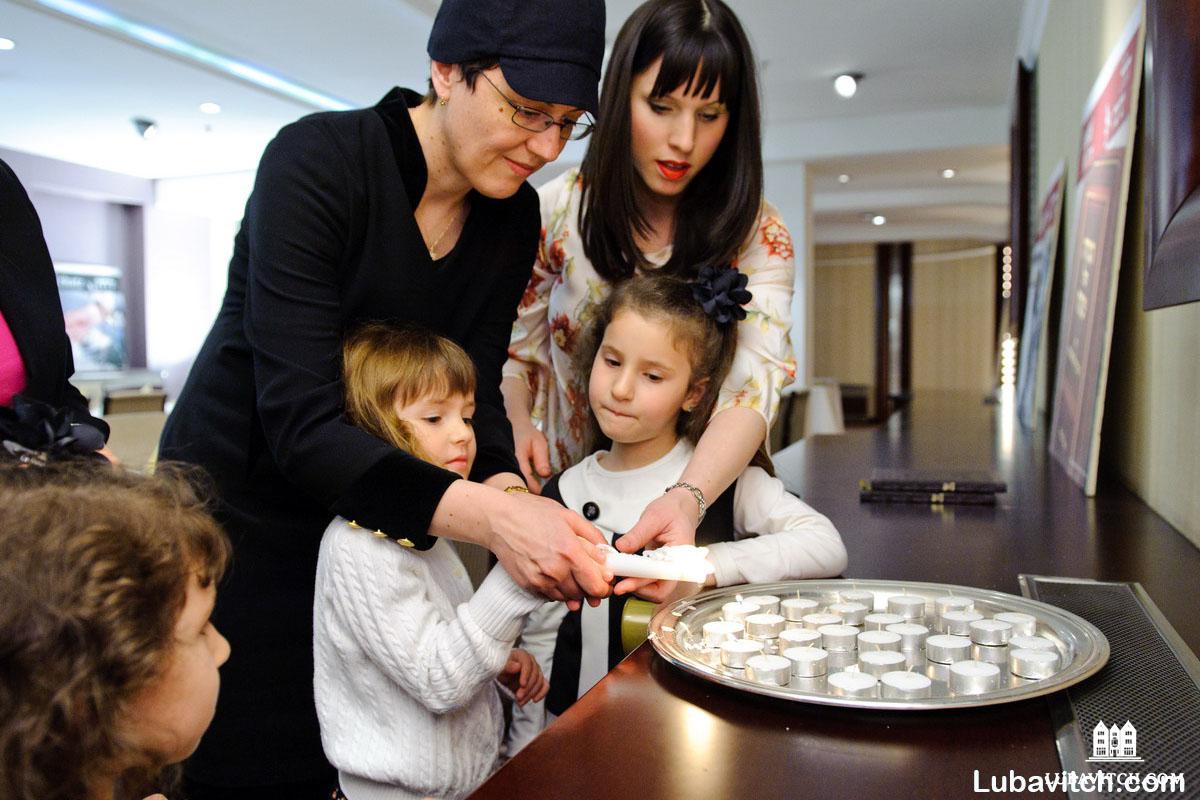 Lighting Shabbat candles
Two years ago, when Reizy's daughter Dina was approaching bat mitzvah, Croatian television did an hour-long, probing documentary on the theme of the Jewish woman. Watching it today, Reizy's effusive personality lights up the screen. She speaks with compelling candor and pathos about her life as a Jewish woman, and she makes no apologies for the particulars of a tradition that is often at odds with contemporary values. Her vibrant, earthy femininity holds the viewers' interest as she describes a worldview that embraces the material as a means to the spiritual. Since it first premiered, the documentary has aired five times in Croatia.
***
In the lobby of the Westin Hotel, we bump into Romano Bolkovic. He's an anchorman on HRT, Croatia's national television and radio, and he is not Jewish. Nevertheless, he and Pini embrace like brothers.
Romano's analysis of Zagreb's Jewish community explains the profound regard he has for what Chabad has brought to the city. "For the longest time, this Jewish community identified—like so many others in Europe—entirely in terms of the Holocaust. There was no life here. No joy. Nothing to look forward to.
"But with Rabbi Pini, instead of Judaism being about politics and the past, it's about life. For the first time in Croatia, we have the experience of a Jewish community that is practicing all the traditions. And this has changed everything. Chabad is the rebuilding of Jewish life here."
This piece is published in the Lubavitch International magazine, Spring 2019 edition. To order: lubavitch.com/subscribe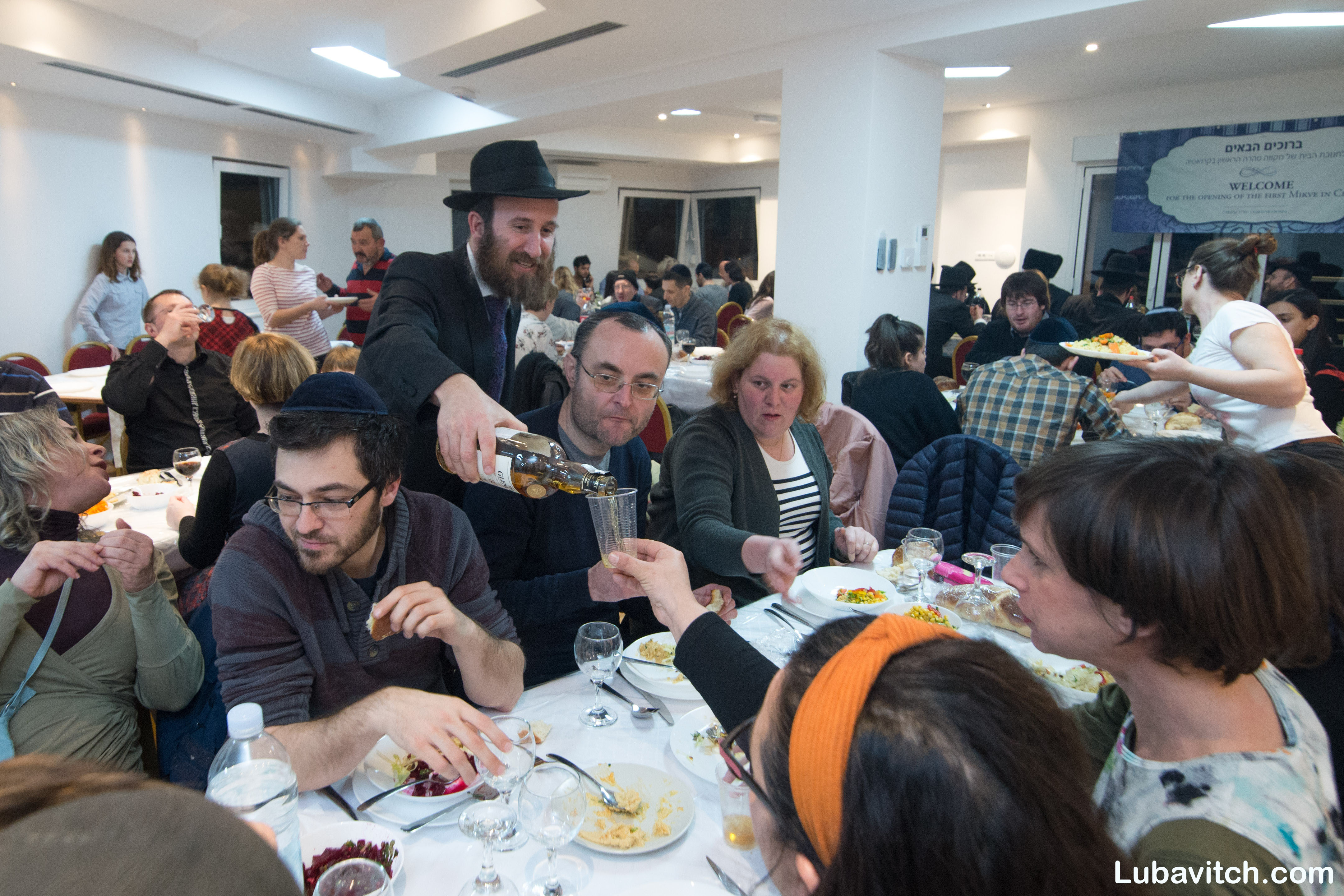 At a Jewish lifecycle event