"Rabbi, I don't know why you're asking me to speak. There's nothing in my life worth sharing." Rabbi Levi Teldon says this a response he often gets when he asks ordinary members of the south-Texas congregation where he serves as program director to speak.  Each year he offers ten men and women the opportunity to publicly share the Jewish lessons they have learned throughout life. 
Ahead of Rosh Hashanah 2018, Rabbi Levi Teldon and his wife Rochel sat down to devise an inspirational event for their San Antonio community. "We were looking at flying in a lecturer, which obviously would be very educational," Rabbi Levi says, "but it occurred to us that perhaps a life-changing message is best when it comes from a friend or neighbor." Digging through their notes, they stumbled on an idea from a fellow Chabad emissary down in Uruguay. He'd experimented with an event that encouraged regular people to open up about their extraordinary challenges. The concept fit perfectly, and before long, the Teldons spawned "TenTalks", taking cues from the well-known "TedTalks" phenomenon.
Rabbi Teldon reports that while some people are well aware of the power in their stories, sometimes people don't think they have anything to share. But then they think about their grandparents, parents, and the values they picked up as children, and almost everyone soon finds a treasure trove of Jewish values deep inside. "I want people to notice how many of the values they live by are rooted in Torah ideas," Rabbi Teldon says.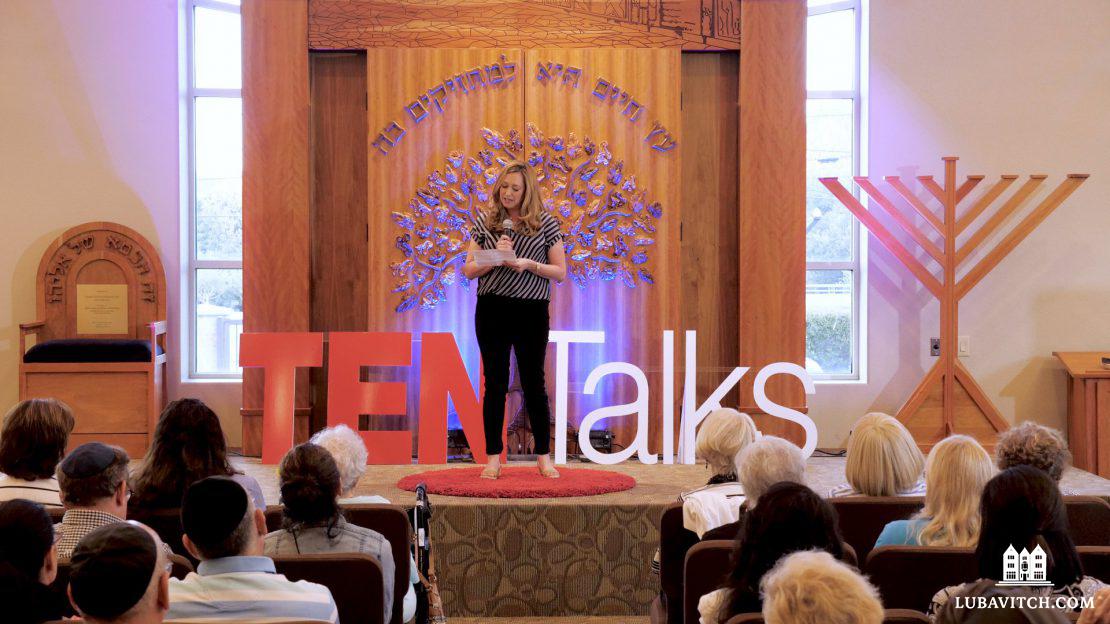 "I was raised in a small town in rural Texas, with no formal Jewish education," Pat Kalmans says at this year's event. Standing on the homey stage at the Chabad Center for Jewish Life & Learning, with the ornate wooden Aron that houses the Torah Scrolls serving as her backdrop, Pat describes feeling a void where her Jewish knowledge should have been. After a successful career as an attorney and becoming a proud grandmother, since retirement she says she's been seeking out and attending Torah classes to fill in the learning gap left since childhood.
After hearing her story, local Jewish Federation board member and Chabad Hebrew-school dad Joe Patrick told Rabbi Teldon he'd taken Pat's message to heart. "I took a look at the gaps in my own Jewish knowledge and started reading and learning on my own time," he said. He's been watching lectures on Chabad.org and using the many online Jewish learning resources to further his knowledge.
It's just one example of the small but life-altering moments the event has generated.
"When people face life or death situations, we often either pull away from religion or become more religious," Stacy Schwartz said in a 2019 TenTalk. She shared her experience as a mother to a young teenage girl who suffered from suicidal depression for two years. "For me, getting closer to G-d was a matter of survival," she continued. "The only way I could make sense of the horror we were living through was to say, 'G-d sees something that I don't.'" Thankfully her daughter is now happy and healthy, and Stacy finds meaning in the pain of her past by sharing her story, thus helping others who grapple with similar struggles.
Stacy's story, in particular, hit home for many that year. But Rabbi Teldon finds that a different talk resonates for each person. "Even if I find one or two of the speakers to be especially meaningful, when I ask other people what the highlight was, it's always different." With speakers drawn from the entire spectrum of the San Antonio Jewish community, the stories cover the whole gamut of Jewish life here.
TenTalks provides a platform to reflect, and speakers often say they appreciate the opportunity to think about how they have been able to incorporate Jewish values into their lives. "Most of all," says Rabbi Teldon, "I want the audience to walk out challenged by the realization that ordinary people in our community are using Torah values to live extraordinary lives."