On Tuesday, forty college students walked into the historic Yeshivas Chachmei Lublin building in Lublin, Poland as part of Chabad on Campus International's LivingLinks trip. They had come to Poland to experience a piece of their history. Instead, they were confronted with the brutal reality of current events.
The students were shocked by the scene. Hundreds of cots filled the main hall. Dozens of bedraggled Jewish refugees, still weary after escaping their Ukrainian homes, wandered about or tried to fall asleep. Volunteers tended to them, distributing food and water, and providing basic medical necessities.
"There was a group of refugees at our hotel the night before," says Rabbi Yossi Witkes, Trips Director for Chabad on Campus International, "but the sight of fellow Jews crammed into this historic shul, being aided by the local Jewish community, affected us all." Only about forty Jews live in Lublin, but nearly all of them turned up to help the refugees.
At Rabbi Witkes' request, one of the volunteers spoke with the college students. After hearing the volunteer describe the great lengths the community had gone to in order to host their brothers and sisters in need, one student immediately asked, "How can we help?"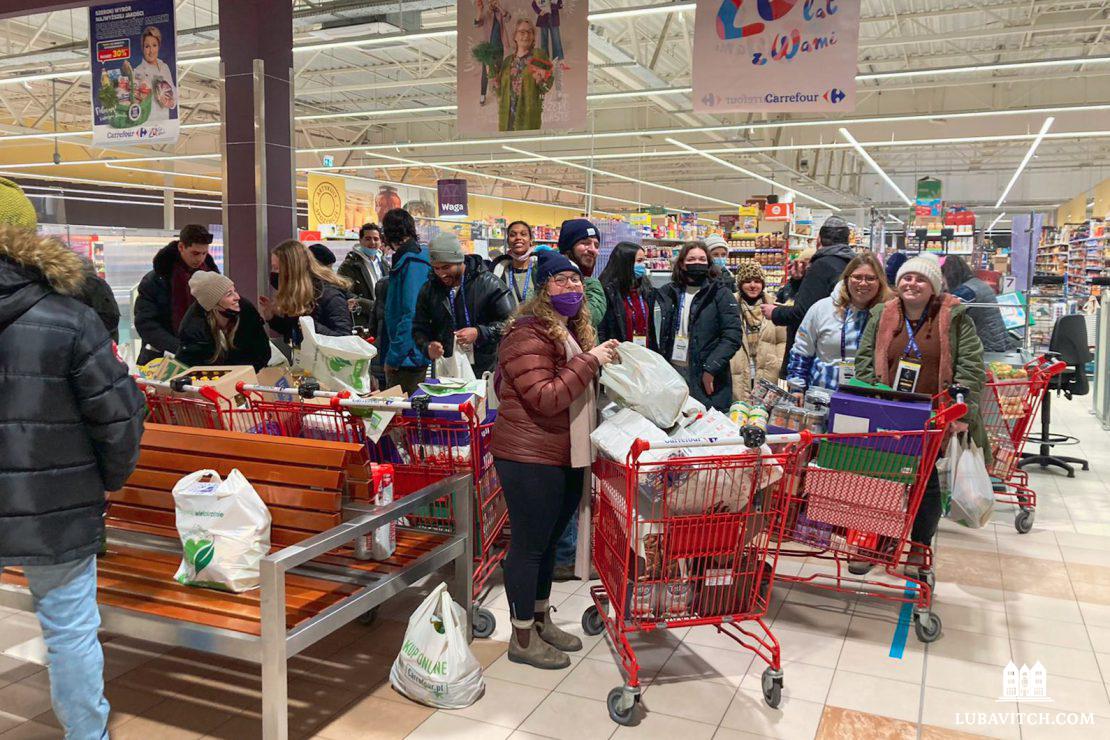 "We need food; there is no food left here," the volunteer said, listing a few specific food items they needed.
The trip's itinerary was put on hold, and the students turned to their friends on social media for funding. Their impromptu fundraiser raised a substantial sum within a few minutes, and they quickly drove to the local supermarket.
After a brief shopping spree, the students returned with their bus brimming with provisions. Now it was the refugees' turn to be surprised. Some began to cry. "They gave us a pretty short shopping list. One of this, two of that — limited quantities," Witkes says. "I suppose they didn't expect us to return with a bus full of stuff. They were all very grateful, and they were tearing up."
With just a little teamwork, we were able to help in a really meaningful way," says Abby Mensch, an undergrad from Penn State University. "It was beautiful to be part of that moment, and it reflected the Jewish spirit of community and charity."
Lublin has long been a fixture of Chabad on Campus trips, boasting a rich Jewish history. Established in 1930 by Rabbi Meir Shapiro, the Chachmei Lublin Yeshiva was the largest yeshivah of its time. It soon became one of European Jewry's most prestigious institutions, and the trip organizers include the building on tours as a reminder of the Jewish people's love of Torah study.
"Everyone is looking at the horrific events in Ukraine, wondering how they can help," says Rabbi Yossy Gordon, CEO of Chabad on Campus International. "It's inspiring to see these young students step up to the plate and put into practice the lessons of Jewish pride and service this trip teaches."
If you would like to donate to Chabad's relief efforts in Ukraine please click here.