On Sunday, October 30, 2016, Jewish students at Lehigh University in Pennsylvania were celebrating—and it wasn't because of Halloweekend.
Students, faculty, and guests gathered to join in the dedication of Chabad of Lehigh's new Joachim Schaufeld Center for Jewish Life. The 10,500 square-foot center, which was dedicated by lead donors Mr. Fred and Karen Schaufeld, is housed in a historic, fully-renovated 1863 mansion, located at 306 Wyandotte Street in South Bethlehem.
"This is a great positive for Lehigh," says Fred Schaufeld, who recalls that when he was a student at Lehigh, "nothing like Chabad existed." Now, times have changed. His two sons, Jacob, 24, and Max, 21, both attended Lehigh and were very involved with Chabad. "It's a wonderful place where they could come to and enjoy, learn more about their Jewishness, and is also very inclusive to the overall school community. The Rabbi and Rebbetzin provide positive role models for the kids. My sons graduated with a lot of positive, life-changing experiences as a result of Chabad," he says.
The dedication, which was emceed by Rabbi Dov Greenberg of Chabad at Stanford, featured a panel of Chabad's six past and present presidents, who spoke about their experiences with Chabad at Lehigh.
Rabbi Zalman and Yehudit (Dit) Greenberg established Chabad of Lehigh in 2008 with a generous grant from the Rohr Family Foundation. At the time, they operated out of a small house on Evans Street. "We started to see a tremendous turnout in a very short time," says Rabbi Greenberg. Within the first year, Chabad outgrew their original location and moved a few doors down to a larger townhouse on the block. As Chabad's popularity grew, so did their crowds. Soon, Chabad was using three or sometimes four neighboring backyards to set up tents in which to host their events.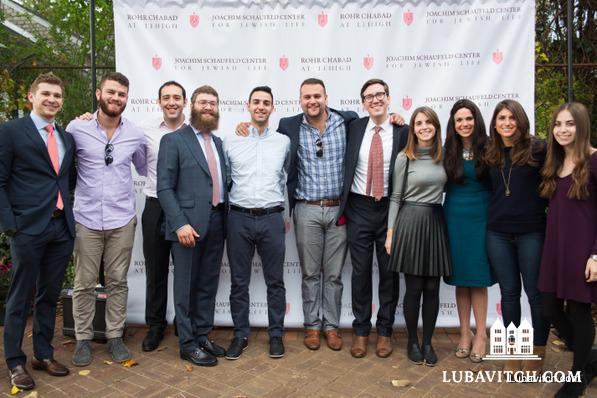 In 2012, with another donation from the Rohr Foundation, Chabad purchased the historic property on Wyandotte Street. They then launched a 4.5 million-dollar capital campaign to fund the mansion's redevelopment, as it had fallen into disrepair and required extensive renovations. The modernized building now boasts a dining room and seating area large enough to host 175 students, a student lounge, game room, library, the Miller Synagogue, and the Greenberg's family residence. There are also four guest suites available, one of which was sponsored by Lehigh young alumni.
"We are so grateful to Fred and Karen Schaufeld and all the generous donors for their friendship and generosity," says Chabad co-director Yehudit Greenberg. "The new 10,500 square-foot Chabad House will enable us to meet the needs of the ever growing Lehigh Jewish community for years to come."
"We're very proud of the new center," says Fred Schaufeld. "It's something that the community needed, and we were in a position to help out. Rabbi Zalman found a magnificent building that really reflects the rich history of Bethlehem and of Lehigh. The Greenbergs worked hard to polish and bring out that look, not just paint over everything. In all aspects, from a functional, spiritual and architectural perspective, it's very good for the community."
Lehigh University is home to over 1,000 Jewish students, more than sixty percent of whom Chabad hosts throughout the year. During the holidays of Rosh Hashana and Yom Kippur, six hundred students showed up for services. This semester, the average Friday night Shabbat meal attendance hovers at over one hundred. "Chabad of Lehigh endeavors to be a home for every single student," says Rabbi Greenberg.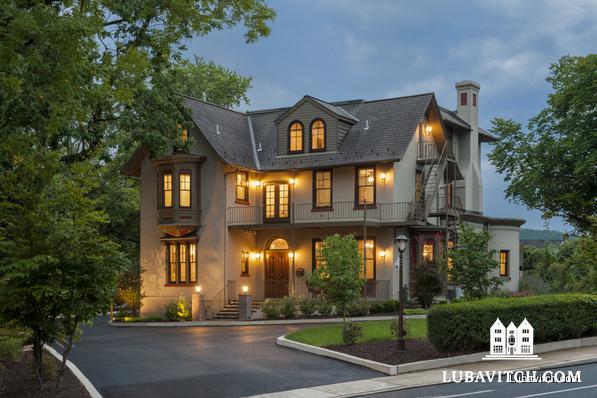 Darcy Horn is the current Chabad student president. "Dit and Rabbi Zalman have been such amazing role models and friends to me. Chabad has shown me the importance of my relationships with my friends and family and what matters most in my life, and it keeps me in touch with my community and the needs of those around me." The new space, she says, is a place where "anyone can come and relax; forget about our hectic schedules and focus on what is important to each of us. On Friday nights the liveliness is truly uplifting."
Neurosurgeon Dr. Dennis Maiman is looking forward to more activity. "The dedication of the new building is not a completion, but only a stage in the continual creation of Chabad at Lehigh. The real creation is the programs, meals, counseling, friendships and home away from home." Chabad at Lehigh, he adds, is exceptional. "I have never seen the kind of loyalty and support, including financial, that are given to Chabad of Lehigh," which, he says, is evidence of the important role Chabad continues to play in the lives of graduates and its significant impact on their Yiddishkeit.
Community member Richard Miller, who together with his wife Amy dedicated the Miller Shul inside the new chabad house, spoke warmly of Chabad at Lehigh and the Rabbi behind it. "Here we are celebrating the inauguration of an enormous accomplishment, one of the nicest Chabad houses I have seen." But, he points out, instead of kvelling over such a feat, Rabbi Zalman called him the the day after the event to discuss and send plans for the expansion of the shul. "Now that's a shliach!"
For more information, visit www.chabadlehigh.org.