This year, Russia hosts the The 2018 FIFA World Cup June 14-July 15. Local Chabad centers are prepared to welcome Jewish soccer (football) fans and spectators.
The 2018 FIFA World Cup is said to be the world's most popular sporting tournament. Roughly 10,000 Israelis and another 10,000 Jews from around the world will be among the 1.5 million foreign visitors to Moscow and ten other Russian cities this July. The astounding number ranks Israel among the top ten countries with fans attending the games, along with countries as populous and soccer-obsessed as Brazil, Argentina, Colombia and Germany.
Chabad in Russia has been preparing to welcome this large influx of Jewish soccer fans and give them a close-up of the Jewish revival in Russia. Jews in the Russian Empire have historically constituted a large religious diaspora and, at one time, the vast territories of the Russian empire hosted the largest population of Jews in the world. Much of that history was decimated by the communist regime in the 20th century. But since the fall of communism, Chabad has led a dramatic revival, building Jewish communities in 47 cities across the Russian Federation.
Chabad has a permanent presence in all but one of the host cities of this year's soccer tournament. Emissaries say they have increased rabbinical manpower and kosher catering in anticipation of the visitors and they plan to meet Jewish guests at the airports. In Saransk, the solo host city without a full-time emissary, Chabad will be opening temporary centers for Jewish tourists.
In Moscow alone, 32 Chabad centers served by more than a hundred Chabad emissaries are on the ready. Two halls in the city center have been set up to accommodate 1,000 Shabbat guests for the two weeks the games will be held in Moscow. A Shabbat-friendly hotel, recently opened by emissaries Rabbi Yakov and Sashi Fridman, will also offer hundreds of visitors and locals alike a Shabbat oasis in the Russian capital.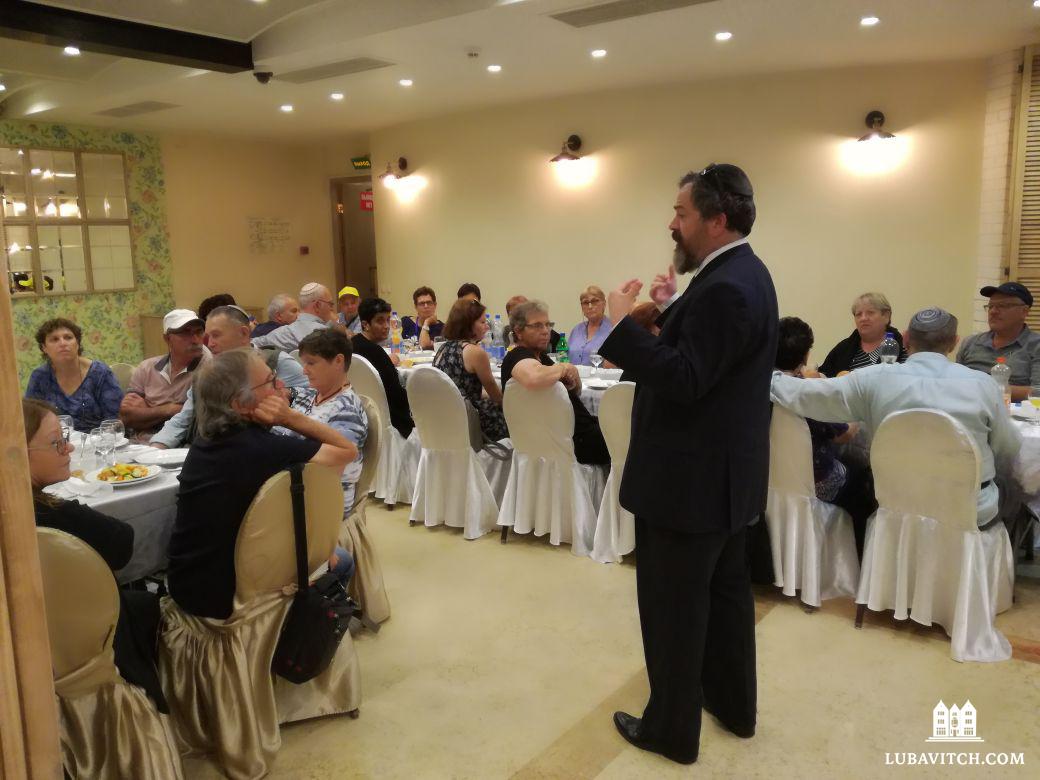 Israeli Soccer Fans
Throughout the year, Fridman's niche demographic is the community of Israeli expats living in Moscow, as well as the hundreds of Hebrew-speaking businesspeople and tourists. For months now, Fridman has been fielding dozens of phone calls every week from Israelis seeking information on kosher food and Shabbat accommodations for the games.
"Unlike many other countries, the average person you meet on the street in Russia may not know how to speak English, making it very difficult for foreigners to communicate," explains Fridman. "Our main goal is to help. We offer our hospitality to any Jew in need. Our doors open to serve their spiritual and material needs."
Israel's soccer community made international headlines last week, when the Argentina National Team, which includes Leo Messi, one of the most famous soccer players in the world, canceled a friendly match against the Israeli national team. Heavy with political ramifications, the cancellation disappointed avid Israeli soccer fans but did not dampen their excitement for the World Cup, says Rabbi Ami Pykovski, the official rabbi of the Israeli Soccer Team.
"Israeli soccer fans are passionate and loyal. While they feel let down by Messi they are still going to root for their favorite teams," the rabbi continues. Pykovski is a former professional soccer player who played for 36 years in Los Angeles as well as for the Israeli soccer team. Today, he serves the religious needs of the soccer players and is a very familiar face for Israeli soccer fans, once lighting a menorah for 30,000 spectators at a Beitar (now officially known as Beitar Trump Jerusalem in honor of the president moving the U.S. embassy to Jerusalem) match in Jerusalem. Pykovski says he is excited about the games and has directed the many players and fans who have reached out to him about Kosher food and Shabbat services to the resources that Chabad of Russia has set in place.
"Israeli soccer fans used to be mostly secular Jews, but over the last few years, there has been a huge increase in religious Jewish fans," Pykovski explains. The boon has presented a fascinating phenomenon in Israel, with many games hosting a half-time minyan for Maariv with over 5,000 participants in the stands. Those same fans are bringing their religious practices to Russia and Chabad will be there to ensure that no matter what team they are rooting for, Jewish fans will score.