Golda* was a toddler when peasants beat her parents during a pogrom in Rostov, Russia. A few years later she watched as Nazis rounded up and murdered 27,000 of the city's Jews over the course of two days. After her miraculous survival, she returned to live in the city of her birth. 
Once a beloved member of the Chabad Seniors Club and a cheerful regular at the soup kitchen, 84-year-old Golda is now confined by pandemic regulations to her dingy, one-room, fourth-floor.
Rabbi Chaim Danzinger, is director of Chabad in Rostov-on-Don. When their soup kitchen was forced to close in March, he began sending food and care packages to hundreds of individuals and families. As Chanukah neared and it became clear that the annual public menorah lighting would not happen, he set himself a goal to visit thousands of people–just about the same number who usually attend the grand Chanukah event–with a gift of a menorah and care package. So, after testing negative for COVID, he and his family donned PPE and began making visits, starting with the elderly population.
When they walked into Golda's apartment, she began to cry. "My one regret in life is that I did not have children and now there is no one left for me to live for," she said tearfully. Nine-year-old Menucha Danzinger wrapped her arms around Golda and the elderly woman broke out in smiles.
Ninety-year-old Lev who grew up on stories of his grandfather, a Cantonist–Jewish children who were conscripted to military military service from as young as eight years old, and placed for six-year military education in cantonist schools with the intention of assimilating them. When Rabbi Danzinger revived the Cantonist Synagogue, Lev felt an immediate affinity and proudly attended each week, until five years ago when he became homebound. Lev misses the services, the social experiences and the connection to his Zayde, so when the Danzingers knocked on his door, he was elated. "To have the rabbi come into my home makes me feel like my dilapidated apartment has become an offshoot of our beautiful synagogue," he says.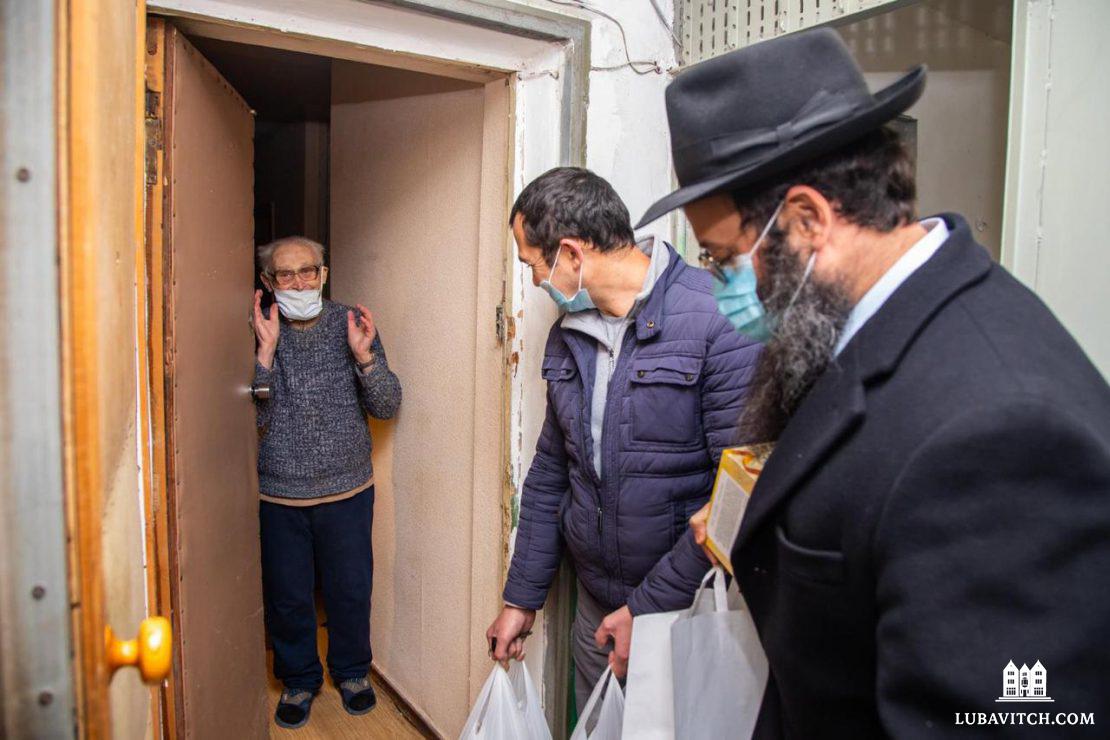 From there the family went to visit Leonid. He opened the door but stayed a distance away. In his 70s, Leonid lives with and cares for his 92-year-old mother, Zenodaya. "I'm so glad you came," he said weakly. "I'm pretty sure we have COVID, and Mum is really sick. If you could get us some medical help, it would be a Chanukah miracle." Rabbi Danzinger contacted a community doctor who arranged for Zenodaya to be transported to the hospital, and kept an eye on Leonid's recovery at home.
At Moshe's apartment the rabbi went to put food in the fridge only to discover it was no longer working. Recently widowed Herschel who has since suffered three heart attacks and then received a cancer diagnosis, was too depressed to get out of bed. Anya shared that she is well, but since she can no longer afford her heart medication she is taking it every three days instead of daily.
Sending food, Rabbi Danzinger realized, was not enough. "These people are heroes, they lived through horrors in their childhood and survived seventy years of communism to emerge as proud Jews. It is incumbent on us to be there for them in their later years."
Thus was born Hope for Heroes, a program, says Danzinger, that benefits everyone involved. Hope for Heroes pairs donors and volunteers with an elderly person in need. "Everyone has such specific needs. One needs a microwave, or lightbulbs, another needs books or entertainment. Some need their medicine paid for, others need someone to pick up groceries or a warm blanket. And most importantly, all of them need company, to see a smiling face," Rabbi Danzinger says.
At Hope for Heroes, donors and volunteers–mostly young professionals–get to adopt a Bubby, or Zaidy who they will visit, or provide for. "The young people get to learn from the wisdom and resilience of people who have survived and thrived and the heroes find that they are valued and appreciated."
Menucha and her siblings have been back to visit Golda since their initial meeting before Chanukah. "I am the last surviving member of my family," Golda says. "Having the children around gives me hope."
*names changed to protect privacy.