Chabad plays a critical role in giving Jewish travelers access to Kosher options around the world. The second in a series focusing on the kosher observance in honor of the 40th anniversary of the worldwide kosher campaign launched by the Lubavitcher Rebbe in 1975.
Helene Bortz is planning her next family vacation. A mom of four grown boys and the director of a non-profit, Bortz enjoys traveling the world with her physician husband, and likes to visit at least one or two new countries every year. She browses online through possible destinations, and at each interesting vacation spot she googles the local Chabad rabbi's number or email address and compiles a list. After narrowing down the options to one or two, Bortz, an observant Jew, will dutifully call the Chabad emissaries on her list and inquire about kosher in her desired locale. For over a decade, the San Diego native has used this oddball travel planning method to dine in style in Shanghai, Phuket, Puerto Rico, Tijuana, Venice, Nice, and Playa Del Carmen, while strictly adhering to her religious dietary beliefs.
She's not alone. With the ubiquity of Chabad centers, travelers can choose just about any location on the globe for their summer travels and find a link to authentic Jewish life. From Orlando, Florida to Umhlanga Rocks, South Africa, from Hanoi, Vietnam to Santiago, Chile, Chabad fields calls from travelers who want to know where they can obtain kosher food, join Shabbat services, or just meet up with members of the local Jewish community.
Over the years Chabad has had "a huge impact on kosher travel", says Elan Kornblum, publisher and president at Great Kosher Restaurants Magazine, where he has been monitoring and reporting on the worldwide kosher scene for thirteen years. Kornblum explains that kosher travelers fall into two general categories: those that worry about food first, destination second, and those who prioritize travel and then figure out kosher solutions.
The first is a more casual traveler, who tends to visit the kosher capitals of the world—New York City, with over 500 kosher eateries, Israel, where kosher options abound on every corner, or Paris and London, where large local Jewish communities sustain a sizable kosher restaurant scene. The latter more adventurous type, like Kornblum's religious friend who recently climbed Mt. Kilimanjaro, have always had to bring a lot of protein bars, tuna packets and dried beef jerky from home to make it through the kosher food desert.
But today, as the popular saying goes, wherever in the world there is Coca-Cola, there is Chabad. And wherever there is Chabad, there is kosher.
With the multitude of kosher options that Chabad provides for kosher travelers —from home cooked meals in Sochi, Russia, to take out menus in Lake Tahoe, and an upscale restaurant in Beijing, China—"people traveling to exotic destinations don't have to bring a suitcase of food with them anymore," says Kornblum.
Global Reach, Seasonal Swings
As singles, couples and families set their sights on seasonal destinations, Chabad Houses around the world are preparing for their arrival. Though they welcome guests year-round, some spots get a surge of visitors over the summer months. Chabad offers them a place to pray, feel comfortable and unwind. Most importantly, Chabad centers serve as weigh stations for those interested in connecting with their Judaism or engaging in practical mitzvahs.
"Travelers should not have to compromise their religious needs," says Rabbi Mendel Zarchi of Chabad of Puerto Rico, who sees thousands of vacationers and businesspeople pass through the doors of his Chabad House each year. The rabbi, who also oversees Chabad operations throughout the Caribbean Islands, says that providing kosher alternatives to both locals and tourists has become a critical part of operations at the eleven Chabad centers that dot the frequently visited isles.
Zarchi asserts that while the island emissaries are first of all concerned with the needs of their respective local Jewish populations, Jewish travelers add interest to the communities they visit. "We recognize the opportunity and privilege to serve and be a resource for the many who travel through."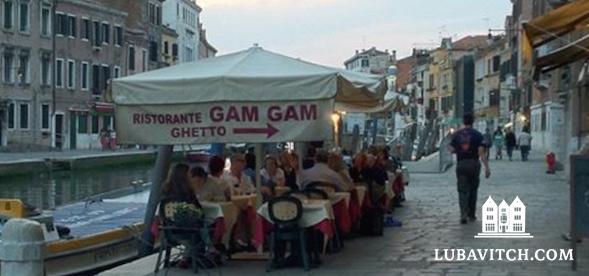 Travelers who are kosher observant will seek Chabad out on their own, observes Zarchi. "But others only make use of it since it is here, and if we weren't, they would utilize other (non-kosher) options." Still others, the rabbi notes, who may not be kosher observant day to day, find it "enchanting" that they can come off their cruise ship in S. Juan and find a Jewish presence with fresh kosher food, and so choose to patronize Chabad's services.
The Caribbean tourist season peaks in November-March with snowbirds escaping harsh winters, but Chabad gets consistent traffic all year long as the summer months still draw thousands of sun-seekers to the islands' miles of pristine beaches.
In Venice, Italy, which draws more than 20 million visitors a year, things are decidedly more seasonal. Whereas one hundred people might show up at the local Chabad for a "quiet" winter Shabbat, summer brings up to 800 Shabbat guests to Venice's storied Jewish ghetto on any given week. The staggering numbers rarely phase Mrs. Shachar Banin, Chabad emissary to Venice, Italy, who has catered to the transient tourist crowd for over 25 years.
"Every Chabad emissary has his or her niche," she says. "A huge part of what we do is cater to tourists' Jewish needs." Part, but not all. In addition to hosting grand Shabbat and holiday meals and running Gam Gam and Gam Gam Goodies, a glatt kosher restaurant and dairy cafe respectively, the Banins also run a local yeshiva, lead Jewish study classes and serve the 400 local Italian Jews.
Rabbi Zalman Zaltzman of S. Catharines, Ontario, the city closest to Niagara Falls, also experiences the sharp summer uptick. Throughout the year, the rabbi runs programming for the local Jewish community, and serves the students at Brock University. From September to May, kosher is hard to come by throughout the Niagara area, and Zaltzman offers visiting kosher-seekers to join Shabbat dinners at the Campus Chabad or even invites them to his own home for dinner. All that changes come June. With 80% of Niagara Falls' 30 million visitors stopping by in the summer months, Zaltzman opens two kosher eateries in his Chabad building, operated by independent contractors, to cater to the thousands of kosher-keeping Jews holidaying at the falls.
While his job as a Chabad emissary is non-stop 12 months a year, Zaltzman says "it works out perfectly that the three months a year that visitors come, are the three months a year that the university is closed."
Restaurants
Until about 20 years ago, most Chabad emissaries who lived in places where kosher was not widely available relied on home cooked meals to feed their own families a well as their constituents. Sourcing ingredients from New York or Israel, many even flew with their favorite hard-to-find products in their carry-on. Some simply did without "luxuries" like fresh milk or chicken for Shabbat. Banin, who moved to Venice in 1991, remembers ruefully that "my baby was 8-years-old when we first got kosher milk, and even then it was shelf stable milk." To this day, the Banins use boxed shelf stable milk in their cereal and coffee. While fresh milk is a rare treat, in an interesting contrast, the Banin children can enjoy delicious kosher gelato any time they want at the Chabad's dairy café, Gam Gam Goodies.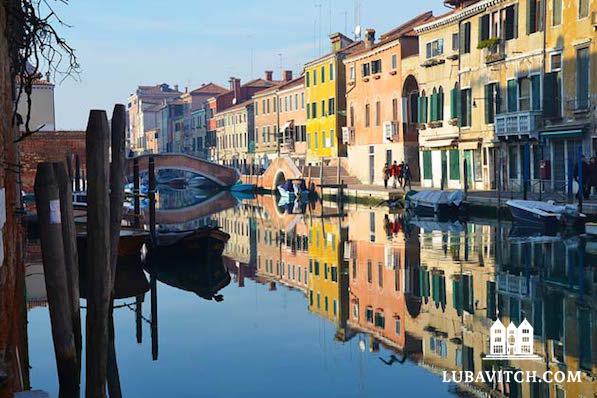 The Banins opened the restaurant to enhance the Ghetto and to draw more visitors to Venice and to the Jewish area. Non-Jews come to the restaurant as well, observes Shachar. "Many travelers tell me of their experiences here 20-30 years ago, when they would only stay for a day visit. Today, with kosher food and our services, people come and stay for a week at a time."
For 15 years, Rabbi Mendi and Chana Sudakevich, co-directors of Chabad-Lubavitch of Tokyo, worked hard to provide kosher food for Jewish residents of Tokyo, in addition to the several thousand Jews who visit the country each year for business and leisure. They offered catered meals and packed lunches for visitors and tour groups, including preparing food in the spring of 2014 for Israeli Prime Minister Benjamin Netanyahu and his staff when they visited Tokyo. All of this was done out of the small kitchen in the couple's home, which they share with their six children in Tokyo's Minato neighborhood. That is until December 2015, when the Chabad couple opened Chana's Place, the country's first-ever glatt-kosher restaurant serving an Israeli inspired menu of falafel, shakshuka and schnitzel.
Blending kosher dining and Jewish outreach is a successful, if arduous, combo for Chabad centers. The Chabad-eatery hybrids are not only an entrepreneurial response to a growing demand but a perfect complement to a Chabad House's typical offering.
"Rather than going out and knocking on people's doors, the restaurant gives people an opportunity to come to us," said Zarchi. "We see people who would otherwise not come."
Accessibility and Affordability
Max Bluestein, a young professional from Washington D.C., wasn't necessarily looking for a kosher eatery when he chanced upon a Chabad house during his travels in Thailand. Bluestein, who had little previous affiliation with Chabad joked that he always perceived the movement "as a bunch of Orthodox folks with the single guiding principle: give me your tired, your poor, your Jewish masses yearning to eat free." But after a month of traveling in the foreign country, the American welcomed the warm haven from Bangkok's chaotic streets to enjoy some home-baked challah with his fellow wandering Jews.
The Chabad House near the world famous Khaosan Road, or the "backpacker ghetto" in central Bangkok is the flagstaff Chabad House for adventurers seeking low cost, independent travel. Some 300-500 Israeli backpackers attend services and Shabbat meals at the Chabad house every week. Always on a budget—and forever hungry for good food and friendly faces—thousands head to the four Chabad of Thailand restaurants in Bangkok, Phuket, Chiang Mai and Koh Samui, where they can enjoy a meat or chicken meal for only 200 baht, or about $5.50.
"We want to encourage all the young Israeli backpackers to eat kosher while they are traveling," says Rabbi Yosi Pikel, who along with his wife, Chani, co-directs the Chiang Mai Chabad center. To that end, all of Thailand's kosher restaurants, a chain called "The Kosher Place" are subsidized by donors to make the food prices competitive with cheap non-kosher street options. The restaurants even offer an Asian menu with Kuay Tiaw Kai and Som Tam Salad.
"There is a need for kosher food at affordable prices," explains Pikel. With a tough global economy and tight budgets, vacationers are cutting corners. "We don't want those cutbacks to be on kosher food."
With food cost no longer an issue, many Israeli backpackers searching for meaning post-IDF service find their way to Chabad's door for a hearty meal, with thousands encountering what they describe as their first meaningful Jewish experience. Ironically, it is often when they are far from the Jewish State that they seek out a Jewish connection. Hearty meals lead to conversations about self, identity, spirituality, and the Chabad rabbis have hundreds of stories of young Jewish travelers who began their spiritual awakening with Chabad in the Far East, eventually committing to a more engaged Jewish life.
Another population that may not seek out a Chabad House at home but is drawn to it overseas is the non-Chabad Orthodox community, who has come to rely on Chabad for their kosher traveling needs. Kornblum, who connects with over 20,000 such Jews on social media regularly, says that this demographic sees Chabad's global availability as a service. People who may stick to their own congregation back home, "love the idea of visiting a Chabad house on vacation and enjoying a Shabbat meal," he says. Even Kornblum, who is seen as the maven of kosher food recommendations, refers people to the local Chabad if they are in a remote town or country. "The attitude is that it is a given that Chabad is there wherever you need them."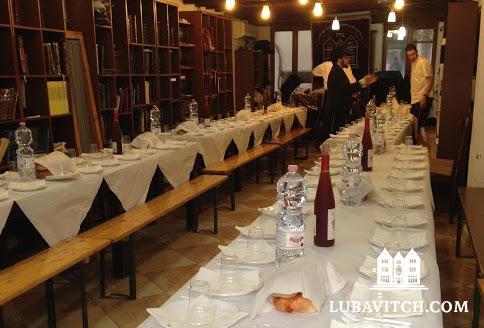 The responsibility to provide kosher food for the growing multitude of kosher travelers, while also keeping it reasonably affordable can be a daunting task for busy Chabad emissaries who already struggle to cover their overhead. Banin says that "anyone running any restaurant in the world knows it is a very challenging industry. How much more so a kosher restaurant, and how much more so a kosher restaurant located in a place where there are no kosher supplies available." In Venice, all the meat, chicken and dairy are sourced from overseas, while vegetables and fish are procured from local vendors. While a normal business owner would pass on these additional costs to the consumer, the Banins are committed to making kosher accessible.
"There is a misconception that we are funded by a central organization," she continues. "People look around and see that we have such a large Shabbat program with hundreds of guests so they think that for sure the costs are covered, but that is not the case." (Editor's Note: Each Chabad House or center is independently funded by local donations.)
Soul Food
Despite the financial challenges, these entrepreneurs factor in a spiritual component to their bottom line that gives soul food a whole new meaning. Breaking bread in the restaurant does not have to be a religious experience, but eating kosher comfort food with the rabbi stopping by for a quick hello, surrounded by Jewish books and invitations to classes, holiday programs and prayers, has a ripple effect.
At Chabad Houses around the world, the kosher restaurant has not only become a pit stop, but a destination. Travelers seek out that one-of-a-kind Jewish connection in a Southeast Asia backwater, or simply want to add a flavor of home during their getaway vacation. Venice's shabbat program has become so popular that tourists have even started planning around it. Banin says that "one of the beautiful things that we have seen over the years is people who do not keep Shabbat plan their entire once in a lifetime European trip around the Venice Shabbat program!"
Judaism is a way of life built around tradition, and on any given Friday night, Jews in every corner of the planet will be united across the globe by the Shabbat prayers, songs, and traditional Shabbat fare. One of the most important of those traditions is hospitality.
"Nowhere have I seen this sentiment of hospitality expressed more than in Chabad Houses abroad," says Bluestein, "as no matter your background, language, or level of devotion, you can always find a home there."