It was a whirlwind week for Rabbi Yossi Simon, director of the Chabad House of Golders Green in London, England. The rabbi, who is also a mohel, performed four brit milot in four different cities in as many days.
It was Wednesday when Rabbi Yair Baitz, director of Chabad House of Limassol, Cyprus, called Rabbi Simon. A local couple had given birth to a boy, would Rabbi Simon perform a brit for their son? In normal times, the community would import a mohel from Israel, but since Israel's borders are still closed due to COVID, and the UK is on a list of countries from which the Cypriot government allows entry (subject to a negative COVID test), he was asking for his colleague's assistance.
As it happened, Rabbi Simon had been contacted a week before by a couple in Larnaca, an hour away from Limassol. He had agreed to officiate at their baby's brit, but the baby was jaundiced, and so the brit was delayed. Rabbi Simon agreed to do the brit in Limassol and made arrangements to travel to Cyprus the following Monday.
On Monday morning, Rabbi Simon flew from London to Larnaca, and after a stop to check in on the now healthy baby there, he drove out to Limassol. As he was driving back to Larnaca to perform the second brit, Rabbi Simon's phone rang. It was Rabbi Chaim Azimov, director of Chabad-Lubavitch of North Cyprus, based in Kyrenia. He had been following Rabbi Simon's trip on social media and had a request: A couple in his community had been waiting six months to give their son a brit. "Due to COVID, we haven't been able to bring in a mohel. While you are here, would you come up north?"
Turkish-occupied North Cyprus has its own COVID rules. The area had been completely locked down, but the border had just opened to some traffic, effective on the day of Rabbi Simon's visit.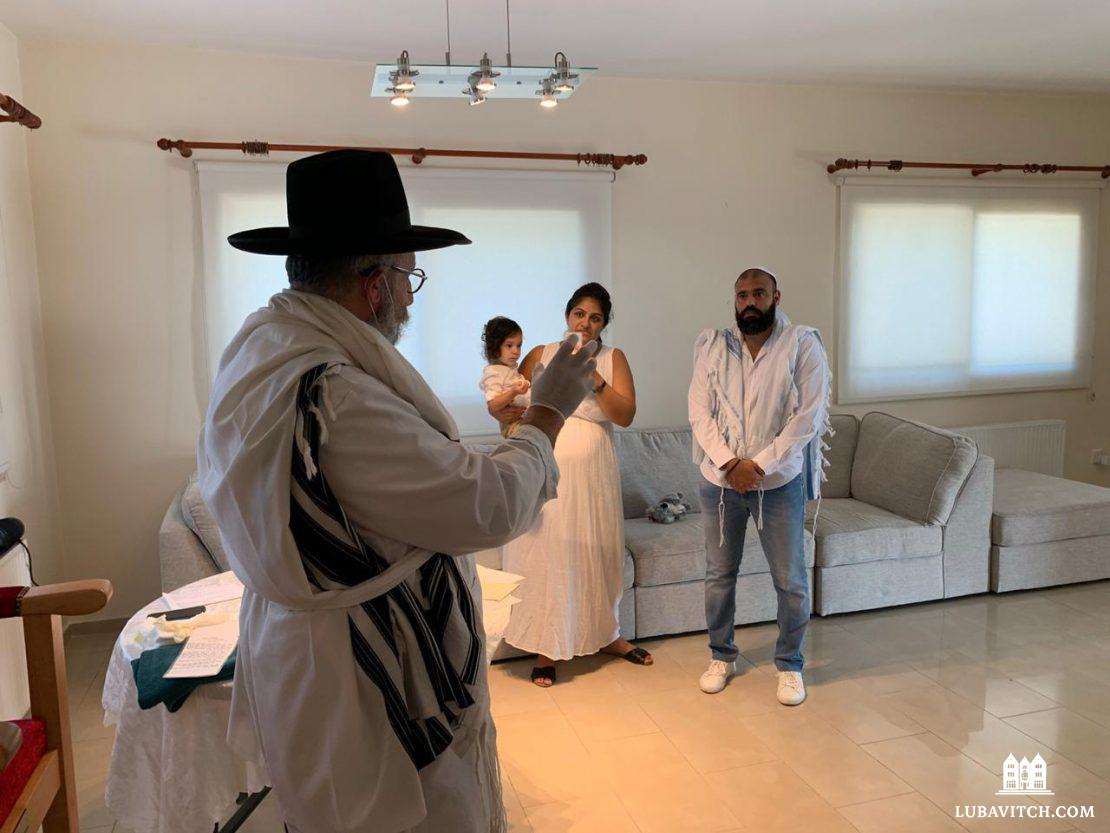 Rabbi Simon changed his ticket, and instead of heading to the airport on Tuesday morning, he drove north. After crossing the North Cypriot border, he was briefly quarantined at a government hotel pending a negative test result. Later that day, he performed the long-awaited brit, then stopped outside the Azimov home to pay a socially distanced visit. The Azimovs, whose community is primarily made up of Israeli tourists, a now non-existent phenomenon, were delighted to see a fellow Jew for the first time in months.
By Wednesday morning, Rabbi Simon was back on the road, headed for the Larnaca airport and his flight home. But the fourth call was not long in coming. This time, it was Rabbi Yitzi Loewenthal, director of Chabad of Denmark. A young Israeli couple living in Aarhus, three hours west of Copenhagen had given birth to a son the previous Thursday. Denmark doesn't have a resident mohel–there have been many attempts there to outlaw the practice in the last decade (the latest was quashed on September 13 by Prime Minister Mette Frederikson).
"Man plans and G-d laughs," Rabbi Simon said. "Each time I thought I was headed home, another mitzvah opportunity came my way."
He did head home, though, briefly. He landed in London on Wednesday afternoon, visited the kosher supermarket to pick up some edibles that are hard to come by in Denmark, and got some rest. By Thursday morning, the mohel was airborne. The young family met Rabbi Simon in Copenhagen, grateful for the opportunity to give their son a brit in a timely manner.
As Rabbi Simon returned to London to celebrate Shabbat with his family, he was tired but buoyant. "I am in awe of the shluchim and their families, who, despite isolation, despite the toll COVID has taken, despite all the logistical difficulties involved, continue to do all they can to help people keep the mitzvahs."