Memorial services were held this week at the Star of David Cemetery in North Lauderdale, Florida and at Chabad of Parkland for some of the Jewish victims of the Parkland school shooting. Monday, the 29th of the month of Sh'vat, is the Jewish calendar date corresponding to February 14th, a date now colored by tragedy in this idyllic park-like Southern Florida city.
The families and close friends of Meadow Pollack and Alex Shachter marked the first anniversary of their passing in a quiet ceremony led by Rabbi Avraham Friedman of Chabad of Coral Springs. The family of Alyssa Alhadeff held a service, led by Rabbi Mendy Gutnick at Chabad of Parkland.
Jaime Guttenberg is also buried at Star of David. Her family held a private service at the unveiling of her headstone last week.
Chabad in both Parkland and Coral Springs have planned various public services and events for February 14th, but these memorials were held privately. "The families are in as much pain as we can't imagine, they wanted a quiet, private event," Rabbi Avraham told Lubavitch.com.
The service started at the resting place of Meadow where kaddish was recited. Rabbi Avraham spoke of the yohrtzeit (anniversary of passing) as a day of tapping into the energy of the soul of the departed. "Meadow had a love for life. She brought light and positive energy into her environment wherever she was," he said. He enjoined the assembled to gift the souls of their loved ones by performing good deeds that will better the society around us.
Andrew Pollack, Meadow's father, has become a passionate advocate for school safety following his daughter's murder. He reaffirmed his promise to keep fighting until "there is proper security in every school in America." He and his children were connected with Chabad of Coral Springs and Rabbi Avraham before the tragic events of last year. The closeness, he said, helped him to find inspiration in Torah and in Judaism during a time of so much pain.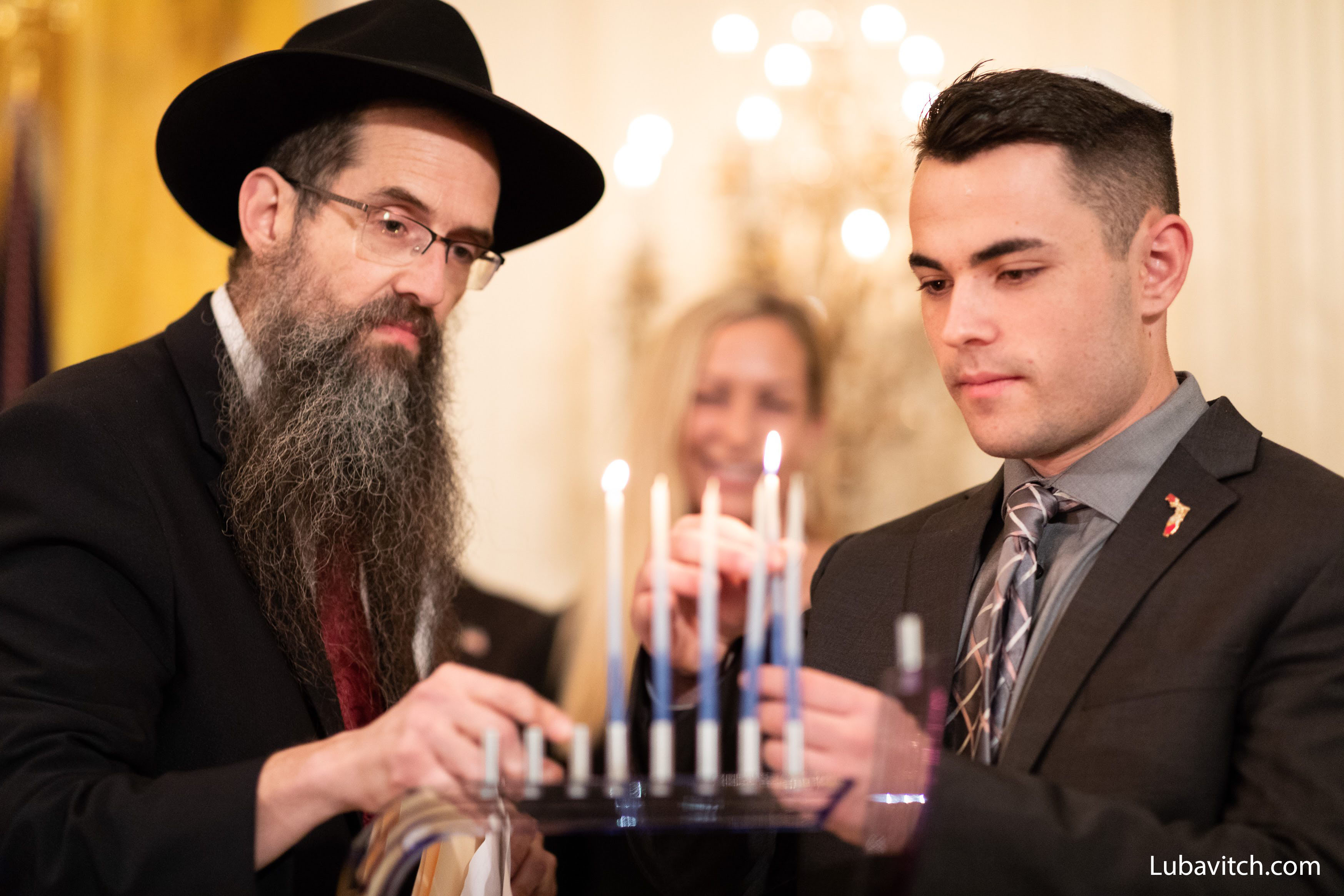 Lighting the menorah at the White House [Rabbi Avraham Friedman and Hunter Pollack]
The group moved on to recite kaddish again at the grave of Alex Schachter. His father, Max shared a story told to him by a rabbi he met during a recent trip to Israel. A wounded IDF soldier had once asked the Lubavitcher Rebbe why G-d had allowed his friends to be killed. The Rebbe had encouraged the soldier to turn the question around and ask himself for what purpose he had survived. Max echoed the message of Rabbi Avraham, that we, the surviving relatives and friends have a purpose to do mitzvot on behalf of our loved ones who no longer can.
With Alyssa's grandparents in attendance, the group visited her grave where her grandfather recited kaddish. The couple had also attended an intimate service at Chabad of Parkland with Alyssa's parents, younger brothers and close friends earlier in the day. "Over the last year these families have been the subject of much media attention. It was important for them not to have to be on show on a day of such raw emotion," Rabbi Mendy said.
Ilan and Lori Alhadeff and their family have been guests at the Gutnick's home for Shabbat and holidays many times over the last five years. Rabbi Mendy taught both Alyssa and her brothers for their bat and bar mitzvot. "She was a personality of influence. In a positive and humorous way and with her infectious laugh, she was a kid who got things done," he says. So at the service, when he mentioned that once a soul has passed on it is an advocate for the needs of the loved ones it has left behind, it was a message that resonated with her family.
Lori ran for and won election to, the Broward County School Board, in a bid to improve school safety from within. She spoke to Lubavitch.com from New Jersey where the Alhadeffs witnessed the signing of Alyssa's Law, which will mandate all New Jersey schools to be equipped with a panic alarm for use in school security emergencies. "On 2/14 Rabbi Gutnick was there for myself and my family. Over the last year his presence has provided healing, loving, caring and spirituality for my family."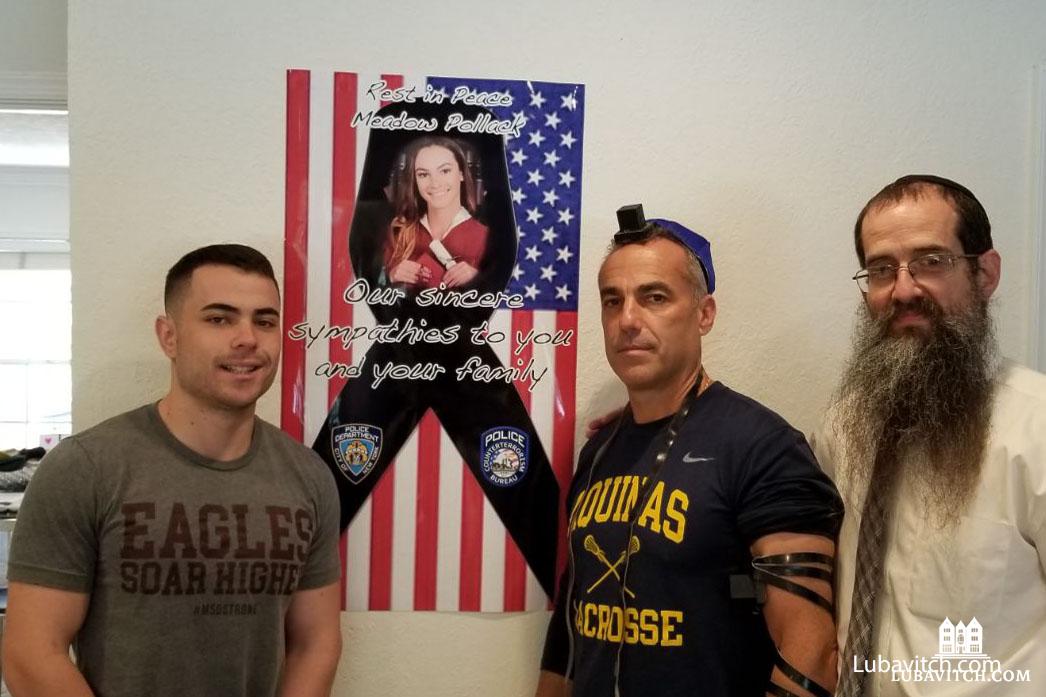 Andrew Pollack wearing tefillin in front of Meadow's memorial poster [also pictured: Rabbi Friedman and Hunter]