In a private, no-press meeting, Florida governor Rick Scott sat down with Chabad rabbis Monday morning to discuss practical measures in response to the February 14 shooting at the Marjory Stoneman Douglas High School in Parkland, FL.
Scott reached out to the Chabad rabbis who serve as community leaders in the Parkland and Coral Springs area. He invited them to share their thoughts and ideas toward "bringing moral values into the school," Rabbi Yankie Denburg of Coral Springs, told lubavitch.com.
The rabbis put forth five specific initiatives with the objective of building moral character and helping teens "realize the power of their actions and gain an inner sense of purpose and fulfillment, beyond test scores."
At the top of the list, the rabbis proposed allowing a moment of silence at the beginning of each school day, giving students a few minutes of space to reflect. Students would be free to use the time to pray silently, meditate, or clear their minds and set goals for the day ahead.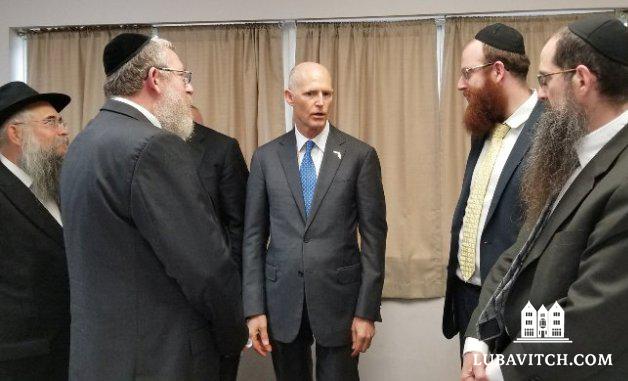 The rabbis also proposed organizing student-led groups to build student communities. "CLUB17," named for the 17 students who were gunned down, would cultivate a sense of responsibility among students to promote thoughtful messages. A "Wall of Goodness" introduces a buddy system pairing older and younger students with the purpose of integrating those who feel left out of the school community.
Scott was receptive and took notes during the meeting.
"The meeting was not just a discussion but a call to action. The Governor promised to reach out to respective school boards and assigned a point-person to follow-up," said Denburg.
The rabbis, Yankie Denburg, Yossie Denburg, Avraham Friedman, Yossi Biston, Shuey Biston, Moshe Rabin and Hershy Bronstein, and their families, have been administering their communities where everyone knows someone who has been impacted. "It has been non-stop since last Wednesday," the rabbi told lubavitch.com on his way to a shiva call.
"We cannot just wait to respond to the next crisis. We need to deal with the fundamental moral void and emotional darkness that currently exists and is causing so much violence and suffering."